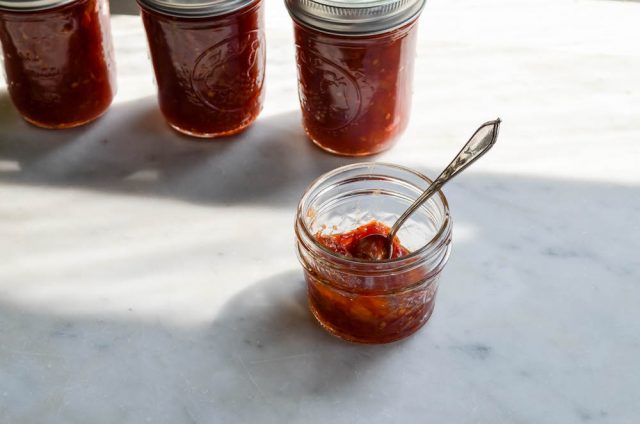 The reason I've never been a meal planner is because my mind ricochets with ideas of what to make, especially this time of year as I spend a lot of time at farmstands and farmers' markets. The great thing about this approach is it affords me creativity, and an openness to seeing ingredients in a new light.
There can be balance, though, and having an arsenal of tried and true recipes is one way to flex culinary creativity while also making mealtime less stressful. Preserving is where I find that balance. Some time invested today yields treasures to enjoy tomorrow and beyond. 
I originally picked up a few pounds of tomatoes from the seconds bin to can a few more jars of marinara sauce. Once I got home, and realized just how much I had to do, sticking to the plan of making sauce felt like a strangle hold, so I abandoned ship, opting to make some jam with them.
I know what you might be thinking—tomato jam, really? If you're a longtime reader, then this doesn't surprise you. In fact, my recipe for Sweet & Savory Tomato Jam was the first recipe I ever won a prize for—Best Preserves from Food 52 in 2009, back when their site first started.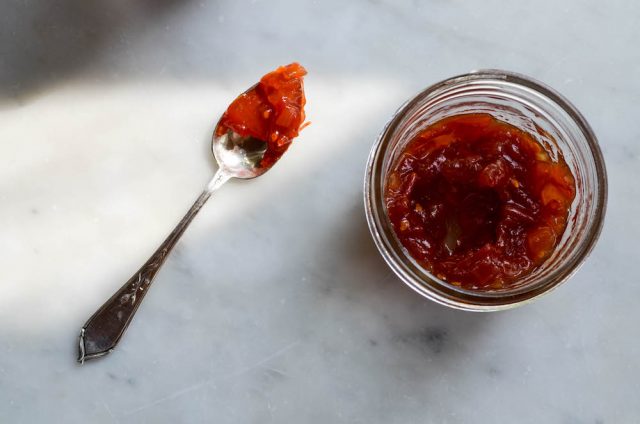 Nestled next to the tomato seconds (tomatoes farmers deem not fit for full price sale, so a bargain at only 99 cents a pound), I found the first apples of summer. These summer apples are higher in pectin, and what I use to naturally thicken my tomato jam without adding as much sugar as jams usually require. They're great for eating too, so I tucked a few into my basket.
That turned out to be a timesaver of sorts, allowing me to switch gears from marinara sauce to tomato jam. The jam is incredibly easy, and very hands off, but does require patience—it simmers for about three hours. The last 20 minutes or so require some stirring attention, but other than that you just dump all the ingredients in a pot, and putter along with the rest of your day.
Let's talk about the amount of sugar used here. A few people on the Food 52 site have found it to be too sweet, but remember this is a jam, not a chutney. It's a condiment that is meant to live in the realm of sweet and savory, hence the name. Use it on crostini with fresh ricotta, serve with a nice charred steak, it even works in place of ketchup on a burger. Some people love eating it straight from the jar.
That said, if you choose to reduce the sugar be prepared for some thickening & cooking issues. I'm always left baffled when people change a recipe, then ask (or more often complain) why it didn't work out. Sorry to sound all complainy here (I know that's not a word), but a lot of work goes into creating a recipe, and for good reason. The sugar is what helps this set up, as with any jam. Perhaps add an extra summer apple if you want to cut back on the sugar, allowing the natural pectin to help it set up firm?
I also rarely keep brown sugar in my house, as it's so easy to make from scratch (watch how here). If like me, you don't have brown sugar, just cut back on the sugar by 1 teaspoon, and add a teaspoon of molasses.
This coming week is going to be an on-the-go one for us. Isabella is off to Brooklyn to stay at a friend's for the week, we're calling it Camp Erin. Meanwhile Virginia and I are checking out a soon to be opened inn in Connecticut, and visiting a friend in the Jersey Shore. It's one of those weeks where we'll be spending more time in the car than at home. Still, there are a few meals that will need cooking, and based on what I have to work through in the fridge, between leftover tidbits and farmstand shenanigans, this is what I'll be making. Hope you're having a lovely, peaceful weekend. xo-Jennie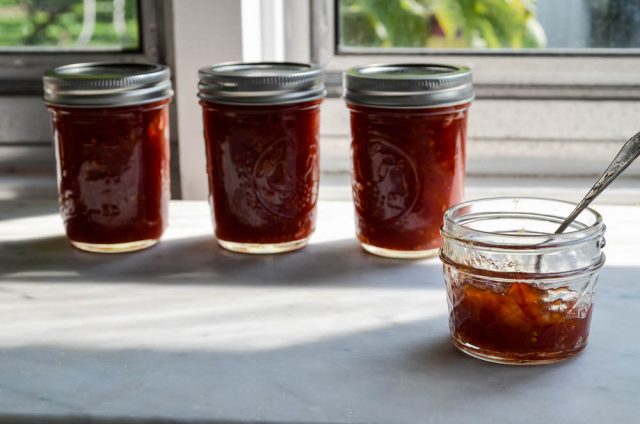 Weekly Meal Plan #2
Marcella Sauce (full disclosure, this week I used butter instead of olive oil!)
Classic Hummus (great road food snack)
Crispy Baked Zucchini (recipe coming soon!)
Blueberry Pop Tarts (recipe coming soon!)
SaveSaveSaveSave
SaveSaveSaveSave