Luisa Weiss' Zuckerkuchen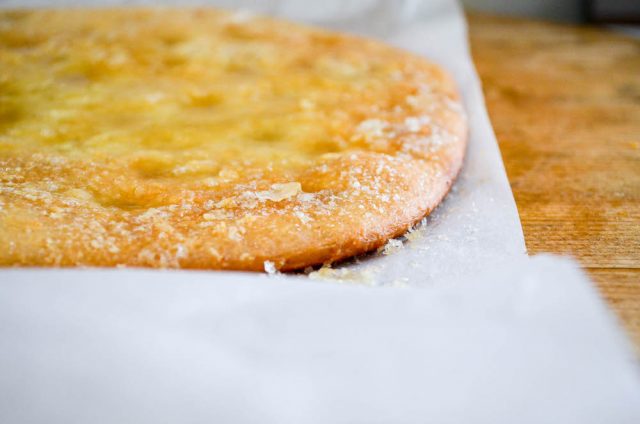 Is it just me, or has this been an odd summer? I'm not even talking about our current political situation which seems to have taken a chapter straight out of a dystopian future YA novel. I just feel like I never quite got my summer vibe going. Sure, I plotted and planted my garden, even harvested eight quarts of raspberries. There is jam jarred in my basement from those very raspberries to prove the summer of 2017 happened, and yet here I am still waiting to feel summer in my heart and mind. Does that even make sense?
In my quest to spark some summer feeling, I took the girls to a local "beach" here upstate. The air quotes are because it's not a beach with an expansive view, or the kind of sand you dream about. It's a man-made beach-like atmosphere the folks at Belleayre, a ski resort, create at a lake in Pine Hill, NY. I enjoyed it, the smaller crowd, and clean sand were a big plus for me. 
The kids reference point is Cape Cod. A man-made beach in upstate NY is not Cape Cod, so it shouldn't surprise me that the beach didn't wow them. This is all neither here nor there, but I mention it because the day we set out for our little beach outing, I decided to make this Zuckerkuchen, a yeasted sugar cake. It's a recipe from Luisa Weiss' Classic German Baking, which I wrote about late last year.
I crushed hard on this book, and made the majority of my Christmas cookies from it last December. I'm still dreaming about the Biberle (gingerbread almond nuggets), and can't wait to make them in a few months to celebrate this year's holidays (I know, I'm talking about Christmas in August—feel free to virtually slap me). Luisa's book became such a staple during the winter months that I gave it a coveted spot in the shelf above my baking prep area in the kitchen, right along side my own cookbook, Mastering the Art of French Cooking, La Technique, and Cooking Provence.
Then warmer weather came along, and I hardly looked at the book, for no fault of its wonderful recipes. That changed a few weeks ago, when I decided Zuckerkuchen would be a great picnic treat for the beach. I'd made it a few times in the winter, so it was a somewhat familiar recipe. Still, I never felt like I nailed it last winter.
The book was thoroughly researched and tested. It's obvious much thought was given to writing the recipes. Having been through the process myself, though, and given the magnitude of recipes here, I know sometimes key details get left out, regardless of how many eyes are on the manuscript before it goes to print. Could this be the case with the Zuckerkuchen recipe? Something about it left me feeling insecure. Short of taking a trip to Germany, I had to rely on photos of Zuckerkuchen from other recipes online. The final product varied—some were thin, like the three batches I made from Classic German Baking, but most were on the grander side when it comes to height, almost focaccia territory.
Then, while reading the recipe for Butterkuchen, the recipe right after Zuckerkuchen in Luisa's book, I found a clue. See, the recipes are somewhat similar cakes. The proportion of flour and yeast are the same, although the Butterkuchen has more eggs and butter, so this will no doubt affect the proofing process, and overall bake. The clue I found that led to me to believe perhaps Luisa's Zuckerkuchen was supposed to be on the thinner side, even after a successful proof was this line from the Butterkuchen recipe, "The dough will be very thin. Using your fingertips, dimple the surface all over the dough." A ha! That is how my Sugarkuchen dough kept coming out, except this tidbit is not mentioned in the Zuckerkuchen directions.
I also wasn't sure how the dough was supposed to look once proofed. The recipe simply says let sit for one hour, with no visual back up. The Butterkuchen recipe, however, reads "the dough will not be quite doubled in size, but it should be quite puffy and soft to the touch. The proof on that recipe is 1 to 2 hours, a big variable, but I felt like this was a good indicator for my Zuckerkuchen proof, too.
I went ahead with my bake, feeling more confident. I base this on never ever tasting a real Zuckerkuchen, but what a wonderful cake. We Americans don't think to make yeasted cakes, and my own tiny American at home was dismayed when I presented this as a cake. Yeast has a discernible flavor, and not what she was expecting. I explained it was like a sweet focaccia, to which she said, "oh, okay, I get it now". I absolutley loved it.
If you follow the directions here—I'm sharing them as Luisa has written in Classic German Baking, expect a thin, soft cake. I suppose you can use a smaller pan, or double the recipe for a thicker Zuckerkuchen. Just be sure to adjust your baking times as necessary for a smaller or larger cake. As Luisa notes, this is a cake best eaten the day it's made, so plan to share with friends, which is why this is a perfect cake to bring along on a picnic, or end of summer celebration.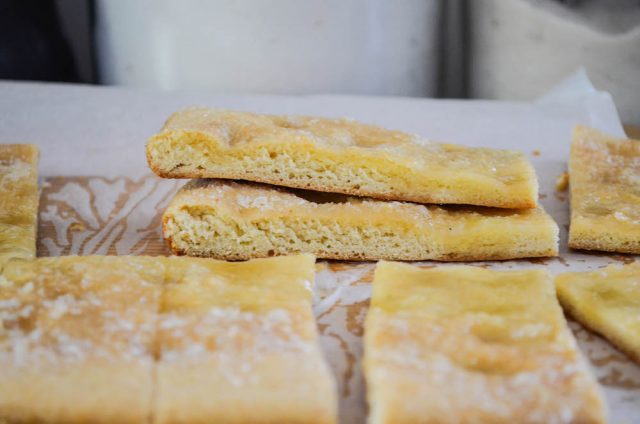 Eight Years Ago Fried Green Tomatoes, Peach Raspberry Tart, and Trutas.
Seven Years Ago Freezer Preserved Tomatoes, Cantaloupe Cooler, Peach Blueberry Cobbler Cake, Pickled Jalapeno Watermelon Rind, and Ginger Soy Marinated Flank Steak.
Six Years Ago 60-minute Chicken Stock, Cherry Slushies, and Perfect Pancakes.
Five Years Ago Crispy Baked Eggplant, Homemade Corn Broth, and Smoky Watermelon Gazpacho.
Four Years Ago Easy Peach Jam, Peach Allspice Muffins, Lemon Blueberry Scones, and Day 742.
Three Years Ago Minty S'mores Milkshakes, Cantaloupe Sorbet, Crispy Buttermilk Fried Chicken, and A Clean Slate.
Two Years Ago Roasted Beet Greens, Seriously Delicious Ribs, and Homemade Vegan Ricotta.
One Year Ago No Cook Tomato Basil Sauce, Crispy Baked Kale Chips, Zucchini Oatcakes, Sweet Butter Pastry Crust, Peach Blueberry Tart, Quick Pickles, and Pork Fried Rice Salad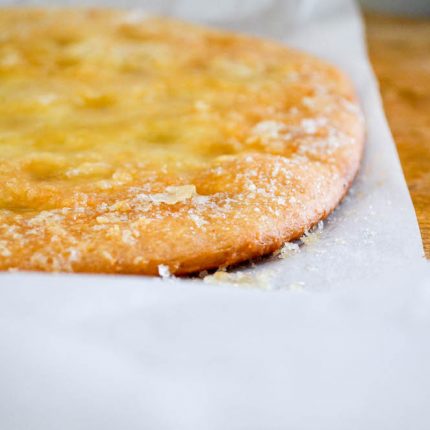 Luisa Weiss' Zuckerkuchen
A word about the flour here. My cups, when scooped & leveled, yield 145 to 150 grams of flour. Luisa's recipe noted it as 125 grams. This is certainly a case where using a scale offers the most precise measurement, and baking results. My recommendation is to spoon & level your flour to ensure the correct amount.
Ingredients
2

cups

250 grams flour (see note)

1

teaspoon

4 grams instant yeast

½

cup

120 ml whole milk

½

cup

plus 2 tablespoons

125 grams granulated natural cane sugar

1

egg yolk

3

tablespoons

40 grams butter, melted & cooled

Pinch

of salt

4

tablespoons

cold butter

cut into small cubes
Instructions
Line a 9-inch x13-inch/ (23cm x 33cm pan) with a sheet of parchment paper long enough to hang over the sides.

Place the flour and yeast in a mixing bowl. Pour the milk in a thin stream, while stirring with a wooden spoon. Add ¼ cup plus 2 tablespoons (75grams) of the sugar and the egg yolk

to the bowl. Stir to mix until it comes together into a shaggy dough. Add the melted butter and the salt. Stir until a rough ball starts to form.

Scrape the dough onto a floured surface, and knead for a few minutes, until smooth. You may need to add a little flour to keep the dough from sticking, but don't add too much; you want the dough to be soft. Form the dough into a ball and place it in the prepared pan. Cover with a clean dishcloth and put in a warm, draft-free spot for 1 hour.

Preheat the oven to 350°F (l80°C). Remove the paper from the pan, lay it on your work surface, and roll out the dough until it fits the indentations of the pan on the paper, and then transfer the paper and dough back to the pan. The dough will be quite thin. Make dimples all over the dough using your fingertip.

Evenly dot the surface of the dough with the cold butter. Sprinkle the remaining ¼ cup (50grams) sugar over the top. Cover the pan with the dishcloth again and let sit for 20 minutes.

Bake 20 to 25 minutes, until the cake is golden brown and butter & sugar are bubbling.

Let cool on a rack for 15 minutes. Use the edges of the parchment to lift the cake out of the pan. Cut into squares and serve warm or at room temperature. Best served the day it's made.
SaveSave
SaveSave
SaveSave
SaveSave