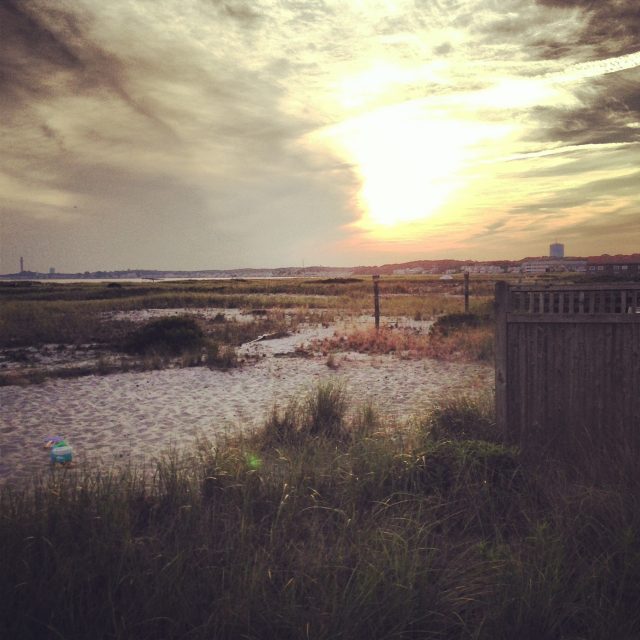 The first time I came back to the Cape after Michael died, it had just been thirteen days. I remember the bay breeze rushing across my face, feeling as though his spirit was enveloping me. I look back on my old posts, and I'm not sure how I got this far. Back then seconds felt like hours, and minutes felt like years. The thought of living a lifetime without him was simply incomprehensible. Still, going to the Cape so soon afterwards provided comfort, and a connection to him.
Last year, I felt hollow being here. Every sunset burned a hole in my heart. I contemplated never coming back, feeling all the good moments here had been used up. I ultimately decided to make the trip back this summer because Virginia really wanted to come. Her memories of Michael are so few, and the Cape is a place she associates with happy family times. So, I figured I'd push through with a stiff upper lip. In my mind, I'd resolved this would be our last trip.
As I stood on the deck watching the sunset last night, something felt different. And then I realized what it was—I was smiling.  A real, genuine one. The kind that only happens when you feel happiness in your heart. I wasn't thinking of Mikey, though. The joy came from simply capturing the beauty of the sun's warm glow as it tucked in for the evening.
When I woke up the next morning, something else incredible had happened. I stirred from my slumber fresh from a dream about him. I've been hoping to see him for so long. We were in an apartment that was unfamiliar, and both packing our bags. I was getting ready to settle into a hot bath, then realized the time. I'd be late for the airport if we didn't leave right away, so I gathered the girls. Mikey looked at me, and said "I'm sorry I can't go with you, I have a different flight".
And then, I woke up.
Just like that, he was gone, again. I'm a little panicked now that he may not be coming back. Ever. And yet, I feel a quiet peace in my heart. As though he has finally accepted the reality of it all, and is ready to move forward, too.
Music Pairings: Summer Wind by Frank Sinatra
The Flip Side: Babe by Styx