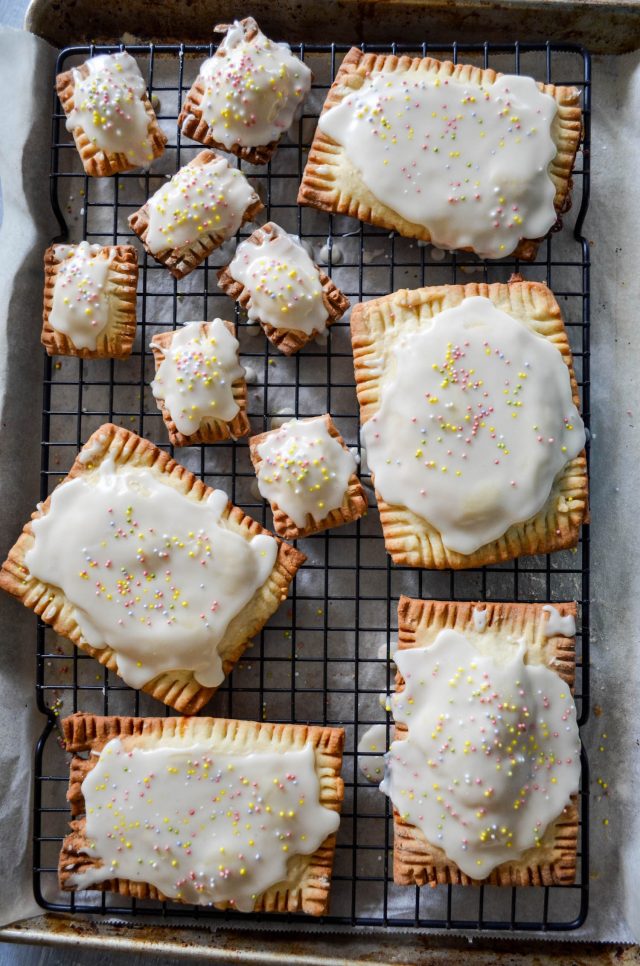 There's a certain someone I know, looking down, wondering why I didn't develop this recipe for Homemade Peach Pop Tarts sooner. Michael loved pop tarts. I mean, a heart-quickening, butterflies in the stomach, kind of love. I never understood the fascination, honestly.
We never had them in my house growing up. That's not to say I was weaned on homemade fare. There was plenty of Rice-a-Roni slung around my mother's kitchen. And heaven knows, I had my share of sugary breakfast cereals to start the day.
Somehow, though, pop tarts never made it into our house. I was aware of them on the shelves in the supermarket growing up, but never intrigued enough to beg my mom to buy them. I realize to some people this is like saying, "I heard air existed, but the idea to breathe it in never occurred to me".
The girls have inherited their father's love for pop tarts, so consider these Homemade Peach Pop Tarts my show of motherly love. There will undoubtedly be many more versions in our future. If you don't like or can't find peaches (who are you exactly?), then swap in your favorite jam. It won't offend me one bit.
If you really want to hear your kiddos squeal with joy, you can also make mini pop tarts. Surprisingly, they're almost easier to make than the regular sized ones. Sounds nuts, right? The reason is because the dough is quite delicate, so working with smaller pieces is a little more manageable. Should you choose to make tiny pop tarts, roll the dough on the thicker side, more like 1/8-inch thick. I didn't measure the small pieces, as they were just from scraps of dough, but the final tarts are about the size of my thumb (I was actually aiming for smaller—next time!).
Speaking of the dough, it's a very soft dough since it's made with confectioner's sugar, which absorbs better than granulated sugar. Normally, recipes direct you to use a light dusting of flour. Not this one. Go whole hog, and generously coat the surface you roll it out on. Trust me, it won't toughen you dough, but will make your life much easier. I don't say this to deter you from making these Homemade Peach Pop Tarts. They really are easy (promise!). I just want you to know exactly how to handle the dough for a great pop tart making experience.
What other flavor pop tarts would you like to see in the future? I'm thinking a simple cinnamon sugar, and s'mores one are a must. Oh, and in case you're curious—yes, I do like pop tarts now, at least these homemade ones!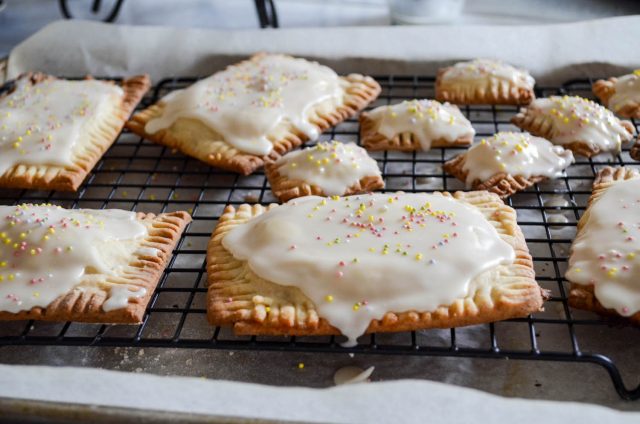 Eight Years Ago Fried Green Tomatoes, Peach Raspberry Tart, and Trutas.
Seven Years Ago Freezer Preserved Tomatoes, Cantaloupe Cooler, Peach Blueberry Cobbler Cake, Pickled Jalapeno Watermelon Rind, and Ginger Soy Marinated Flank Steak.
Six Years Ago 60-minute Chicken Stock, Cherry Slushies, and Perfect Pancakes.
Five Years Ago Crispy Baked Eggplant, Homemade Corn Broth, and Smoky Watermelon Gazpacho.
Four Years Ago Easy Peach Jam, Peach Allspice Muffins, Lemon Blueberry Scones, and Day 742.
Three Years Ago Minty S'mores Milkshakes, Cantaloupe Sorbet, Crispy Buttermilk Fried Chicken, and A Clean Slate.
Two Years Ago Roasted Beet Greens, Seriously Delicious Ribs, and Homemade Vegan Ricotta.
One Year Ago No Cook Tomato Basil Sauce, Crispy Baked Kale Chips, Zucchini Oatcakes, Sweet Butter Pastry Crust, Peach Blueberry Tart, Quick Pickles, and Pork Fried Rice Salad.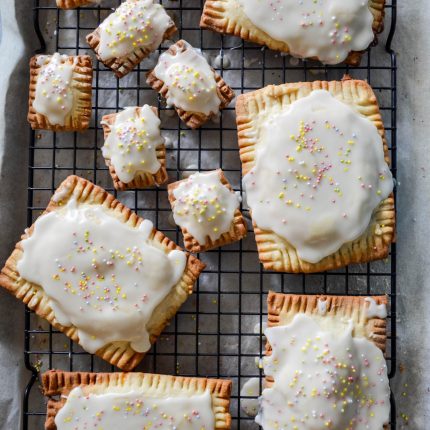 Homemade Peach Pop Tarts
Ingredients
Instructions
Preheat the oven to 375ºF. Line an 11-inch by 17-inch baking sheet with parchment paper.

Place the dough on a generously floured counter or cutting board. Sprinkle more flour on top. Roll the dough out to 1/8-inch to 1/16-inch thickness, making sure to lift it off the board every few rolls to ensure it's not sticking (add more flour as needed). You should have a rectangle about 22-inches by 11-inches when done. Trim any rough edges with a knife or pizza cutter (pro-tip!). Cut the rectangle into 12 even-sized rectangles.

Place half the pastry pieces on the prepared pan. Spoon 2 teaspoons of jam into the center. Spread the jam out, leaving a ½-inch border. Cover each pastry with one of the remaining plain pieces of pastry. Use a fork to crimp the edges closed. Use a pizza wheel or pastry cutter if you want a really neat edge.

Bake until crisp and golden around the edges, about 15 minutes. Transfer to a wire rack to cool completely (take care as they will be delicate when first out of the oven).

Add the Confectioner's sugar to a small, deep bowl with the almond extract and 4 to 6 teaspoons of cold water. Whisk until smooth. Drizzle over the cooled tarts, or spread it on with an offset spatula. Decorate with sprinkles as desired. Let the icing set for at least 30 minutes before serving.
SaveSave
SaveSave
SaveSave
SaveSave
SaveSave
SaveSave
SaveSaveSaveSave
SaveSave