cantaloupe cooler: an end of summer cocktail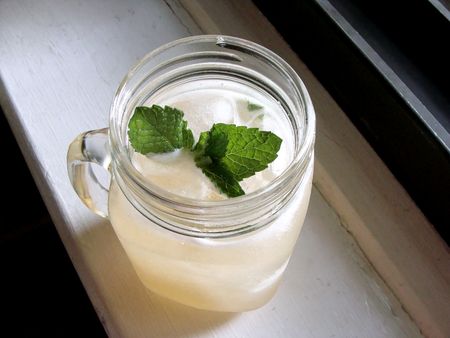 Last night we got to see the moon and stars shining in the night sky. It's something we don't get to enjoy quite the same way living in New York City. The girls even got to see Jupiter, glittering brightly above Provincetown before tucking into bed.
Here in North Truro, there comes a point when the moon floats over the bay, illuminating it like a flashlight is being held from above. The view is so lovely and still. It is forever frozen in my memory.
The rain is gone, at least for now. The sun shining so fiercely, it almost requires sunglasses indoors. What better way to say cheers, than this with refreshing cocktail—it's the closest I've come to capturing summer in all its glory.
cantaloupe cooler
serves one
The syrup may seem like a bit of work, but it's very easy and well worth the time. Make a few batches and store it in ice cubes trays so you can soak up some summer refreshment all year long.
For the cantaloupe syrup
1 cup cantaloupe, cut into chunks
1/2 cup/100 g sugar
For the cocktail
1 1/2 ounces cantaloupe syrup
1 ounce fresh squeezed lime juice
1 ounce vodka
1 mint leaf, plus another for garnish (optional)
freshly opened bottle of seltzer, to top off the glass
To make the cantaloupe syrup, place the chunks of fruit into the bowl of a food processor. Pulse to coarsely chop, then let machine process until it becomes a smooth puree, about 1 to 2 minutes. Pour into a saucepan and stir in the sugar. Bring to a boil and cook for 1 minute more, until all the sugar has dissolved. Skim foam from top, set aside and let cool.
Strain cooled cantaloupe syrup to remove foam and "sediment". You should be left with 1/2 cup of clear, thin syrup. Store in a covered container and store it in the refrigerator to chill.
Fill a cocktail shaker with ice. Add all the cocktail ingredients, and with the top on, shake until beads of sweat form on the outside. Fill a highball glass with ice. Strain the drink into the glass. Top off with seltzer, about 2 ounces worth. Garnish with mint leaf, if desired.