peach blueberry cobbler cake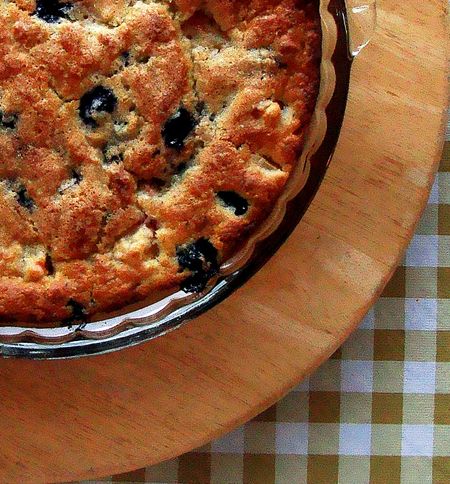 A rainy day on Cape Cod beats a sunny day in Brooklyn. It's a good thing the Mr. and I are in agreement on this one, since it's been grey and wet for the past three days. Even in the rain, though, North Truro is picture perfect, as evidenced in this view of Provincetown from our deck. The sun was struggling to peek out near dusk. All that managed to escape were a few rays, casting a heavenly glow over Pilgrim Monument.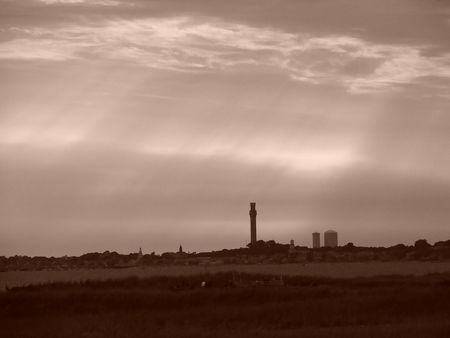 The inspiration for this peach blueberry cobbler cake started with a lazy afternoon on the couch watching Giada make a fruit crumble on the Food Network. An indulgence since I never watch it at home. All day, I'd been staring at some peaches that I'd brought from Brooklyn. The owner at a local shop gave them to me from his backyard the day before we left. I'd been wanting to make a cobbler but didn't have enough.
Besides, I must confess, I rarely bake on vacation. There are so many sweets I look forward to on our annual trip—donuts at Flemings, trutas and malasadas at the Provincetown Portuguese Bakery, birthday cake ice cream from Sweet Escape. Still, the urge to create became overwhelming.
I decided to add some blueberries to the mix. With this addition I would've had enough to make a traditional cobbler, but truth be told I love the idea of cobblers more than the eating them. Being a cake fiend, there's never enough topping for my taste. I decided to take my recipe for biscuits, add a bit more buttermilk and fold the fruit into the batter.
Best part is I didn't need an special tools—my fingertips did the job of a food processor, and the prep took all of 10 minutes, including dicing the peaches. FYI, I leave the skins on—you can peel them if you prefer, but honestly the skins weren't even noticeable in the finished cake.
Now I'm off to watch Escape to With Mountain with Isabella while the baby naps. Hope you're all enjoying these last days of summer vacation.
peach blueberry cobbler cake
makes one 9-inch cake
2 cups flour
1/2 cup sugar, plus extra for sprinkling
2 teaspoons baking powder
1/4 teaspoon baking soda
1/4 teaspoon sea salt
6 tablespoons cold butter, cut into 24 pieces
1 1/4 cup buttermilk
2 peaches, diced
3/4 cup fresh blueberries
Preheat oven to 400ºF. Grease a 9-inch glass or ceramic pie plate.
Whisk the flour, 1/2 cup sugar, baking powder, baking soda and salt together in a medium bowl. Add the butter and rub together wuickly with fingertips until small, pea-size pieces form. Pour in the  buttermilk and stir until it just comes together to form a batter. Fold in the peaches and blueberries.
Scrape the batter into the prepared pie plate and smooth top into an even layer using a rubber spatula. Sprinkle top with extra sugar, if desired. Bake for 35 to 37 minutes.