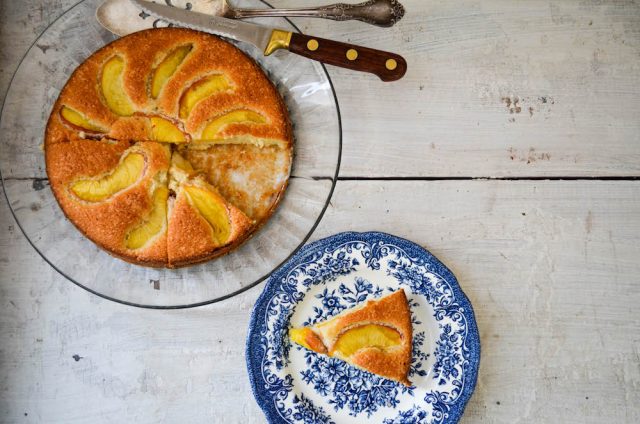 This cake. I mean, where do I begin? This Summer Peach Cake is what started my peach madness more than a week ago. On the way home from baking at the restaurant, I squealed when the bright yellow sign came into focus as I approached Montgomery Place Orchards in Red Hook, NY. Peach season had finally arrived. Not in full swing, and good heavens if I miss it while we're in Cape Cod this week, I'm going to ugly cry.
Since I knew we were leaving for vacation in just a few days, I showed some restraint, buying just eight peaches. Just enough to tease myself with the world of possibilities. At first I grabbed a quart, then I spied a tiny pile of seconds in the back. This is where I usually begin but didn't expect seconds so early in the season.
What are seconds? They're the best deal going when it comes to fruit. While everyone seeks perfection, I'll gladly choose the "imperfect" ones for 99 cents a pound. At that price, it's barely a break-even for farmers, and a big score for me. MPO has a high standard for what passes as first pick, so their seconds tend to be incredible. Sometimes it's a little nick in the skin, other times the fruit might be a tad softer than people expect, but never so overripe that it's past its prime.
Once I got home with my little bundle, I went to work on this cake. The inspiration came from a recipe C's mother made me many years ago in Normandy. She'd taken out a file of recipe clippings, and the recipe for Gateau "Financier" was one she'd had since she was a teenager. A financier is exactly what the texture of this cake was like, a little dense from the butter, yet light in flavor. Her handwritten recipe is tacked to my fridge, along with a recipe for creme anglaise, and it would be the premise on which I'd create my Summer Peach Cake.
There are no almonds in the cake, so while the texture is similar to a financier, the flavor wasn't there. I decided to add a splash of almond extract, knowing that it would pair nicely with peaches. On the first pass, I peeled the peaches. The second time I decided I like the flavor peach skins add to the overall cake. I'll let you choose skin or no skin, after all it's your kitchen, and soon to be your cake, not mine.
You can finish it with a dusting of confectioner's sugar, if you like. I found the sweetness level to be just right without the addition of it, and opted for a dollop of fresh whipped cream instead. Really, though, all this cake needs is a hot cup of tea or coffee, and nothing more for a perfect afternoon snack, or post-dinner dessert.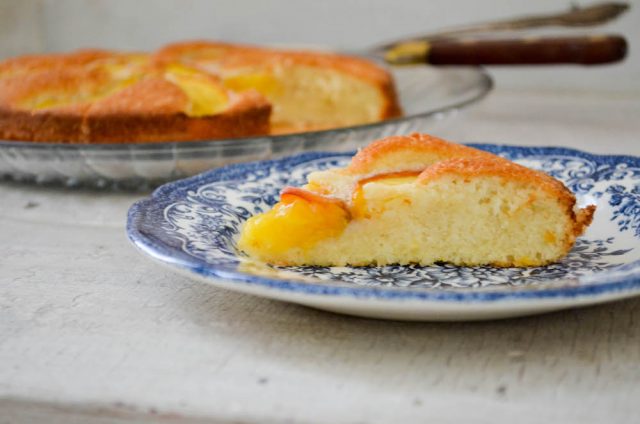 More Peach Recipes from In Jennie's Kitchen
Arugula, Peach & Fresh Corn Salad
This recipe is now part of my new site, Simmering. Join thousands of other subscribers now for only $5/month or $30/year (that's six months free!)
SaveSave
SaveSave
SaveSave