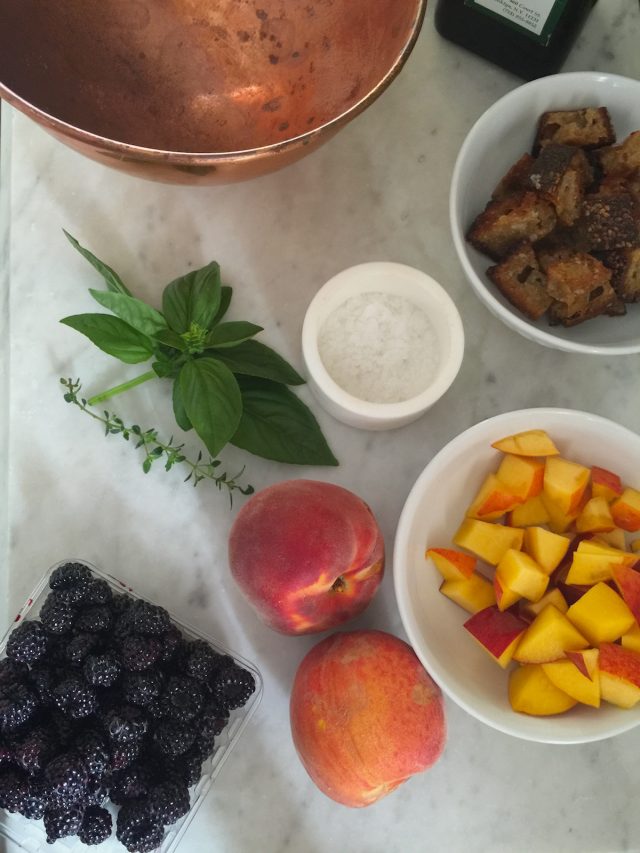 Tomatoes are just beginning to trickle into the farm stand I love in Red Hook, NY. A few weeks ago a panzanella craving hit, and while I didn't have any tomatoes around, the peaches on the counter got me thinking. This batch was particularly sweet and juicy. What if I swapped them in for tomatoes, and use all the rest of my normal ingredients to make a Peach & Basil Panzanella?
Well, the answer to that question is oh.my.heavens. I knew it would at the very least be good. Amazing is something I hadn't anticipated. The peppery nature of the Italian basil was tempered by the sweetness of the peaches. Crunchy, coarse sea salt adds a whole other layer of complexity to a seemingly simple dish. Eating with the seasons has a lot to do with the wonder of it all, too. 
I should back step a bit, for those of you who aren't familiar with panzanella. It's an Italian bread salad, and a very thrifty way of using up stale bread. I tend to leave a bowl on my kitchen counter, and let the bits of bread we don't finish with dinner collect in there. These days I find myself chopping up tomatoes in the morning, scattering them on top of a few pieces of bread and adding some salt, olive oil, and vinegar. It's so similar to this salad, except I keep the slices of bread whole.
But, I'm lost my way a bit here. Back to the Peach & Basil Panzanella. Because we're talking about just a few ingredients here, quality is really key. Choose the juiciest peaches, reach for the best olive oil in your pantry, and use a thick country bread. This salad might look familiar as it was in the video I shared a few weeks back for the Blackberry Bruschetta. I made them both the same day, and decided to make a "catch of the day" video out of it, having just gotten back from the farm stand.
Here's the link to the video, if you want to see it again. While you're there, click the subscribe button so you never miss a video. I tend to post them on my YouTube channel before they make it to the blog. Okay, enough has been said about this Peach & Basil Panzanella. It's so easy to make, it's barely a recipe—more a suggestion of what to do with that day old lingering on the kitchen counter. Enjoy!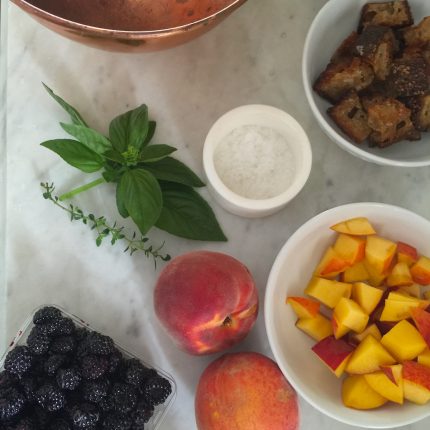 Peach & Basil Panzanella
Ingredients
1

large peach

diced

1

slice

day old country bread

cubed & toasted

Few leaves of fresh basil

torn

Coarse sea salt

Extra virgin olive oil

Red wine vinegar
Instructions
Add the peach, bread, and basil to a bowl. Sprinkle some salt in, and drizzle a bit of olive oil. Toss to coat everything. Add a few shakes of red wine vinegar.

Let the salad sit for 10 minutes before serving so the bread cubes can absorb the juices.
Some more basil inspired recipes from my friends at Food Network's Summer Soiree:
Devour: Pesto, Change-o: 6 Recipes to Use Up Leftover Basil
Feed Me Phoebe: Brazilian-Style Moqueca Fish Packets with Coconut Milk, Tomatoes and Herbs
The Lemon Bowl: Thai Basil Shrimp
Elephants and the Coconut Trees: Basil Seeds Limeade
Creative Culinary: Ricotta, Lemon and Basil Pasta Salad
TasteBook: Frozen Basil Daiquiri
Healthy Eats: 7 Summer Dishes That Aren't Complete Without Basil
Napa Farmhouse 1885: Roasted Fingerling Potatoes & Tomatoes with Basil
The Mom 100: Shrimp and Corn Salad with Basil Dressing
Swing Eats: Gluten-Free Gnocchi With Tomato Sauce And Basil
Taste with the Eyes: Mandilli di Seta al Pesto (Handkerchief Pasta) #glutenfree
FN Dish: 7 Ways to Take Fresh Basil Beyond Pesto