freezer preserved tomatoes: summer fest 2010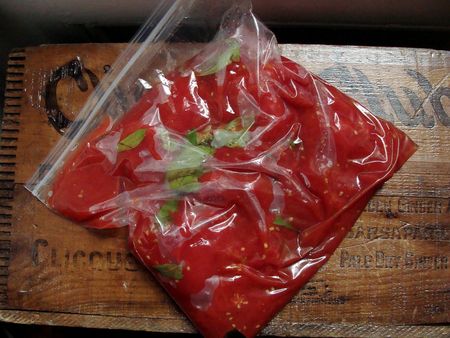 Many people asked if I would take a break from blogging or tweeting during my vacation. I promise I'm doing my best to relax and recharge. I did, however, do the same for you all as I do for the Mr. when I'm out of town. I left a few meals in the fridge to make sure you're well-fed while I'm gone.
By now you might have heard about my legendary my tomato jam. That recipe, as easy as it is, requires a time investment. The prep time is mere minutes, but patience is required as you sit back and apply a low and slow philosophy. The reward is a thick, jammy mixture of tomatoes and onions that tows the line between sweet and savory.
That bag of tomatoes you see above is the total opposite, and for good reason. If you're still nervous about canning or preserving, then this is a good "get your feet wet" approach. No special tools required. No jars to sterilze. While it won't last as long as a shelf-stable jar of jam, it will extend your tomato season by a month or two.
I simply score the tomatoes—a kitchen term for cutting an "X" into the bottom of the tomatoes, pile them into a microwave-safe glass bowl, cover, then cook on high for about 6 to 8 minutes until the skins are bursting open. After a brief cooling off period, the skins slip off 1,2,3. Normally you'd need to boil a pot of water and heat up the whole house to do this. It's how I started prepping my tomatoes years ago. Then I had kids and needed to figure out how to enjoy fresh, homemade tomato sauce in less time. I haven't looked back since.
Once the tomatoes are peeled, I puree them with an immersion blender, then pour into a freezer ziptop bag and shove in a handful of fresh-picked basil from the garden. Once it has completely cooled, you can store the sealed bag in the freezer. When you're ready to use, just thaw the bag  overnight in the fridge, or place it in a bowl of cold water for about 30 minutes. You're then only 20 minutes away from enjoying a quick & easy dinner of pasta with homemade marinara sauce.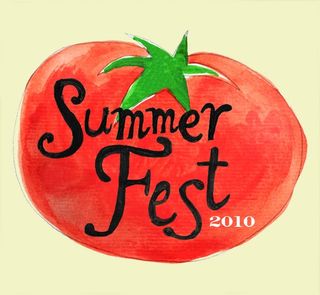 HOW YOU CAN JOIN IN SUMMER FEST:
So now it's your turn: Have a recipe or tip that fits any of our weekly themes? Starting yesterday, for the next five Wednesdays,  you can contribute in various ways, big or small.
Simply leave your tip or recipe or favorite links in the comments below a Summer Fest post on my blog, and then go visit my collaborators and do the same.
The cross-blog event idea works best when you leave your recipe or favorite links (whether to your own blog or someone else's) at all the host blogs. That way, they are likely to be seen by the widest audience. Everyone benefits, and some pretty great dialog starts simmering.
Or think bigger: Publish entire posts of your own, if you wish, and grab the juicy Summer Fest 2010 tomato badge (illustrated by Matt of Mattbites).