Homemade Cherry Pop Tarts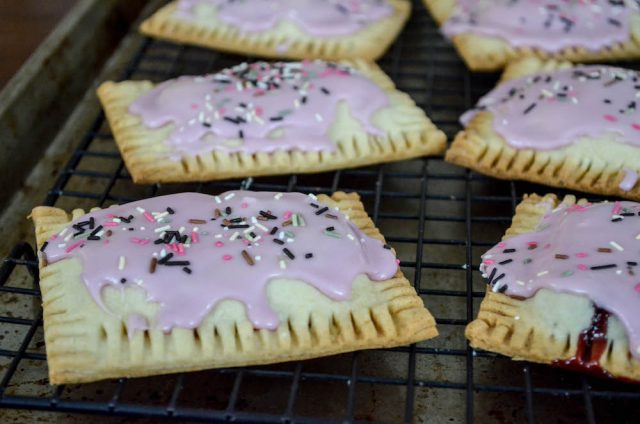 Sharing the recipe for these Homemade Cherry Pop Tarts feels like a cheat, of sorts. I mean, let's be honest. You can figure this out by yourselves, right? A few weeks ago, I added a recipe to the site for these Homemade Peach Pop Tarts, and then these Blueberry Pop Tarts. Connecting the dots should lead you to realize that you can pretty much swap in any of your favorite jam flavors to create a more personalized pop tart.
Sometimes the obvious isn't so obvious, though, so as I create new combinations, I think it's still helpful to share them here with all of you. I'm not sure there's anything quite poetic left to say that I haven't already written.
I used my homemade cherry jam. If you happened to make this jam while sour cherries were in season, use it! You can even make that jam with frozen sweet cherries (or sour ones if you can find them). And if making jam isn't your thing, then use your favorite store bought cherry jam.
Now that the girls are back in school, I suspect pop tarts will be more popular than ever in our house. There's also a school store on campus, and my guess is the entire Woodstock Day School community will be happy homemade pop tarts is now part of my baking routine, too.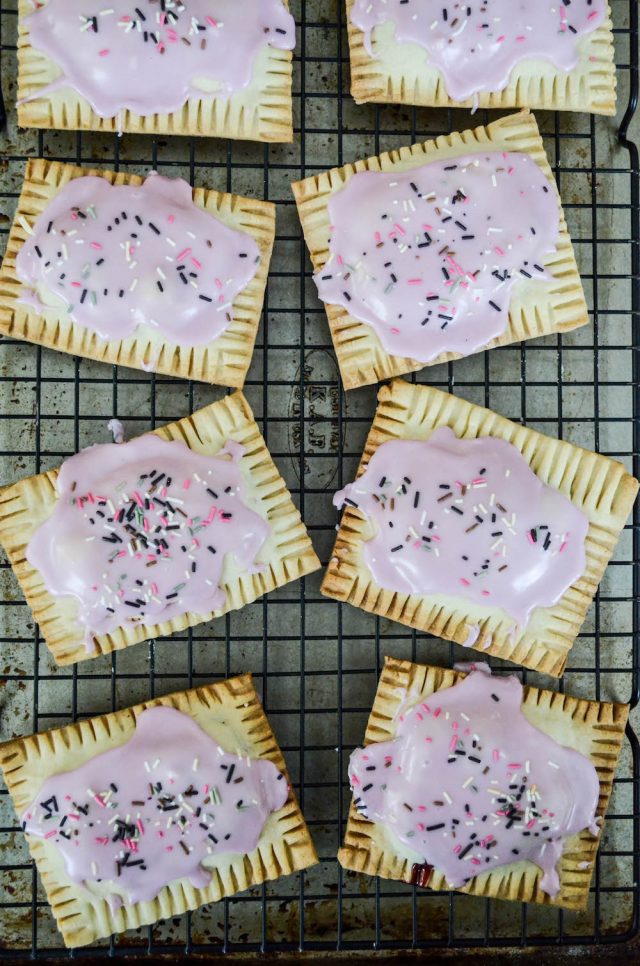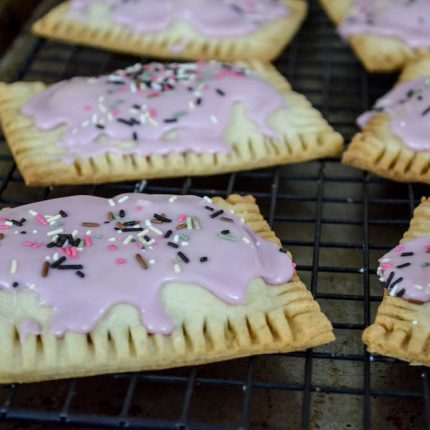 Homemade Cherry Pop Tarts
Ingredients
Instructions
Preheat the oven to 375ºF. Line an 11-inch by 17-inch baking sheet with parchment paper.

Place the dough on a generously floured counter or cutting board. Sprinkle more flour on top. Roll the dough out to ⅛-inch to 1/16-inch thickness, making sure to lift it off the board every few rolls to ensure it's not sticking (add more flour as needed). You should have a rectangle about 22-inches by 11-inches when done. Trim any rough edges with a knife or pizza cutter (pro-tip!). Cut the rectangle into 12 even-sized rectangles.

Place half the pastry pieces on the prepared pan. Spoon 2 teaspoons of jam into the center. Spread the jam out, leaving a ½-inch border. Cover each pastry with one of the remaining plain pieces of pastry. Use a fork to crimp the edges closed. Use a pizza wheel or pastry cutter if you want a really neat edge.

Bake until crisp and golden around the edges, about 15 minutes. Transfer to a wire rack to cool completely (take care as they will be delicate when first out of the oven).

Add the Confectioner's sugar to a small, deep bowl with 4 to 6 teaspoons of cold water. Whisk until smooth. Drizzle over the cooled tarts, or spread it on with an offset spatula. Decorate with sprinkles as desired. Let the icing set for at least 30 minutes before serving.
SaveSave