new beginnings, and scrambled eggs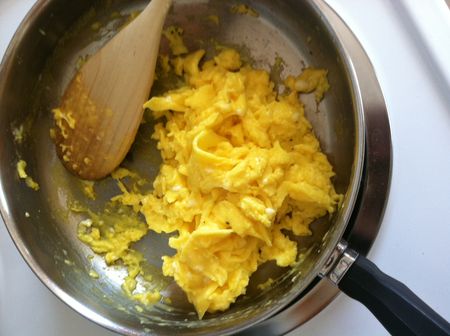 I've been wanting to write about scrambled eggs for a few weeks now. They seem to have so much in common with my life these days. I mean, you crack a few eggs into a bowl, beat them with a fork, pour them into a pan and somehow they become a nourishing meal. I know I will come out of this a changed woman. My husband is dead. Half my heart is gone, the other half throbbing out in the open, strewn across these pages.
There is no doubt I will be a changed woman by all of this. The important thing to keep in mind is to try and come out of changed for the better in some way.
Will I be stronger?
Will I be more inclined to love again?
Will I be less inclined to love again?
Will someone want to love me again?
I've always been a glass-half-full sort of gal. I remember back in my Gramery Tavern days a co-worker said I was always cheery, and wondered how I maintained such a sunny outlook. The way I've always figured it is takes a lot more energy to meditate on the bad stuff swirling around the universe. Waking up and deciding to actively seek out happiness, well for me that has always been the more sensible option.
I'll admit, these days though, it's pretty damn easy to want to wallow in the self-pity. I'm pretty sure I'd get a pass if I decided to not shower every day. Surely no one expects me to even take a brush to my hair, let alone make sure my shoes match. Yet these simple acts, these rituals of life are important to me. They offer a sense of control in a very insteady, unsure time of my life.
Right now at this moment in time, it takes a lot more energy to savor the sunshine. It takes a tremendous amount of guts to put myself out there every day. Literally. I step outside my door, and I feel the eyes on me. The looks, that remind me I'm the girl with the dead husband. I know the sad feelings come from a genuine place, but that doesn't make the looks any easier to bear.
But still, I wake, I sometimes even apply mascara, and get dressed. I am deciding to live, not simply exist every morning I wake to a new day.
How does this have anything to do with scrambled eggs? Well, we all have to start somewhere, right? For me, it means learning a new kind of normal, one that doesn't involve my Mikey. For beginner cooks, the ones who say they can't boil water, but at least have the interest to learn, well, I say start by scrambling yourself some eggs.
As I made them for breakfast a few weeks on Cape Cod, I stared down at the pan and felt mesmerized at what those eggs represented. As I poured them into the hot, buttery skillet, I decided scrambled eggs would be the first "recipe" I wrote about since August 7th.
It requires butter, of course. Life is short, use the damn butter. I implore you. Melt some butter in skillet over low heat.
You'll also need patience. Resist the urge to cook your eggs with a quick blast of fire. The proteins will toughen, and you'll end up with rubbery eggs. Low and slow is the key to creamy scrambled eggs.
And take them off the heat when they still look wet. I promise they'll finish cooking up from the residual heat in the pan before you scoop them onto your fork and into your mouth.
I don't have all the answers right now. Heaven knows I never will. All I can say is don't tell me you can't cook—the only thing you need is the "will" to do it. The rest will fall into place with time and practice. You just have to to be patient.