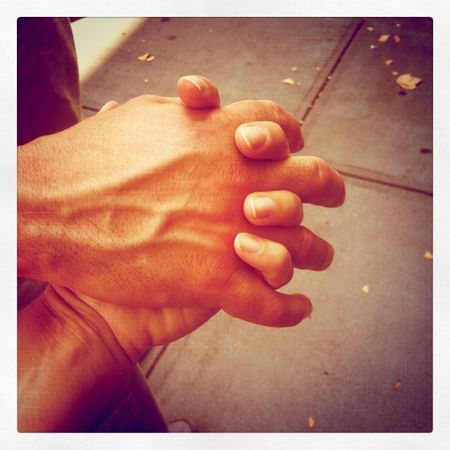 I snapped this shot on our last date. It was in the middle of the day, the same one when I took a picture of his wedding ring. I remember winding my fingers in between his, as our palms stuck together in the 102ºF moist heat of the day.
For some reason, I had an urge to capture that moment our hands were locked in time. 16 years of holding hands, walking down the street and I'd never had that urge, yet something compelled me to take out my iPhone that afternoon and document it. Perhaps the universe was sending me a sign, knowing that just 16 days later I'd never be able to hold his hand again.
Two weeks before Mikey died, a friend lost her husband. I remember reading the email from another friend in the wee hours of the morning. Mikey had stumbled into the living room before the kids woke, and I told him the news. He had a bewildered look on his face, squinted his eyes and asked how could it be true. We both shook our heads in disbelief.
Later that day I posted this update on Google+:
"It's always good to have a master plan in life. Call it a goal, guiding force, whatever you need to stay determined and focused.Then be prepared for the derailments. The times when life just doesn't work out the way you anticipated. The times when it seems most unfair, and you find yourself walking through some alternate reality, sure that the one you're living can't be yours because something went wrong. Something threw you off course. Those moments that rock you to the inner core, shake you in such a way that once the dust settles, you're left missing a piece of yourself forever. I can't imagine facing what has happened to a friend recently. All I can do is join our other friends and neighbors to help her heal. Help her in any way possible to find the courage to face each new sunrise, knowing that she can never go back to the way things were. None of us can take the pain away, all we can do is hold her hand as she navigates life in a way she never imagined."
Now I walk in her shoes, and all I can keep wondering is how did this happen to my life? When you lose a loved one to illness, there's a thread that links you to their thriving, living self and their inevitable death. This by no means is my way of saying I'd prefer Mikey to have suffered. In fact, as I ran down the block to find him collapsed on the sidewalk, he was already blue from the neck up. I had wondered how much oxygen he lost to his brain, and was worried he would live his life in a vegetative state. I wasn't worried about the burden it would add to my life—my thoughts stemmed from knowing he wouldn't want to live that way. He wouldn't want me to have to make the decision to pull the plug.
That all raced through my mind in a split-second. An hour later, the doctor entered the room I'd been whisked to in the ER. I looked at him and said "it's okay, you can tell me my husband is dead."
I waited to see his body one last time. As I entered the room, I looked at him on the hospital gurney. His olive skin had already started to pale. His forehead felt cool, no warmth or sign of life left in him. The fucking doctor was such an asshole he didn't even close his eyes. Those dark chocolate eyes that caught my breath in a crowded room were now glazed and bloodshot.
A body that had held me earlier that morning, and kissed my lips just hours before, was now a limp, lifeless corpse. And therein lies the reason I don't think the shock will ever wear off. He was alive, playing paddle ball at 3:00pm, teaching his daughter to ride her bike at 4:30pm, then dead at 5:52pm.
People are quick to say time heals, and it gets easier—even people who have suffered the loss of a spouse. That's hard to imagine. Day 42 feels sadder, tougher, more raw than Day 1. When it first happened, it was easy to convince yourself the whole thing was a dream. When the house is full of friends, bringing cartloads of food and ears eager to listen about your love story, the ache is soothed, or at least suffocated.
By Day 42, all your left with is the stark reminder that this really did happen. And each day that passes means you're one day further away from that warm touch that once made you feel like you were invincible.