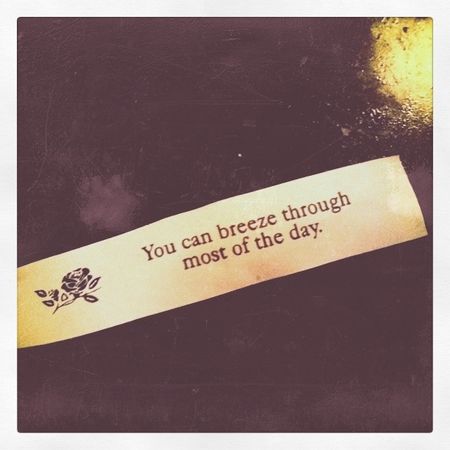 I laughed out loud as I read this fortune, after finishing dinner with Todd, Diane and the girls last week. It was our final meal in Seattle, just hours before we boarded a plane. The Perillo Girls had their first adventure in a post-Mikey world.
All I could think was what cruel bastard stuffed that fortune in a cookie destined for me. I joke a bit here, and know fully that fate has better things to do than hand me a loaded fortune like this one, but still you have to admit it's pretty hysterical.
I mean my husband died 58 days ago—life is anything but a piece of cake right now. I wish I could breeze through days, but all I keeping thinking about is 16 seconds—how is that 16 years feels like 16 seconds?
My mind is a database of moments, each one a memory of the time we spent together. When I go to this place, tears ultimately trickle down my cheek. Please don't tell me these moments are okay. I'm fully aware that they are—I've gotten used to the taste of salty tears running down my face in public, crying as suddenly as a three year old's mood changes.
Just because they're okay doesn't mean they are easy to deal with, or that I don't feel like an ass as I stare into a store window fighting back tears. Grieving sucks the life out of you, and the best you can hope for is being able to smile after the floodgates have closed.
Sometimes it's a joke I hear.
Sometimes it's the thought of his deep chocolate eyes that make me smile.
Sometimes, it's just knowing I have to stop asking why—why did this happen? The why question will gnaw away at your soul, leaving nothing in its wake if you don't keep it at bay. There will never be a good reason for why the love of my life, best friend and father to my children died so suddenly.
And so I go about my days, filling them with chores. I try to include lots of walking, reminding myself that one foot in front of another is how this healing thing will eventually unfold. My footsteps sometimes guide me to places unexpected, as though Mikey were drawing me near to say it'll be okay one day. That is how I happened upon Fanelli's last week—it's where we had our third date 16 years ago.
As the days pass, I'm trying to create some order and consistency for myself. I'm back to writing my Food Network column, Simple Scratch Suppers, and my final draft of the book proposal is in my agent's hands. For those of you wondering if the scope of my book project has changed, well, essentially no.
Yes, my feelings about cooking have changed the last 58 days. Mikey will never again taste my recipes. That is very hard for me to accept. That is why I'm working through the experience in my own special way. That story has yet to unfold, so I cannot write it, let alone even think of drafting a proposal about it. I just have to live it for now.
This current proposal captures my cooking life before Mikey died. The effortless one, where recipes popped into my head as quick as kernels of corn pop in a hot pot of oil. I don't believe I need to beat you over the head with memories of him in this book—he was alive and vibrant as each recipe was created. Hell, he came up with the name for the book over dinner one night.
Tonight, I'm going to find comfort in a humble pot of beans. My cooking from scratch approach in the kitchen is a perfect metaphor for repairing my heart and soul right now.
A Not So Simple Pot of Beans
I originally posted this recipe back in April. I figure since many of you are new to the blog, it would be a nice introduction to see how simple, and satisfying, it is to cook from scratch.
Don't let the title of this recipe fool you. There's nothing fussy or difficult about cooking the beans. It's what you add to the pot that elevates them from humble peasant food to culinary excellence. The cooking liquid is quite flavorful too, so feel free to stir it into soups and sauces in which you plan to use the beans too.

1 cup uncooked navy, black or pinto beans, picked over and rinsed
4 cups cold water
1/4 cup extra virgin olive oil
2 cloves garlic, peeled
Generous pinch of sea salt and finely ground black pepper
Combine all of the ingredients in a 4-quart pot. Bring to a boil over medium-high heat, then reduce flame to lowest setting. Cover pot and let the beans cook at a gentle simmer until tender, anywhere from 1 to 2 hours, depending on the freshness of your beans.
Remove the pot from heat and let the beans cool. Transfer to a container with the cooking liquid, cover and store in the refrigerator for up to one week, or freeze for up to two months.