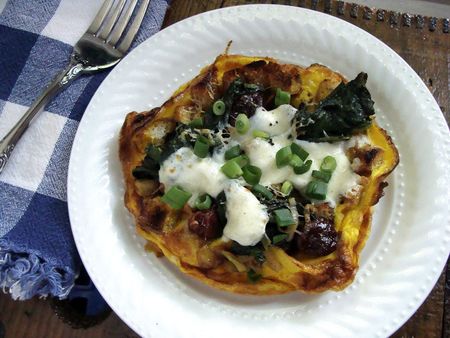 I love starting the day with a good egg dish—especially now that our local Greenmarket is open and the fridge is stocked with Grazin' Angus Acres eggs. My favorite, quick, healthy prep is to poach them, but that "eggy" you see above has been making a play for the number one spot at our breakfast table. It's basically a spruced up frittata that finishes in the oven instead of a death defying flip in the pan.
I first saw this dish on Martha Stewart, prepared by Darius Salko, chef at Tini in Providence, Rhode Island. It looked lovely as-is but I decided to go in a different direction and jazz it up a bit. My version is a never ending carousel of ingredients since I add whatever leftover sauteed vegetables I have in the fridge. I also changed the spelling because I think "eggy" looks so much nicer than "eggie", don't you?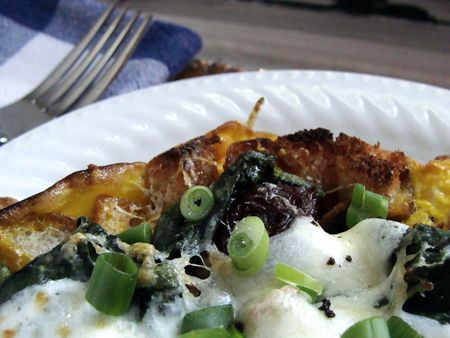 This is one of those dishes that is so simple and good, it seems silly to confine it to one definitive recipe, though I am giving you one start out with as a base. Chef Salko's recipe calls for sourdough bread—I've used challah, ciabatta and even day or two-old French bread. Instead of adding herbs, I've used fresh arugula and more recently sauteed spinach—the one above had some shallots and dried cherries in it too (and that gooey melted cheese is thinly sliced fresh mozzarella).
And, frankly, there's nothing better than a splash of cream in scrambled eggs. Top it with some grated Parmesan, a few dollops of homemade tomato jam, and it's pure happiness on a plate. Quick, easy and it can even double as dinner—my poaching days may be going on hiatus.
Arugula, Tomato Jam & Parmesan Eggy
Serves 2
2 large eggs
splash of heavy cream
Salt and freshly ground black pepper, to taste
1 tablespoon butter
1 slice country or brioche bread, cut into 1/4" cubes
small handful of arugula, thinly sliced
1 tablespoon tomato jam
1 teaspoon freshly grated Parmesan cheese
chopped scallions, to garnish
Preheat your oven to the broiler setting. In a small bowl, lightly beat the eggs, cream and season with salt and pepper; set aside.
Melt 1 teaspoon of butter in a 6-inch ovenproof skillet. Add diced bread and saute until golden. Add arugula and saute until slightly wilted.
Add the remaining butter and swirl around bottom and up the edges of the pan to ensure the eggs do not stick. Pour in the eggs, and using a heatproof rubber spatula, gently push the sides away from the pan so any loose uncooked egg can fall to the bottom.
Once the top looks wet but no longer runny, drop dollops of jam on top and sprinkle with the Parmesan cheese. Place underneath the broiler until the top is golden and set, about 1 minute. Garnish with sliced scallions to serve.