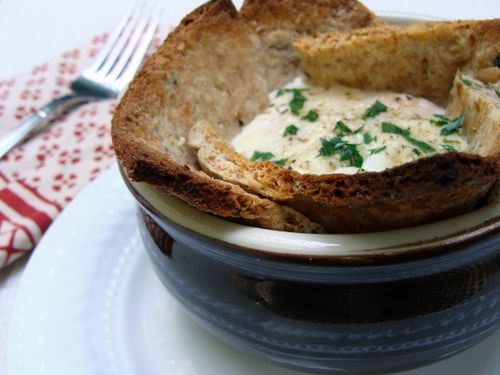 I love eggs. They're an inexpensive source of protein compared to meat, even if you buy them at the farmer's market, and filled with lots of natural vitamins and minerals. The yolks are also rich in choline, a nutrient important for brain development, making them a great kid food too. I'm not sure they work on the older, already developed brains, as the Mr. still forgets most of what I tell him. That may be just be a side effect of marriage I suppose.
Eggs are also my back up "I don't have a lot of time to cook ingredient". Saute some vegetables and you've got a frittata. There's also nothing like perfectly fried or sunny side up eggs with salad, well…and maybe some bacon too. A girl cannot live on sweets alone and this week I've been in dessert testing mode. I had eggs from my favorite farmer, Dan at Grazin' Angus Acres, and decided to make birds in a nest for lunch. Instead of phyllo or puff pastry, I lined an individual casserole dish (like the kind you'd use for French onion soup) with multi-grain pita. In went the eggs, topped with a splash of cream, some Parmesan and fresh black pepper. I continued with my writing and less than 20 minutes later, I had a pretty elegant-looking meal and one more egg recipe to add to my files.
Eggs in Nest
Makes one serving
This recipe is easy enough to double, triple or even adapt to a muffin tin to make for a crowd (you'll probably only need two pita wedges and one egg per nest for a standard size tray). Serve it with a mixed green salad or grilled vegetables and consider breakfast, lunch, or even dinner done.
Butter to coat baking dish
One 7-inch round multi-grain pita, cut into 4 wedges
2 large eggs
1/2 teaspoon heavy cream, optional
1 teaspoon grated Parmesan cheese
Freshly ground pepper, to taste
Freshly chopped parsley, to garnish
One 4-inch round by 2-inch deep ceramic casserole dish
Preheat oven to 400ºF. Coat sides,bottom and rim of baking dish with butter. With the tips pointing up, line the bottom and sides of the casserole, letting the wedges overlap. Add the eggs to the pita "nest". Spoon the cream on top of eggs, if using. Sprinkle with Parmesan cheese and season with pepper. Place dish on a baking sheet and bake for 18 minutes, or until whites of egg are just set. Garnish with chopped parsley and dig in—the pita crisps are perfect for scooping up the egg yolk.