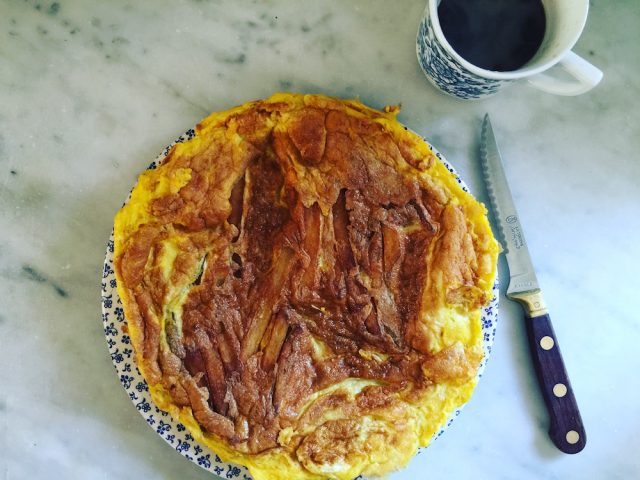 A few weeks ago I made this frugal, late lunch, repurposing some fries we took home from a restaurant dinner a few days before that. Truthfully, I never once considered writing a recipe for Potatoes & Eggs, a staple from my childhood, but so many people seemed intrigued when I shared it on Instagram recently that I thought it was time to finally record it here, sort of— I'm sharing a rough  recipe for it, more detailing the technique than giving hard and fast measurements.
See, that's the thing about Potatoes & Eggs. It's a humble no-recipe, kind of recipe, something every Italian-American mom whipped up, at least the ones I knew in Brooklyn. It was also one of the few things I ate as a kid, being quite the finicky eater. Potatoes & Eggs were also served as a hero in almost every pizzeria in Brooklyn, or at least when I was growing up, you know back before NYC became the home of the artisanal, house-milled flour, hand-stretched pizza crust.
This little bit might stop you all in your tracks, no doubt, but I love eating potatoes & eggs with ketchup. Some childhood habits are too hard to break. I suppose we can run, but can never hide from our roots.
Rather than fuss with such a classic, I'm giving you the rough break down of how to cook this frittata-like dish. A basic ratio would be a handful of French fries to each egg, but if you have less fries, don't fret. This is one of those dishes, simple as it is, that always gets a squeal of approval from both my girls.   You can get fancy, if you want, and add some cheese, even some fresh chopped herbs. I do that on occasion if cooking it just for myself, but when it comes to the kids, mine at least, all you need is two ingredients to hit a home run every time: leftover fries and some eggs.
More Recipes Using Leftovers on In Jennie's Kitchen
Banana & Toasted Almond Pecan Pancakes
Potatoes & Eggs
Ingredients
Leftover French fries

Eggs

beaten with some salt & pepper
Instructions
Heat some potatoes in a skillet (home fries or roasted potatoes work fine, too). Swirl in a bit of olive oil. Pour in some beaten eggs, sprinkle with salt. Cook until the bottom and sides begin to set, then slide a spatula around the edges, and tilt the pan so any uncooked egg can slip underneath. Once the top looks set, and no longer jiggly, flip the frittata, and cook another 1 to 2 minutes.