smashed brown potatoes + weekend brunch picks
Now that the Thanksgiving dishes are done, I have a few minutes to let you know my brunch picks for the weekend. The picture you're looking at above is my version of hash browns using leftover mashed potatoes. Next week I'll share my recipe for the best cranberry sauce ever. If you think the garnet-hued stuff is just for turkey day, this recipe will change your mind. I'm stocking up on cranberries and plan on canning some to give as holiday gifts this year.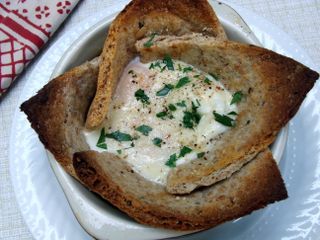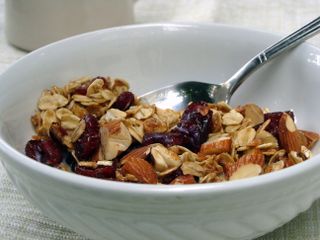 The perfect detox if you're still recovering from the food fest that just occurred. This is also great to pack for a quick weekday snack, and there's even a recipe to make your own granola bars!
A few weeks ago, I decided lunch would be home fries with some sunny side up Grazin' Angus Acres eggs (no, I don't get a commission for each time I mention GAA—I just believe in promoting this amazing product). Now, home fries are normally made with chunkier potatoes and hash browns with shredded ones, but what really matters is getting a crispy, browned top and bottom, right? So, here's my version called smashed browns.
Smashed Browns
serves 4
My leftover mashed potatoes had some butternut squash (hence the orange hue), but you can certainly use a 100% percent potato mash too. Since you're leftover potatoes already have salt and pepper, you probably won't need to add any extra.

Extra virgin olive oil
1 small onion, chopped
1 quart leftover cold mashed potatoes
Cumin, to taste (I used about 1/4 teaspoon)
Heat a skillet, preferably cast iron, over medium heat. Add enough olive oil to coat bottom of pan. Add onions and saute 1 to 2 minutes until softened and fragrant.
Add mashed potatoes and cumin; stir to mix in onions. Increase heat to medium-high and press potato mixture down with a spatula to form a thin layer in the pan.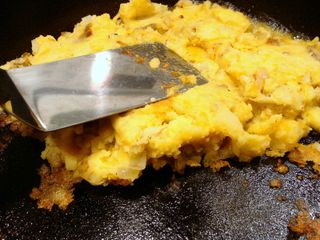 Cook until nicely browned and crisp, then flip using a heat-proof spatula, and continue cooking until underside is browned to desired doneness. Serve hot and enjoy (I sure did)!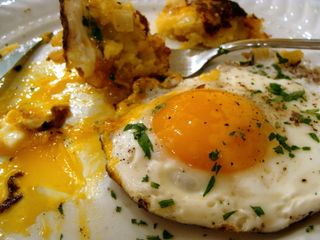 SaveSave