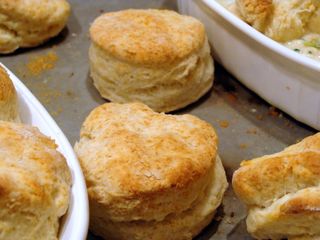 Today I found myself strolling through the Union Square Greenmarket after finally meeting Julia. It thrills me to meet twitter friends in real life, and is even more rewarding when they turn out to be as wonderful in person. I'd made note on my pass through the market before we met of a bread stand, Buon Pane. The sourdough baguettes looked beautiful and they were my back up plan if I didn't feel up to walking to Balthazar to get the very necessary ingredient for my stuffing.
I got home, baguette in hand from Buon Pane (it was too cold and windy to walk to Soho) and diced it into cubes after cleaning up dinner (beef stew over hand-cut pappardelle if you're interested). This will probably be my last post this week so I have ample time to finish up work and get started on the rest of my Thanksgiving prep work. Curious about the menu? Yeah, I thought so. The main course is turkey…of course (ha, get it, course? Imagine the poor Mr. who has to laugh at my jokes).
I don't brine and I'm not into fancy glazes. Frankly, I've never had a dry bird by stuffing a heart attack's load of butter under the skin and roasting on high heat for about 30 minutes, then reducing 75 degrees or so for the rest of the roasting time. I know you want exact temperatures but in all honesty in changes every year. I usually pull my Fannie Farmer cookbook off the shelf to gauge roasting temps and times. The turkey is just one thing I refuse to stress about and maybe that's why it always comes out looking gorgeous and tasting phenomenal. As for the rest of the menu, there'll be an antipasto platter, broccoli, smoky creamed kale, apple pie, candied nuts if I have time, and the rest of the edible cast goes something like this:
Dorie's biscuits – may even use some rendered leaf lard!
Here's a quick & easy homemade bread recipe too.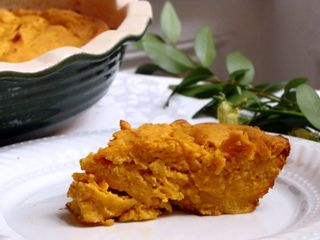 sweet potato, ricotta and leek souffle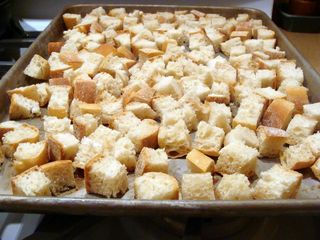 These cubes will become stuffing with a recipe from memory.
Perhaps this will be the year I write it down! It's filled with herbed sausage, carrots, celery, onions, pecans or chestnuts depending on my mood, some eggs and seasonings.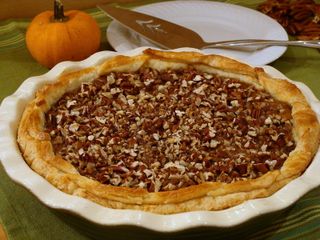 You could even start the meal with this velvety butternut squash soup. And, if you're skipping sweet potatoes for some old fashioned ones, here are some great tips from Jen Schall on making the perfect mash:
Type – The type of potatoes you choose will make all of difference.  Starchy potatoes like Russets (often called Idaho potatoes) or Yukon Gold potatoes yield nice, fluffy mashed potatoes. Avoid using red potatoes or new potatoes that tend to be waxy and lower in starch.
Texture – To get perfectly smooth and creamy mashed potatoes, try using a potato ricer or a food mill to mash the potatoes.  If you prefer a chunkier texture, go for a wire masher and mash by hand.  To avoid the dreaded "wallpaper paste" potatoes, be sure not to over-mash, since this will break down the starches and create a pasty potato.
Taste – Think beyond the traditional butter and milk in your potatoes this year.  Experiment with new flavors like bacon, sour cream and chives, roasted garlic, or even jalepeño!
Need something sweet for your weekend brunch plans? How about my apple cranberry crumb cake, apple allspice muffins, or cinnamon buns? I'm happy to be on call for other Thanksgiving questions, and the best way to get a quick response is on twitter.
Lastly, the most important thing to remember while getting ready for Thanksgiving is it's about being grateful for all we have every day of our lives. So, don't sweat it if a side or two aren't piping hot, and who cares if you're pie crust is a little imperfect? Look at each and every person sitting at your dinner table. They are there because you share a special connection. For me the holidays are about creating memories and traditions for my daughters. Before I truss the turkey, I'll be making a donation to Share Our Strength: Share Your Season to help end childhood hunger. I hope you'll join m
e. Have a very happy holiday, and see you next week.