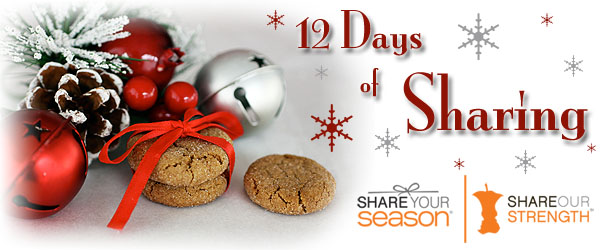 designed by Jen Schall
Six years ago my life changed forever. My daughter was born, and while it was very unplanned and has been a balancing act of career, motherhood and my own identity, I've had amazing help along the way. A month before her first Christmas, I looked down into her chocolate brown eyes and realized that she'd be spoiled beyond belief with the generosity and love of my family come Christmas Day. When the Mr. came home that night, I suggested in lieu of buying gifts for each other we visit the post office and get some letters to make the wishes of those less fortunate come true. That year we "adopted" a class from Sunset Park, Brooklyn. Reading their letters, asking for items my own children now take for granted like stickers, coloring books and a teddy bear, brought me to tears. We have continued this tradition of bringing a bit of joy to families in need ever since.
So, I'm very excited to announce a project I've been working on with Share Our Strength as part of their Share Your Season campaign. What if your cherished recipe could help feed another family this holiday season? Well, it can. Starting next Monday, December 7th through December 18th, In Jennie's Kitchen is hosting the 12 Days of Sharing—a virtual cookie swap.
Everyone is welcome to stop by and peruse the virtual cookie jar which will include links to recipes from participating bloggers. I'm also excited for the daily guest co-hosts, including Jaden of Steamy Kitchen, Shauna a.k.a Gluten Free Girl, Jen from My Kitchen Addiction, Gina from Change Becomes Change, Michelle from What's Cooking and Diana from A Little Bit of Spain in Iowa to help spread the word on how a cookie can make a difference. In Jennie's Kitchen will also be featuring a different blogger each day as the "Recipe of the Day".
And because you're all opening your hearts to give this season to help end childhood hunger, we've got a few surprises for you. In addition to the amazing recipes you'll find from all the contributing bloggers, every donation you made to Share Our Strength using the 12 Days of Sharing donation link secures a giveaway ticket for some pretty cool gifts, including a brushed chrome Cuisinart Stand Mixer, gift bags from the Food Network, products from Calphalon, Microplane, Wusthof and copies of Linda Collister's Holiday Cookies cookbook from publishers Ryland Peters Small.
So preheat your ovens. This holiday season we're baking to end hunger one sweet recipe at a time.
How can you participate in the virtual cookie swap?
Post a baked goods recipe on your own blog with the 12 Days of Sharing badge below in the body of the post.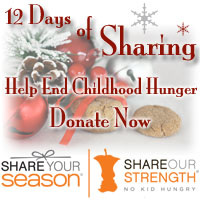 Once you've posted your recipe, send an email to injennieskitchen@gmail.com with the subject titled "12 Days of Sharing" and include 1) a link to your post and 2) a photo if you'd like to be considered for one of the daily Featured Recipes picks.
What kind of recipe can I post to participate?
Sure, we're calling it a virtual cookie jar, but we can certainly bend the rules for a good cause. Any baked goods recipe, including cookies, bars, cakes and pies, are welcome—just don't forget you must include the donation badge and link in order for your post to qualify.
How can I participate if I'm not a food blogger?

We all have memories, whether it's of the cookies your nana used to bake, that special coffee cake an aunt made on Christmas morning, or the rugelach your grandma lovingly prepared, right? Share that special experience with us in your blog post, and if you have the recipe, we'd all love to share it with you too. Please don't forget to include the badge in the body of your post in order for it to be included in the 12 Days of Sharing links.
I don't have a blog but want to participate.
Visit the virtual cookie jar and find a favorite recipe. Then pay it forward and click the 12 Days of Sharing badge to make a donation. Every amount counts, so no donation is too small.
Are participating bloggers eligible for the giveaway prizes?
Everyone who makes a donation using the 12 Days of Cookies donation link is eligible. The winners will be chosen at random, so yes, please feel free to donate in addition to posting a recipe in the virtual cookie jar.
I'm looking forward to seeing everyone's recipes, and sharing some of my own too. And thank you helping to make this a very happy holiday season for everyone!
*Update 11:00pm November 30th: Talk about working "on the fly". SOS had a last minute change on the campaign name as to not cause any confusion with the Food Network's 12 Days of Cookies. All the information is the same for the 12 Days of Sharing as noted in the post above.