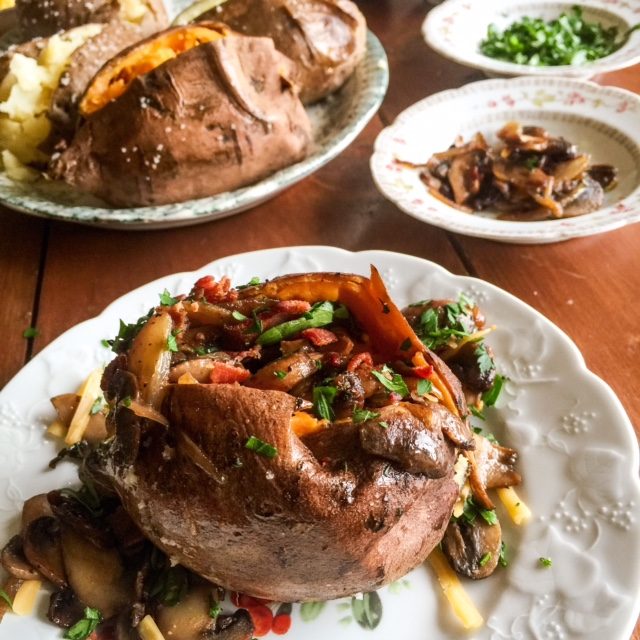 Remember those Slow Cooker Baked Potatoes I shared with you yesterday? Well, this was my grand plan all along: a Baked Potato Bar for dinner. I'm vegetarian leaning in my eating habits, and while I love a perfectly cooked steak, I could also be quite happy never eating meat again (okay, maybe mostly happy). This is not the case for my carnivorous kids. Factor in that one of them doesn't like soup, vegetables, and most beans, except for the ones I make on taco night and use in chili, and well, some nights dinner feels like the BIGGEST chore, ever.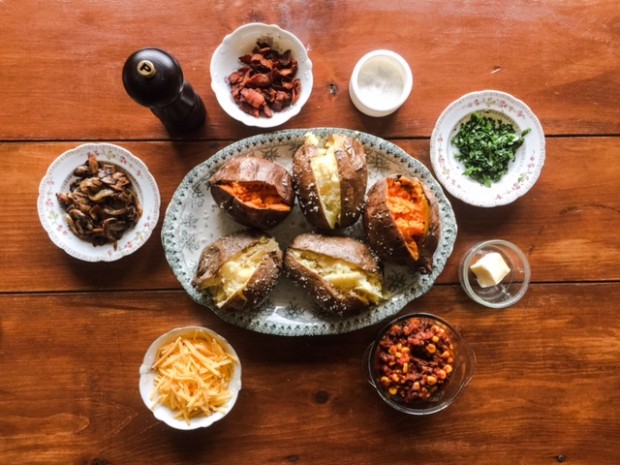 A baked potato bar is genius, really, making baked potatoes the star of the show. Not that I'm trying to pat myself on the back, but why should these spuds always be relegated to playing second fiddle?
They're also a great uniter for all the fussy eaters, except of course if you don't like baked potatoes. Oh yeah, the guilty party doesn't like baked potatoes, but I don't let that stop me. See, I figure if I'm putting out a variety of toppings, then she can cobble something to eat from those as I gladly turn a blind eye to the situation (i.e. she fills up on the chili!).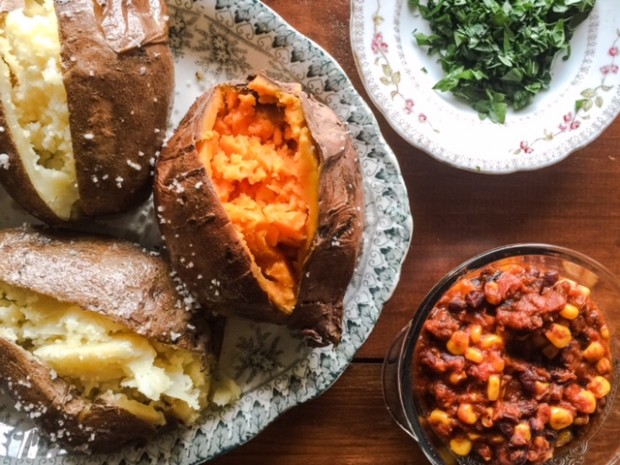 Planning a baked potato bar once a week is also a great way to use up those little leftovers in the fridge. You know, the ones that don't seem quite enough to make a meal on their own, but make for terrific toppings. A little handful of sautéed mushrooms and onions, a scant cup of leftover chili. Heck, I'd even top some with bolognese if that was lying around in the fridge (nothing is safe when it comes to creatively using up leftovers in my house).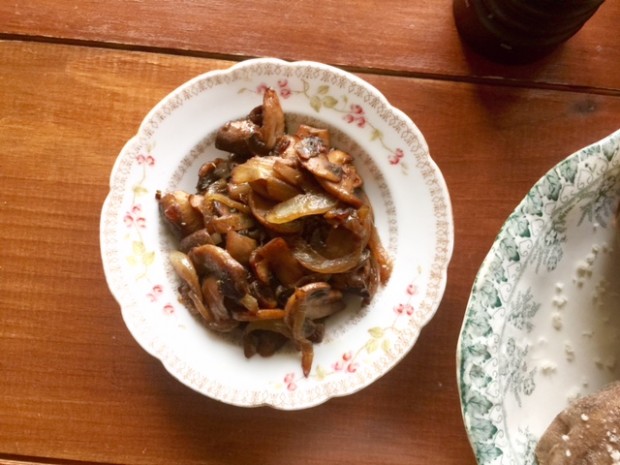 Get the recipe here to make your baked potatoes in the slow cooker. I'm also including my recipe for sautéed mushrooms and onions for you below. You'll find they go way beyond topping for baked potatoes. I often toss this mixture with hot, cooked pasta (leftover pasta would work, too!), and a handful of whatever fresh herbs I have on hand.
Sautéed Mushrooms & Onions
Makes about 1 cup
This little veggie mixture is one of those base recipes I use as freely as kids use ketchup. A spoonful livens up scrambled eggs, grilled cheese sandwiches, and in this case is a perfect topping for baked potatoes. I especially love them with the sweet potatoes. I'd planned on keeping mine vegan, and just using the mushroom-onion mixture, but alas, the bacon and cheddar cheese proved to be too tempting. Better luck next time, I suppose!
8 ounces (224 grams) white mushrooms, sliced
1 medium yellow onion, sliced
Extra-virgin olive oil
Sea salt & freshly ground black pepper
Vermouth, optional
Heat a 10-inch (25 cm) skillet over medium-high heat. Drizzle in enough oil to coat the bottom of the pan. Add the mushrooms, and season with salt and pepper. Sauté for 5 minutes, until they begin to release some water. Add the onions, and season again with salt and pepper. Reduce the heat to medium-low. Cook for 10 more minutes, until the onions are tender. Deglaze with a splash of vermouth, if you like, scraping the browned bits from the bottom of the pan (or you can use a bit of water). Cook for 2 more minutes. Use immediately, or store in a covered container in the fridge, and use as you like.
For more spud-inspired recipes, take a look at what my friends from Food Network's #ComfortFoodFeast are sharing today.
Creative Culinary: Bacon and Caramelized Onion Potato Salad
Homemade Delish: Parmesan-Crusted Potato Wedges
Elephants and the Coconut Trees: Stir-Fried Purple Potatoes
Healthy Eats: 6 Better Ways to Eat Potatoes
Taste with the Eyes: Flatbread Pizza: Potato, Arugula, Sour Cream, Chives, Olive, Truffle, Lemon
Napa Farmhouse 1885: Mashed Russet and Sweet Potato Casserole
Red or Green: Taco Stuffed Baked Potatoes
The Wimpy Vegetarian: Sweet Potatoes Anna with Apples and Raisins
From My Corner of Saratoga: Air Fried French Fries
FN Dish: 5 Downright Perfect Potato Dishes