Buckwheat Perfect Pie Crust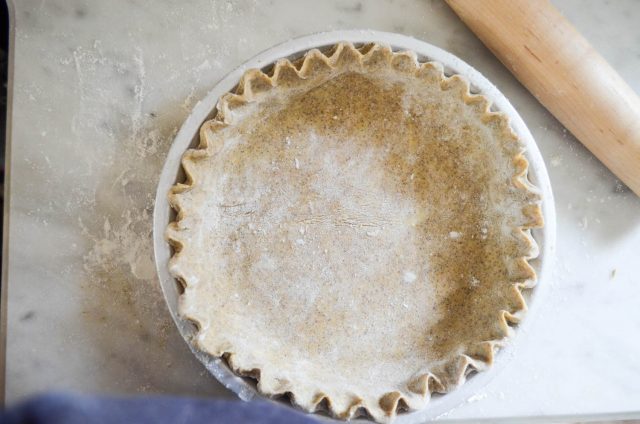 Coming off a three-day weekend is a bit of a time hangover. I've already had to remind myself 17 times that today is indeed Tuesday, not Monday. Yesterday was mostly spent getting the house in order. I suppose it's not too late to call it spring cleaning since summer is still officially a few weeks ago, though one would never know from this cold, wet weather today. I almost needed gloves while typing up this recipe for yet another variation on my Perfect Pie Crust—this one is for another whole grain version, a Buckwheat Perfect Pie Crust.
A month or so ago, I made a Walnut Pie (think Pecan Pie but with walnuts). I'd been wanting to play around with a buckwheat flour-inspired crust, and this felt like the right timing. I'm not 100% convinced this crust would be to my liking with a delicate fruit pie, but a nut-based pie seemed a natural pairing. I do think it would be nice with a cherry or blueberry filling, too.
I prepared myself for some questions from the kids. Instead all I got were a whole lot of oohs and aahs, much to my surprise. Isabella isn't generally a walnut fan. Combined with a buckwheat crust, I thought for sure I'd set myself up for a drop in approval ratings. Come to think of it, I'd choose walnuts over pecans for pie again in heart beat. That recipe is free of corn syrup, too, which regardless of what some cookbooks say, corn syrup isn't needed at all to make a pecan, or walnut, pie.
But today is about the crust, not the pie. I'll get around to sharing that recipe at some point. As for this Buckwheat Perfect Pie Crust, the premise is the same as with all of my perfect pie crust recipes—no chilling necessary, though you can make it ahead if you prefer, and chill until you're to use it. The cast of ingredients is very familiar—eggs, water, white vinegar, just a tweak in the flours, mostly whole wheat pastry flour, with a touch of buckwheat flour. It seems like a small amount in comparison, but trust me here. A little bit of buckwheat flour goes a long way.
More Pie & Pie Crust Recipes from In Jennie's Kitchen
Sauteed Onion, Bacon & Thyme Pie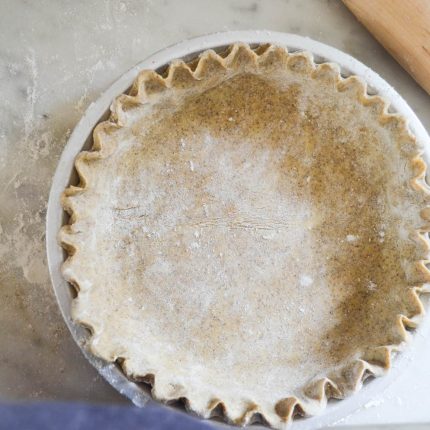 Buckwheat Perfect Pie Crust
Ingredients
1 ½

cups

225 grams whole wheat pastry flour

¼

cup

45 grams buckwheat flour

1

teaspoon

sugar

1/4

teaspoon

fine sea salt

12

tablespoons

1 1/2 sticks / 168 grams very cold butter, cut into 12 pieces (24 if doing by hand)

1

large cold egg

1 1/2

teaspoon

7 ml white or apple cider vinegar

3

tablespoons

45 ml ice cold water
Instructions
Add the flours, sugar, and salt to the bowl of a food processor. Pulse once or twice to combine.

Add the butter. Pulse a few times, just until the butter mixes into the flour, forming a sandy mixture with some pea-sized pieces.

Add the egg, vinegar, and water. Pulse 60 to 90 seconds until it comes together into a ball of dough. It'll start out looking like wet sand, and comes together into a ball during the last few seconds of pulsing.

Dump the dough onto a counter (no need to flour unless you're using the dough immediately, but note that this dough also doesn't require any chilling time). Divide the dough into 2 equal pieces. Shape into 1-inch thick, round disk. Wrap tightly in plastic film, and chill up to 3 days.