I've a feeling a few of you are baking pies today with it being Pi Day. I've got a mostly cherry with a hint of apple one in the oven myself at the moment. Beside my computer is a plate of pie fries and a piping hot espresso for dipping them into.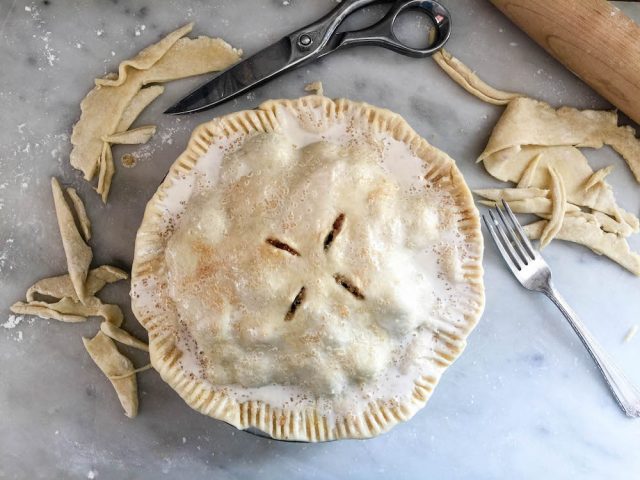 You might be inclined to roll out and bake quick cookies from the pie scraps leftover from trimming the edges. It makes sense considering the oven is already on. Another faster, and I'd argue yummier, option is to cut the rolled out dough into thin strips, fry and sprinkle with sugar. They're ready to eat in about 5 minutes.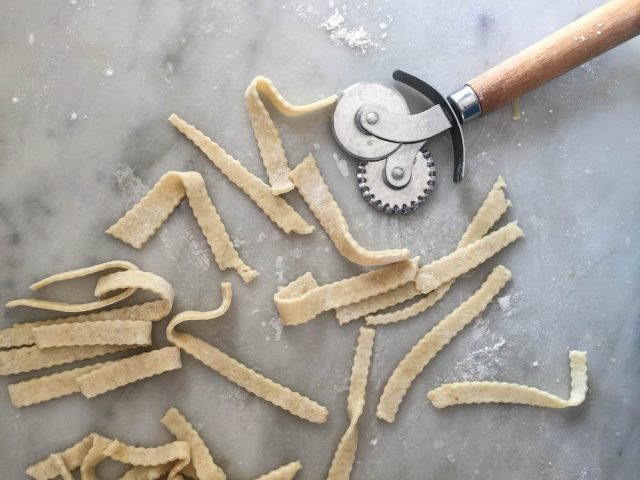 All you need is a small skillet and some neutral oil (canola, grapeseed, even coconut oil). Add an 1/8-inch oil to the pan, heat it over medium-high until shimmering, and fry the strips in batches, turning once, until golden all over. Use a slotted spoon to scoop out pie fries as they're ready, and transfer them to a paper-towel lined plate to let excess oil drain. It's that easy.
Best part is you don't need a thermometer to make sure the oil is at frying temperature. Just add one strip, and if it sizzles and puffs up, you're ready to proceed with the rest. Be mindful to fry the strips in batches—an overcrowded pan lowers the oil temperature, and you'll end up with soggy pie fries.
A sprinkle of granulated sugar as soon as they're out of the pan clings to the hot, crisp dough. You can add some cinnamon or opt for Confectioners' sugar. My mind wandered momentarily to heating up some chocolate ganache from the fridge for dipping.
And if you're not baking pie, you can still just make the crust and fry up some pie fries. Life is short, live it on your own terms.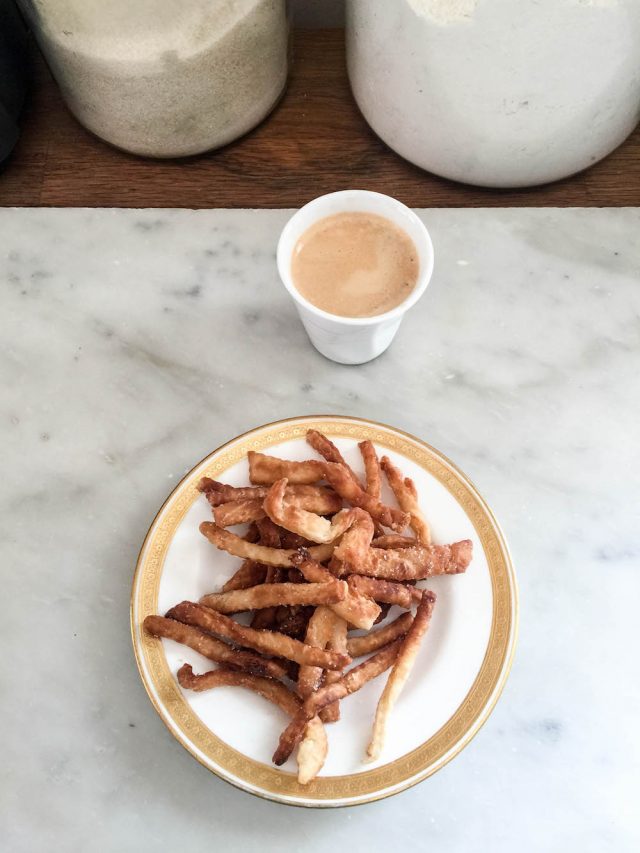 Best Pie Crust Recipes
Whole Wheat Pie Crust | Flaky Vegan Pie Crust | No-Roll Pie Crust | Foolproof Pie Crust
Perfect Pie Crust | Honey Pie Crust | All Butter Pie Crust | Buckwheat Pie Crust
Favorite Pie Recipes
Best Blueberry Pie | Strawberry Cherry Pie | Creamy Peanut Butter Pie
Lemon Meringue Pie | Apple Pie for 2 | Sour Cherry Pie | Brown Butter Apple Pie