It happens every now and again that I run out of eggs. I know, this seems highly impossible, but it's true. I get into baking frenzies, and next thing you know, I'm all set to make a pie, and there's no egg to whip up my Perfect Pie Crust Recipe.
On such occasions, I don't sweat the small stuff like a missing egg. Milk or cream is a good stand-in for brushing the top for a polished finished. As for the crust, I just proceed, business as usual, omitting the egg, and adding an extra tablespoon of ice water. The last time I did this, it occurred to me that I should offer this tidbit of information up to all of you should you find yourself in the same situation (or need to refrain from using eggs in general).
While the crust rolls out fine right away, as with my Perfect Pie Crust, I find it also benefits from a few minutes of chilling, too, just 10 or 15 minutes, generally the amount of time it takes to prep whatever filling I'm making. It all times out rather nicely.
Do I have a preference on all-butter vs. a crust boosted with some egg? It probably sounds crazy, but not really. While an excellent crust is crucial in any pie, I don't think there is one definitive way to achieve it.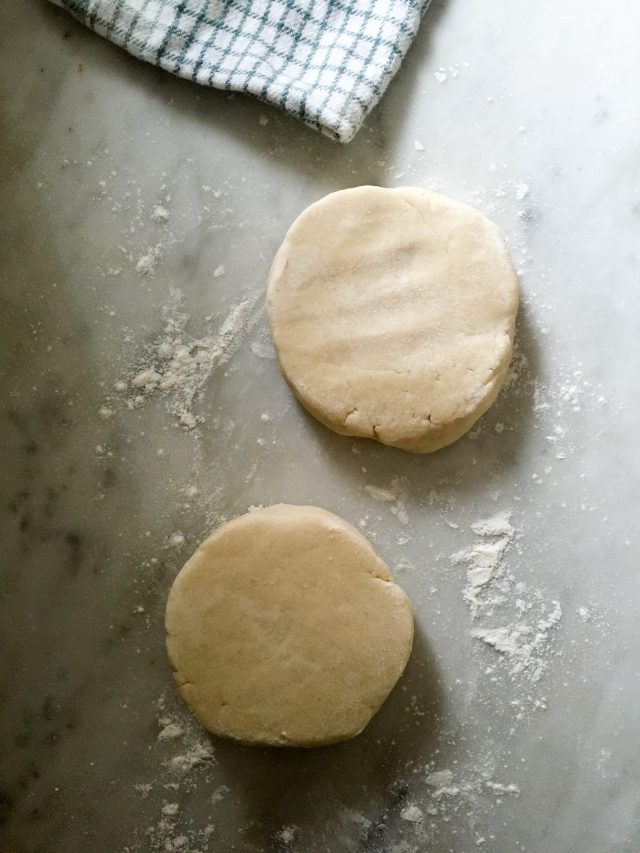 The bigger question when it comes to making pie crust is one of woman vs. machine. I notice a bigger difference when I ditch the food processor, and decide to make my crust completely by hand. In those instances, the crust is incredibly flaky, all-butter or egg-based. So, I suppose that's another little nugget of wisdom I should share.
With every recipe in my perfect pie crust series, a machine isn't necessary, even though I do give directions for making them in a food processor. If you don't have one, or want to attain flaky crust nirvana, work the butter into the flour by hand, as if making biscuits or scones. Then use a fork to stir in the liquid, and voila!
Music Pairing: Apples, Peaches, Pumpkin Pie by Jay & The Techniques
More Pie Crust Recipes from In Jennie's Kitchen
Honey Pie Crust (refined sugar-free)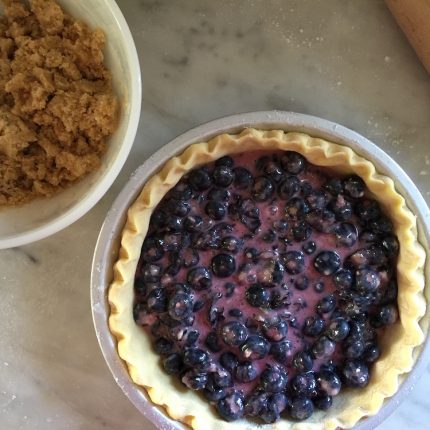 All-Butter Pie Crust
Ingredients
All-Butter Perfect Pie Crust

Makes 2 crusts

2

cups

300 grams all-purpose flour

1

teaspoon

sugar

1/4

teaspoon

fine sea salt

12

tablespoons

1 1/2 sticks / 168 grams very cold butter, cut into 12 pieces (24 if doing by hand)

1 1/2

teaspoon

7 ml white or apple cider vinegar

4

tablespoons

45 ml ice cold water
Instructions
Add the flour, sugar, and salt to the bowl of a food processor. Pulse once or twice to combine.

Add the butter. Pulse a few times, just until the butter mixes into the flour, forming a sandy mixture with some pea-sized pieces.

Add the vinegar and water. Pulse 60 to 90 seconds just until it comes together into a ball of dough. It'll start out looking like wet sand, and comes together into a ball during the last few seconds of pulsing.

Dump the dough onto a lightly floured counter. Divide the dough into 2 equal pieces, and shape into 1-inch thick, round disks. Wrap tightly in plastic film, and chill 15 minutes before using.
SaveSaveSaveSaveSaveSaveSaveSaveSaveSaveSaveSaveSaveSaveSaveSave