Refined Sugar-Free Perfect Pie Crust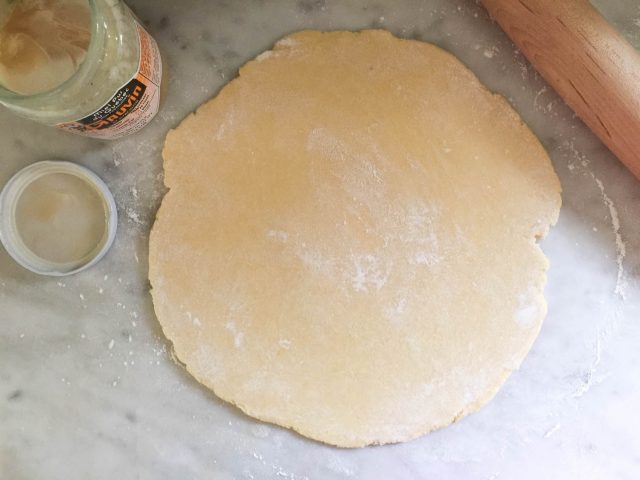 I know what you're thinking? How many pie crust recipes can one person develop, let alone use? Well, when you set out to make pie for an entire year, you tend to see things with a whole new set of eye. That's how this Refined Sugar-Free Pie Crust recipe came into existence.
The change is a very subtle, and simple, one compared to my original Perfect Pie Crust recipe. All you do is swap in honey for the amount of granulated cane sugar in the recipe. It's not revolutionary, and on first time you might not even notice the difference.
I did taste the slight difference since I've become a bit of a pie connoisseur these last few months, and noticed the crust was a tad bit softer than the sugar version. Again, these are very minimal differences, and perhaps I only noticed them because I've been working with my pie crust so regularly over the last few months. Is it worth nixing cane sugar when such a small amount is called for—just one teaspoon for a recipe that yields two pie crusts? Well, that is really up to you.
If you're looking to cut back on refined sugars, or rid your diet of them all together, then yes, I think it's worth it, and that's why I decided to give it a test in my own kitchen in case any of you were curious about it. So, now we have yet one more pie crust recipe to add to the archives. Hope the week is going well for everyone. xo-Jennie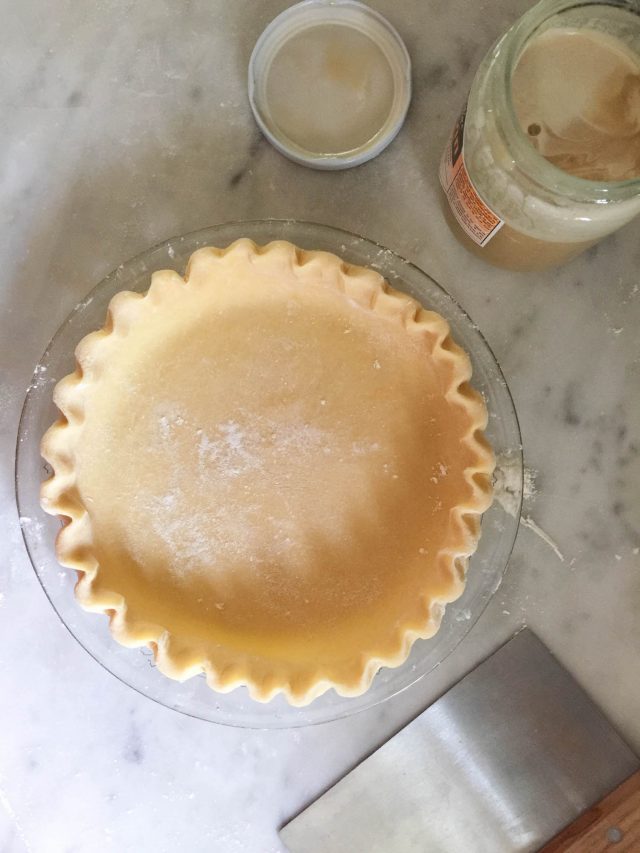 Eight Years Ago: Chocolate Chip Cookie Dough Ice Cream
Seven Years: Pasta Carbonara
Six Years Ago: Simple Marinara Sauce
Five Years Ago: Lemon Olive Oil Cake
Four Years Ago: Roasted Strawberry Basil Sauce
Three Years Ago: Strawberry Blood Orange Jam
Two Years Ago: Perfect Chocolate Chip Cookies
One Year Ago: Cinnamon Maple Butter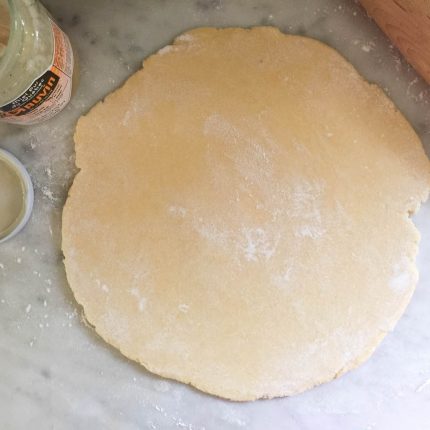 Refined Sugar-Free Perfect Pie Crust
Ingredients
2

cups

300 grams all-purpose flour

¼

teaspoon

fine sea salt

12

tablespoons

1½ sticks – 336 grams very cold butter, cut into 12 pieces (24 if doing by hand)

1

large egg

cold

1

teaspoon

7 grams honey

1½

teaspoons

7.5 ml vinegar (white or Apple cider NOT red wine or balsamic)

2 ½

tablespoons

38 ml ice cold water
Instructions
Add the flour and salt to the bowl of a food processor. Pulse once or twice to combine.

Add the butter. Pulse a few times, just until the butter mixes into the flour, forming a sandy mixture with some pea-sized pieces.

Add the egg, honey, vinegar, and water. Pulse 60 to 90 seconds until it comes together into a ball of dough. It'll start out looking like wet sand, and comes together into a ball during the last few seconds of pulsing.

Dump the dough onto a counter (no need to flour unless you're using the dough immediately, but note that this dough also doesn't require any chilling time). Divide the dough into 2 equal pieces. Shape into 1-inch thick, round disk. Wrap tightly in plastic film, and chill up to 3 days.