roasted strawberry basil sauce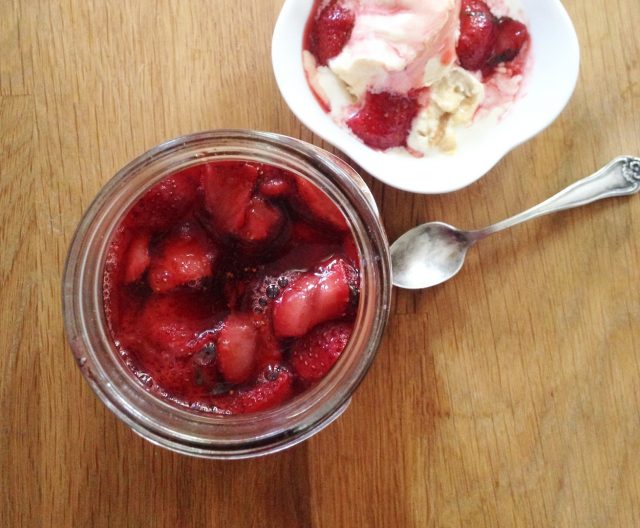 I've been known to get a belly ache from eating too many perfectly ripe, sun-kissed strawberries. Unfortunately, they can't all be winners! For those strawberries that are more tart than sweet, this is a great way to brighten up the flavor. Feel free to use it as a pancake or waffle topping, as a syrup over ice cream, stirred into yogurt, as a natural flavoring for homemade sodas, or as a mixer for cocktails that call for simple syrup.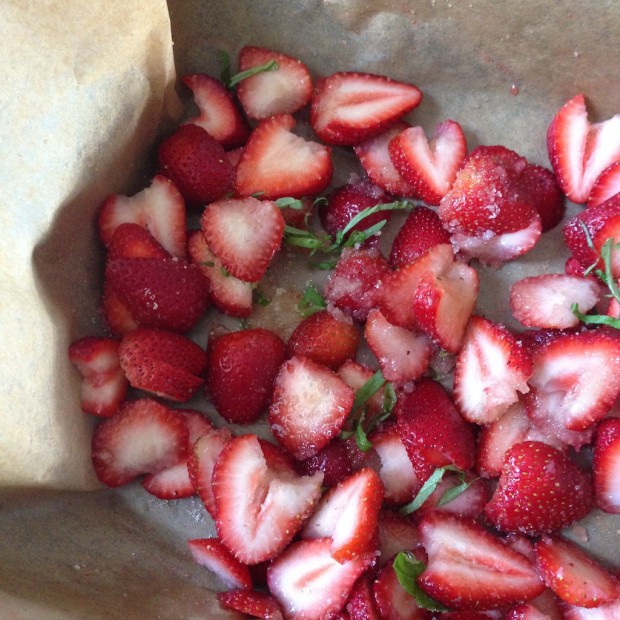 Roasted Strawberry Basil Sauce
One pound (454 grams) strawberries, stems removed & sliced
1/4 cup (50 grams) granulated natural cane sugar
6 fresh basil leaves, torn
1 teaspoon (5 ml) freshly squeezed lemon juice
Preheat the oven to 450F (230C). Line an 8-inch (20 cm) square pan with parchment paper, allowing the paper to hang over the sides.
Add the strawberries, sugar, basil and lemon juice to the pan. Toss everything to coat the strawberries. Bake for 20 minutes, stirring once halfway through.
Remove the pan from the oven, and let sit for a few minutes to cool slightly. Carefully lift the parchment, making sure not to spill the juices. Pour the strawberry sauce into a glass jar. Seal tightly, and let cool completely. Store in the fridge for up to one week, or in the freezer for up to two months.
Sugar Substitute Swap in 1 1/2 tablespoons (31 grams) raw agave nectar for the sugar. Follow the directions as listed.
Make It Your Own Try experimenting with different herbs. Mint, lemon thyme, and even rosemary would pair perfectly with the flavor of the strawberries, in place of the basil.
SaveSave