roasted strawberry-basil frozen yogurt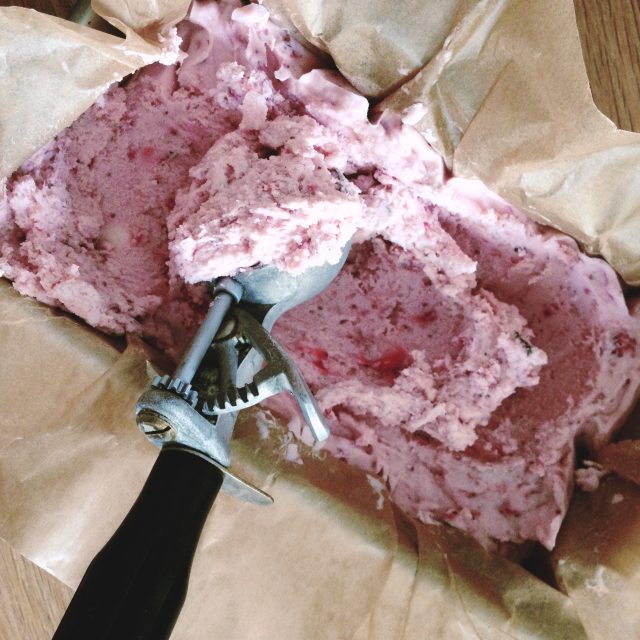 The girls are rather good at keeping tally over everything being even-Steven. Inevitably, the scales tip more in one's favor on certain days, although I'm quite sure it will balance out to an equitable share over the longevity of our lives. Try explaining that to a six or eleven year old, though.
Most days, I'm pretty sure I'm messing everything up. I wasn't always sure of what I was doing when we were a two-parent family. Now, on my own, left in charge of raising these girls into strong, confident, happy, loving young women—I think it'll be okay, but sometimes I wonder. These last few weeks have left me sleep-deprived, anxious and short on patience as I watch moving boxes pile up, and ponder the change about to happen in less than three weeks.
Almost one year ago, I had the idea to start reading Little Women to the girls. I thought it would be a nice way to end the day, and introduce them to a whole other world of literature. It seems impossible that a book of 647 pages should take us ten months to read, but our routine went through phases. We took an especially long break just before the chapter of Beth's passing, our own wounds still so fresh. Alcott does a tender job preparing the reader for the inevitable. Still, we had grown so very fond of all the March girls that I knew saying goodbye to one of them would break our hearts. It would also force us to confront the feelings we're still sorting through ourselves.
It seemed fitting that we said a final farewell to the March girls, on a quiet Sunday evening, curled up on the sofa in our family room upstate. The weekend was kind to us. Sibling rivalry was a two on a scale of 1 to 10. Virginia even remarked at bedtime that she was happy we barely fought today. They are wiser than their years, these little women of mine.
"Into each life, some rain must fall,
Some days must be dark and sad and dreary"
We cannot change our past, but we can be in the moment, our eyes wide open, and ready to welcome the future. I love you my little women, and one day when you come back to read this, I hope you remember our nights curled up reading as fondly as I—they were some of the brightest moments in the middle of our storm.
roasted strawberry basil frozen yogurt
Makes about 2 pints
Music Pairing: So It Goes by Nick Lowe
Michael was the chief ice cream maker in our family, strawberry being one of his specialties. I can still see him, at the stove, stirring the homemade sauce he'd make for it. I took a different approach with this recipe, starting with a base of roasted strawberries (the oven does all the work!). In hopes of not fainting at the sight of myself in a swimsuit, I opted for frozen yogurt over a traditional ice cream. The bonus is you don't have to cook the base (there are no eggs). It all comes to together rather quickly in the blender. Just plan ahead, and make the strawberry sauce base the night before, so it can cool in the fridge overnight.
1 1/2 cups (335 grams) plain Greek yogurt (I used Wallaby)
3/4 cup (185 grams/177 ml) whole milk
1/4 cup (57 grams/59 ml) heavy cream
2 tablespoons (42 grams) raw agave nectar
1 teaspoon (5 ml) pure vanilla extract
1 cup (232 grams) chilled roasted strawberry-basil sauce
Place the freezer bowl for your ice cream maker in the freezer at least 24 hours in advance of making this ice cream.
Add the yogurt, milk, agave, and vanilla to the bowl of a blender. Blend until smooth, 1 to 2 minutes.
Stir in the strawberry sauce (you may find it easier to do this step in a separate deep bowl).
Place the prepared freezer bowl in your ice cream maker. Pour in the strawberry-yogurt mixture. Churn  20 to 25 minutes, until the ice cream is a soft serve consistency. Transfer to a container, and cover. Freeze until firm enough to scoop, at least six hours, or overnight.
SaveSave