all-natural oven cleaning tip + a recipe for strawberry pie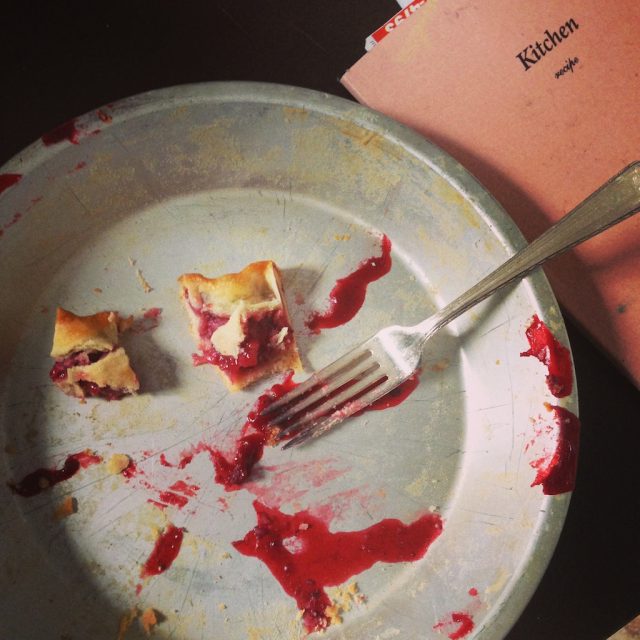 I need to apologize for being a pie tease, for those of you following along on Instagram. It's downright awful to post this many photos of strawberry pie without sharing the recipe. The thing is, when I'm not in work mode, I just eyeball much of what I cook. When I'm stressed, the need to feel untethered is especially necessary. Needless to say, anxiety is my middle name these days as moving boxes pile higher, and higher…and higher.
My apartment in Brooklyn feels like a war zone. My hope is that things will get better after the apartment sale in a few days. Once the stuff I'm not taking with me is gone, perhaps I won't feel so utterly overwhelmed at the amount of boxes to be loaded onto the truck in two weeks.
Last night I fantasized about fainting, and needing to be rushed to the hospital. This didn't worry me; not in the least. In fact, I was almost wishing for it just so I could get some rest. I've been going non-stop, somehow functioning on five hours of sleep a night for the past couple of weeks. When I'm not packing, I recipe testing for my new Food Network project. When I'm not packing or recipe testing, I'm writing (or should I say trying to write between the jack hammers in the backyard, and the piano lessons going in my neighbors apartment next door). I told you, it's a war zone.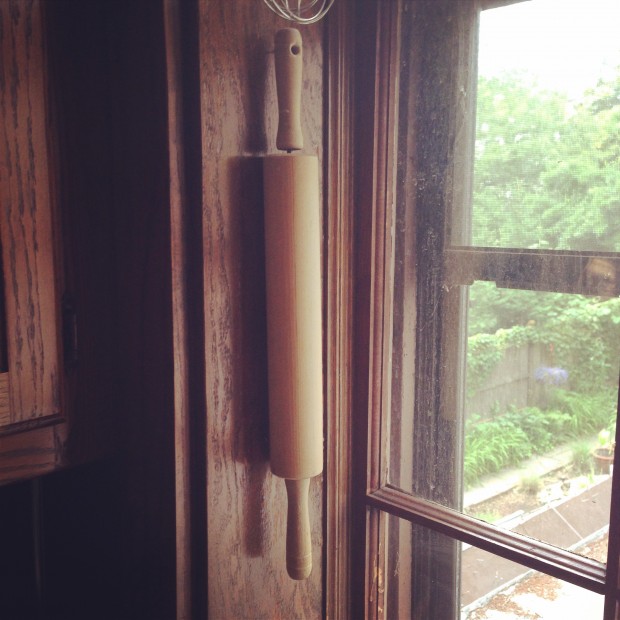 Soldiers prepare for battle by donning armor and weapons. The rolling pin hanging in the kitchen window, and a few ingredients from the pantry, are my artillery for managing the chaos swirling around me. So, in the middle of packing, I literally stopped everything I was doing on Wednesday, and preheated the oven. Down came the rolling pin, out came the flour, butter, sugar, and the rest of their baking buddies.
I'm resisting the urge to do it again right now. I shouldn't even be here at the moment. Writing here is my other release, though, and I figured I'd use the excuse of sharing an all-natural trick for cleaning that pie juice that inevitably oozes from the pan. You can avoid the mess all together by slipping a baking tray under the pie (I'd preheat the pan, otherwise the oven's heat will not circulate evenly to cook the bottom of your piecrust). If you forget the pan, all you need is white vinegar and baking soda. Mix three parts vinegar to one part baking soda. Be sure to use a deep cup or bowl because it'll bubble up vigorously once you mix them both. Let the oven cool completely. Mix the vinegar and baking soda. Immediately pour the mixture onto the dried juices. Within a minute or so, you'll notice the stains start to loosen. Take a towel, and wipe them up. You may need to add a little elbow grease, but not much. Use a wet rag to wipe any residue from the oven.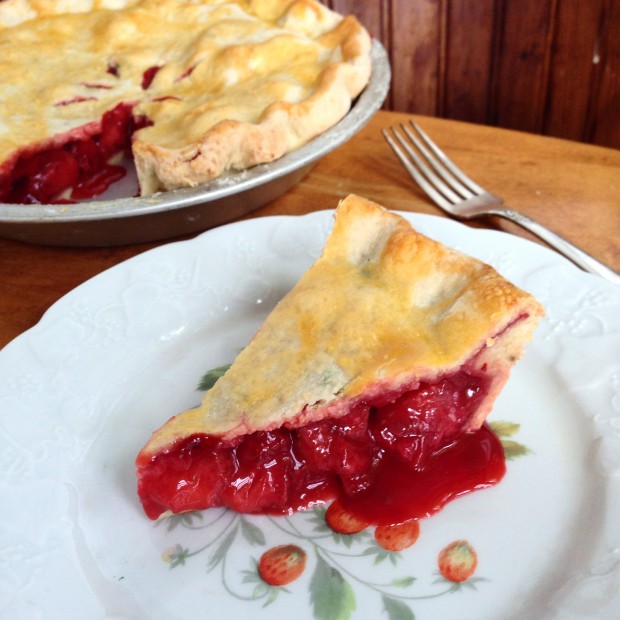 And if you're curious to know how I wing it when it comes to making strawberry pie, it goes something like the recipe below. You can get fancy and add fresh herbs or citrus zest to the dry ingredients of the piecrust (I made a lemon thyme version last weekend). Same goes for the filling—feel free to add a handful of chopped fresh mint, basil, or lemon thyme.
I'm off to go do some more packing. Or maybe bake a pie. We'll see what wins out—necessity or insanity.
Simple Strawberry Pie
Makes one 9-inch pie
Music Pairing: No One Said It Would Be Easy by Cloud Cult
I never share a recipe that hasn't been tested, and tested some more, so let's just say this is like giving you a peek from one of my journal pages. It's a rough guideline that lives in my head, and I never really write down. Much as I love my job, the most relaxing moments in the kitchen are when I'm just throwing a bunch of ingredients into a bowl, using just my scale and eyes to judge their accuracy. Thankfully, I know metric conversions by heart, so I can easily convert my whims into U.S. measurements.
p.s. I shared a playlist of many of my music pairing in the June 2014 newsletter. Here it is in case you missed it. Don't forget to sign up to get the next newsletter (psst…look at the upper right hand corner of the page). It should be coming mid-July.
I can tell you the pie crust goes something like this:
1 2/3 cups (300 grams) flour
Salt, maybe 1/2 teaspoon?
1 tablespoon (12 grams) sugar
1 stick (112 grams) very cold butter
4 to 6 tablespoons (60 to 90 ml) ice cold water
Add the flour, salt, sugar and butter to a food processor. Pulse until it forms crumbly, pea-sized pieces. Add the water. Pulse just until the dough comes together into a bowl. Dump onto a floured surface, and divide in half. Wrap in plastic wrap, and chill in the fridge while you prepare the filling.
The filling went something like this:
1 quart (454 grams) strawberries, stems removed and sliced
3/4 cup (150 grams) sugar
Freshly juice of 1/2 lemon
about 1/4 cup (38 grams) flour
Preheat the oven to 425F (220C).
Add the filling ingredients together to a medium bowl. Stir until everything is well mixed.
On a lightly floured surface, roll out one crust to fit into the bottom of a 9-inch pie plate (not deep dish!).  Trim the edges, if necessary, leaving about 1/2 -inch overhang. Pour in the filling, spreading it with the back of a spoon to create an even layer.
Again, on a lightly floured surface, roll out the remaining pie crust. Place it over the filling. Trim the edges, if needed, to match the overhang of the bottom crust. Pinch the edges closed, and crimp or flute the piecrust. If you prefer a shiny top, beat an egg with a splash of water, and brush the top and edges of the crust. Use the tip of a paring knife to cut slits in the top (this allows air to escape as the filling cooks down inside the pie).
Bake for 15 minutes. Lower the oven temperature to 350F (180C). Bake for 23 to 27 minutes more until the juices begin to bubble from the air vents, and the crust is deep golden. Sometimes I need to cover the edges of my crust to prevent them from getting to too dark, and other times I don't. Go figure. Let the pie cool completely before cutting.