20 minute meals—pasta carbonara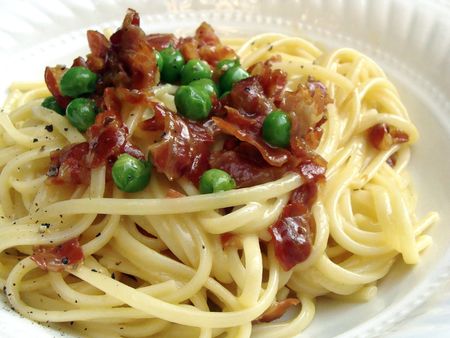 The last few weeks have been busy ones indeed, and I've found myself reaching into the depths of my pantry and quick-thinking skills to get dinner on the table faster than ever. I'm not vying for bragging rights—just in search of meals that'll make everyone at our table happy. Pasta carbonara fits the bill perfectly.
It started out as the Mr.'s go-to dish while I was still working at Alain Ducasse at the Essex House. I'd been reading Ruth Reichl's Garlic & Sapphires and emailed him the recipe to make for dinner one night. Since the most involved part of the recipe was chopping up and frying bacon, I knew he could handle it while juggling a 2 year old.
Yes, he was a Mr. Mom of sorts in between projects of his own back then.
I started making the dish myself last year, and as with many recipes, I'm forever tinkering. I decided to mix it up a bit with some spring peas from the farmers' market—they're Isabella and Virginia's favorite veggie, and a splash of cream. You can certainly use frozen peas, too, if that's all you have available. I also swapped in pancetta for bacon (here's a great article from Fine Cooking about the merits and method for making each).
What I love most about this dish is it tastes sophisticated without all the fuss and time over a hot stove. All you need is 20 minutes before you'll find yourself sitting at the table, twirling stands of spaghetti with your fork.
pasta carbonara
serves 4
Wondering the difference between an adapted recipe and how to make one your own? This one is a perfect example. Ruth Reichl's original recipe included bacon, garlic, olive oil, eggs, and pasta. I swapped in pancetta, an Italian-style bacon, added peas, scaled back the Parmesan cheese, added heavy cream, and tweaked the technique. Check out the recent slideshow I presented at TECHmunch for more notes on recipe writing.

8 ounces uncooked pasta, preferably spaghetti or linguine
8 ounces thinly sliced pancetta, chopped
extra virgin olive oil, as needed
1/2 cup shelled spring peas
2 large eggs, at room temperature
1/4 cup heavy cream
1/4 to 1/2 cup freshly grated Parmesan cheese, depending on taste
Freshly ground black pepper, to taste
Bring a large pot of water to a boil. Add pasta and cooked al dente according to package directions. Add the shelled peas to the pot of boiling pasta during the last minute of cooking time.
Meanwhile, heat a 10-inch skillet over medium flame. Add pancetta, reduce heat to medium-low and cook until crispy, about 10 minutes. Drain, reserving 1 tablespoon of the cooking grease.
While the pancetta is cooking, add the eggs, heavy cream and cheese to a deep serving bowl. Beat with a fork to combine. Drain the cooked pasta and peas. Add to the egg mixture, along with the cooked pancetta and cooking grease. Toss  with a set of tongs (two large forks will do the job too), working quickly so the egg doesn't curdle. Season with pepper to taste. Garnish with more freshly grated Parmesan, if desired, before serving.