We All Scream for Ice Cream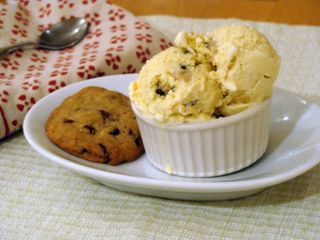 As readers of this blog, you can imagine how much time I spend in the kitchen. There's recipe testing, the three meals a day I prepare for my family, and when I want to unwind and relax, well…I find myself baking a batch of cookies. There's one recipe, though, that requires a kitchen sidekick: my husband. I bought my Cuisinart ice cream maker seven years ago, but it's totally his domain. He claims I've taken over every other area of cooking, so the ice cream maker is off limits. Except for the time he asked me for help in making one our favorite flavors. My eyes lit up at the thought of homemade cookie dough ice cream. Oddly enough, I'd never thought of making it myself.
Since then, it's a recipe built for two and corny as it sounds, is filled with lots of love thanks to the extra smiles and giggles we share while working together. He mans the ice cream maker while I head to my Cuisinart Stand Mixer (you all know I write their blog, right? Just needed to include that full disclosure blurb) and make a batch of chocolate chip cookie dough.
When the Mr. first made this recipe he simply used the one for premium vanilla that came with the machine. It was so delicious, it's the one we've made ever since. We'd almost fainted when the book went missing during last year's kitchen renovation. As with any recipe, the quality of ingredients you use elevates the taste. In the case of premium vanilla ice cream, sometimes called French vanilla, this is especially true since it uses egg yolks. You know what eggs I'm going to mention now, right? The rich, orange egg yolks from Grazin' Angus Acres can't be beat (even by another local farmer—those are Dan's yolks from GAA on the left).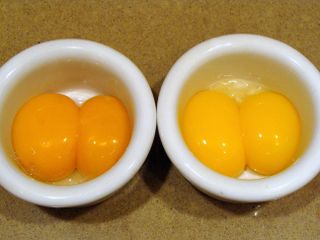 And if you're worried about eating raw cookie dough, then you can rest easy. I've included two recipes. One is my traditional chocolate chip cookie and the other is an egg-free version my daughter asked me to create for a friend in her class with an egg allergy.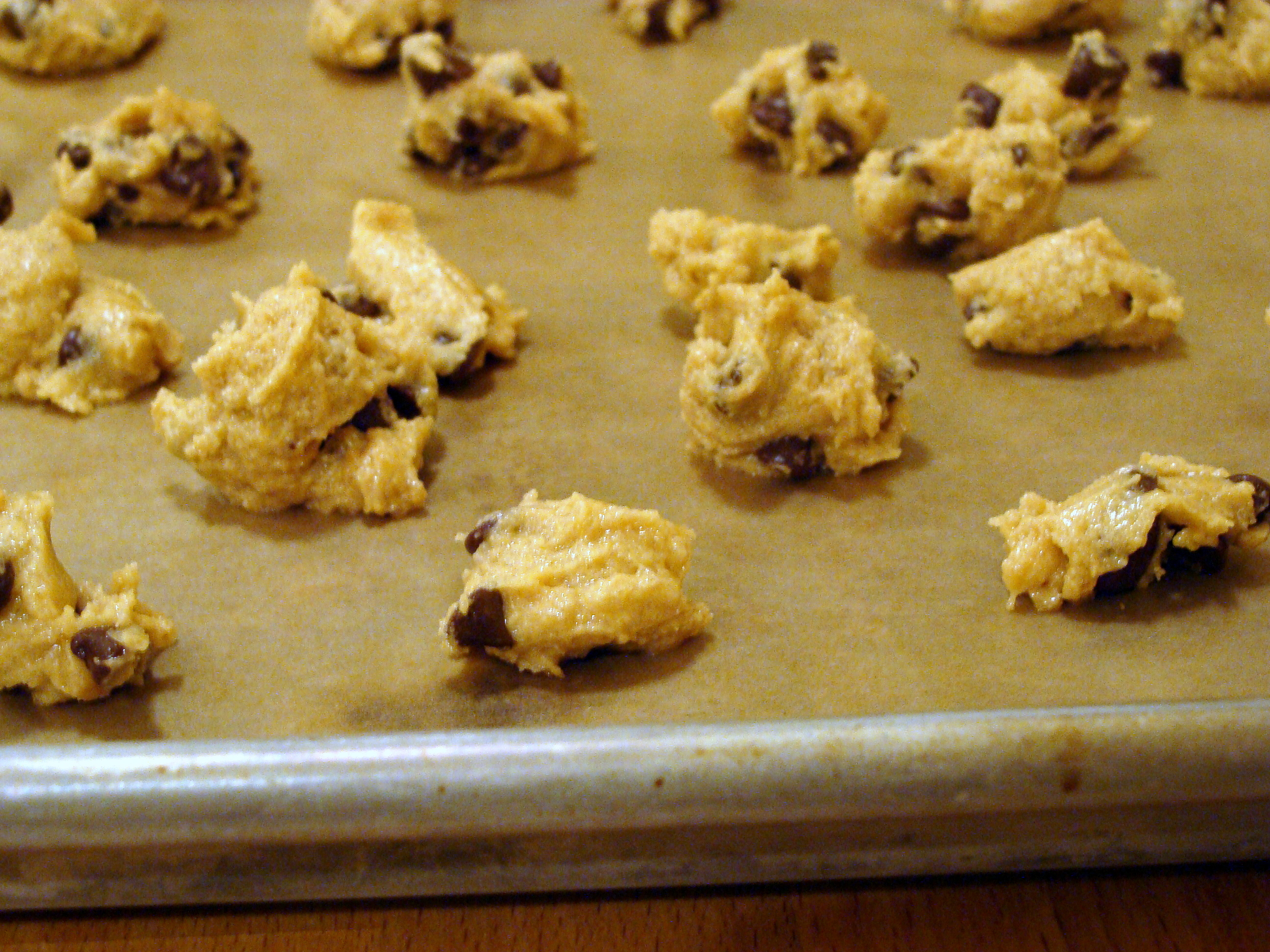 Form half the batch into tiny bite-size balls and set them on a wax-paper lined baking sheet in the freezer until firm. This will ensure the dough stays intact after you add it to the ice cream. As for the rest of the dough, you can enjoy fresh baked cookies while you're waiting for the ice cream to set. If you have a great recipe for hot fudge sauce, I'm ready and waiting. And by the way, those man-hands you see in the pictures are the Mr. in action.



Premium Vanilla Ice Cream
by Cuisinart
Makes about 5 cups
2 cups heavy or whipping cream
2 cups whole milk
One 2-inch piece of vanilla bean
2 large egg yolks (save whites for another use)
½ cup sugar
2 tablespoons vanilla extract
1. Combine cream and milk in a medium saucepan over medium heat. Add vanilla bean and heat until mixture almost boils, about 5 to 8 minutes. Reduce heat to low.
2. Meanwhile beat yolks, sugar and vanilla extract in a small bowl until light yellow and smooth. Add 4 tablespoons of the hot milk mixture and whisk until combined. Gradually pour egg mixture into saucepan with milk mixture, stirring continuously to prevent eggs from curdling.
3. Cook over low heat until slightly thickened and coats the back of a spoon, about 3 to 4 minutes. Cool mixture completely either overnight in a covered container stored in the refrigerator or chill in an ice bath for 30 minutes if you wish to make ice cream right away.
4. When cool, remove vanilla bean, split lengthwise, scrape seeds and stir into mixture. Discard bean shell. Proceed with the proper freezing directions for your Cuisinart ice cream maker. Read the user manual to see the proper timing for adding fill-ins. On my Cuisinart Frozen Yogurt-Ice Cream & Sorbet Maker (CIM-20), that's during the last five minutes of churning.




Old Fashioned Chocolate Chip Cookies
Makes three dozen 2-inch cookies
Pack this recipe on your summer vacation since you don't need a mixer to make it. Just make sure your butter is super soft and the only tools you'll need are a wooden spoon and rubber spatula.
1 1/3 cups flour
1/2 teaspoon baking soda
1/2 teaspoon salt
8 tablespoons butter, softened
1/3 cup sugar
1/3 cup brown sugar
1 large egg
1 teaspoon vanilla
1 cup mini chocolate chips
1. Preheat oven to 350º.  In a medium bowl, whisk together the flour baking soda and salt; set aside.
2. In a separate bowl, vigorously stir the softened butter and sugars until creamy and well-mixed. Add egg and vanilla; stir vigorously until combined. Stir 
3. Drop teaspoonfuls onto a lined baking sheet (I use silicon liners) and bake until edges are golden, about 11 minutes. Bake longer for a crisp cookie, or a bit less for a very chewy cookie.
Chocolate Chip Yogurt Cookies
Makes 3 dozen cookies
Yes, there really are no eggs in this recipe!  The result is a crisp, yet chewy cookie.  There's also half the butter used in conventional chocolate chip cookies recipes.  While regular, American-style yogurt will work, I recommend using a Greek-style one.
2 cups all purpose flour
1 teaspoon baking soda
1 teaspoon salt
½ cup (1 stick) butter
½ cup light brown sugar, packed
½ granulated sugar
½ plain yogurt (see recipe head note)
1 teaspoon vanilla extract
2 cups (12 ounces) semi-sweet chocolate chips
1. Preheat oven to 350º.  Add flour, baking soda and salt to a medium size bowl.  Whisk to combine.  Set aside.
2. In the bowl of your Cuisinart Stand Mixer, beat butter and sugars until creamy.  Add yogurt and vanilla extract.  Beat well until thoroughly mixed. Gradually add flour mixture, beating until just mixed with wet ingredients.  Scrape sides of bowl to incorporate all the dry ingredients if necessary.  Stir in chocolate chip.
3. Drop by tablespoonfuls onto to ungreased baking sheets.  Bake 15 minutes, or until golden on bottom, turning pan halfway through to ensure even cooking.  If you are baking two trays at the same time, this is also the time to switch the top and bottom baking sheets, again to ensure even cooking.  Remove trays from oven and let cookies stand on tray for two minutes.  Using a spatula, transfer cookies to a wire rack to finish cooling.