Apricot & Lemon Thyme Ice Cream (No-Churn)
The moment I scooped those apricots from the syrup I made (this one), my mind wandered to an apricot gelato I had a few years ago in Annecy. I've dreamed about that gelato since my first lick, but had never really entertained the idea of making it.
I've mostly abandoned my standard ice cream recipes, for two simple reasons. My ice cream maker is so loud it gives me a headache, and I never seem to have room to keep the base in the freezer. I wonder, do any of you have an ice cream maker you love that's quiet, and isn't ridiculously expensive?
The good news about this Apricot & Lemon Thyme Ice Cream is it's no-churn, so no ice cream maker is needed. Also, it's amazing. I prefer to enjoy it the day it's made, as that's when it's the creamiest, and closest to a gelato-like consistency. It's still a wonderful ice cream once it hardens further, so don't let my preferences deter you from making it.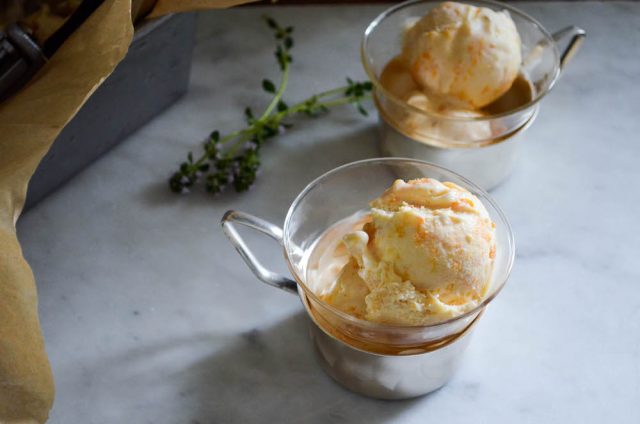 More Frozen Treats from In Jennie's Kitchen
No Churn Birthday Cake Ice Cream 
No Churn Maple Vanilla Ice Cream
Sweet Corn & Lemon Thyme Ice Cream
This recipe is now part of my new site, Simmering. Join thousands of other subscribers now for only $5/month or $30/year (that's six months free!)