Apricot & Lemon Thyme Ice Cream (No-Churn)
The moment I scooped those apricots from the syrup I made (this one), my mind wandered to an apricot gelato I had a few years ago in Annecy. I've dreamed about that gelato since my first lick, but had never really entertained the idea of making it.
I've mostly abandoned my standard ice cream recipes, for two simple reasons. My ice cream maker is so loud it gives me a headache, and I never seem to have room to keep the base in the freezer. I wonder, do any of you have an ice cream maker you love that's quiet, and isn't ridiculously expensive?
The good news about this Apricot & Lemon Thyme Ice Cream is it's no-churn, so no ice cream maker is needed. Also, it's amazing. I prefer to enjoy it the day it's made, as that's when it's the creamiest, and closest to a gelato-like consistency. It's still a wonderful ice cream once it hardens further, so don't let my preferences deter you from making it.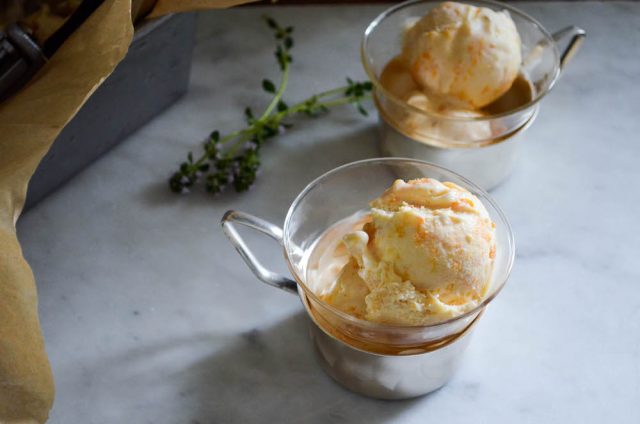 More Frozen Treats from In Jennie's Kitchen
No Churn Birthday Cake Ice Cream 
No Churn Maple Vanilla Ice Cream
Sweet Corn & Lemon Thyme Ice Cream
Apricot & Lemon Thyme Ice Cream (No-Churn)
Ingredients
Scant cup

7 ounces / 207 ml Sweetened Condensed Milk

232

grams

Lemon Thyme Poached Apricots

from this recipe, chopped

1

cup

237 ml heavy cream
Instructions
Unless you're using individual containers, line one 8-inch loaf pans with a sheet of waxed paper, long enough to hang over the sides.

Add the milk to a deep bowl. Stir in the apricots.

Add the cream to a separate, clean deep bowl, and beat until stiff peaks form. You can do this using a hand mixer, stand mixer, or whisk if you're up for a little upper arm workout.

Scoop 1/3 of the whipped cream into the bowl with the condensed milk. Stir it in to loosen the mixture.

Add the remaining whipped cream, and this time use a rubber spatula to fold it in. Folding, is a method where you insert you spatula into the center, gently lift, and fold the batter over itself, keeps the ice cream base light and airy.

Spoon the ice cream batter into the prepared containers. Cover, and freeze until firm enough to scoop, about 6 hours. The ice cream will keep in the freezer for up to 2 weeks.