No-Churn Birthday Cake Ice Cream
My first taste of birthday cake ice cream happened in Truro, Cape Cod. Back then, that part of the Cape was less traveled. I mean, it's not like Mikey and I planted our flag, discovering North Truro before anyone else. It was there long before, and will be there long after our girls are grown, and maybe have kids of their own. Back in 1995, though, it was a much sleepier town than it is now.
It was on our second year there that we discovered Highland Creamery, churning out fresh made ice creams. If you know anything about me, then it's that I'm a sugar fiend—or at least used to be. I've cut back on it a lot these last few years, but my love of birthday cake has not waned. So, when we first went to Highland Creamery and I saw a flavor called Birthday Cake Ice Cream it was as if a dream had come true. Birthday cake and ice cream all rolled into one. Sign. Me. Up.
I fell hard, and fast. The only problem is we discovered Highland Creamery the day before Labor Day. Unbeknownst to us, they closed for the season the next day. I almost cried, and being only 22 years old, not that far off from childhood, crying would've been okay, right? We always stayed one week before Labor Day, and one week after, so the next year I went back with a plan. I would consume as much ice cream as possible during our first week of vacation, and hoard a few pints to get us me through the remaining week.
And then one year we went back for our annual vacation to find Highland Creamery had closed. Nooooooooo. I waited all year for a lick of that creamy vanilla ice cream, flecked with bits of cake, buttercream, and rainbow sprinkles. I vowed to make my own version of my beloved ice cream.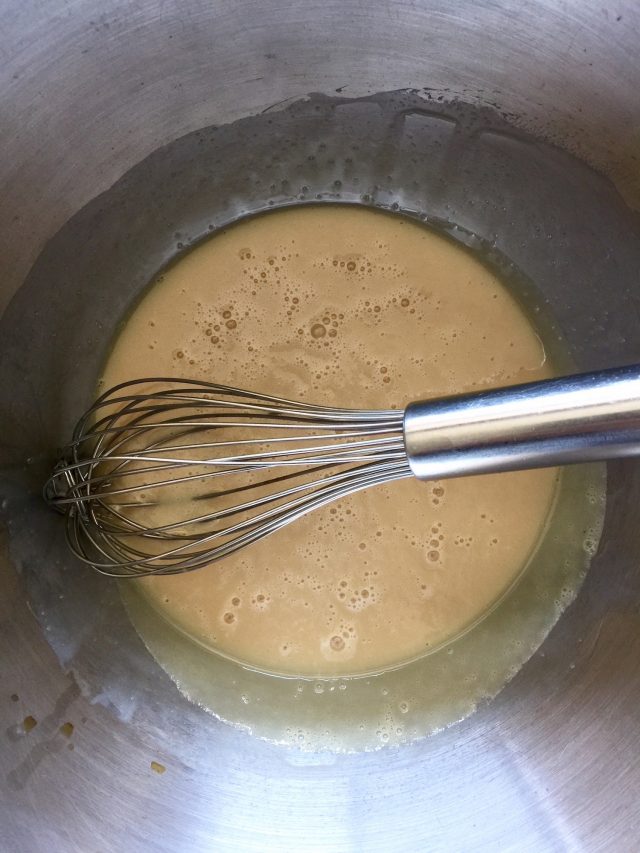 A few summers later, Sweet Escape opened, and the proprietor makes ice cream as amazing, if not better, than Highland Creamery. What began as a seasonal business has turned into a year round one, and right next door she has a pretty awesome pizza joint, too. Birthday Cake Ice Cream is still never a guarantee for the entirety of our stay. They have a big roster of flavors, all made in-house, and take no short cuts. So, when my favorite flavor runs out, it means they have to bake the cakes, make the base, and give it time to freeze.
A few weeks ago I did something I've been meaning to do for 20 years now—I made my own Birthday Cake Ice Cream. While making the cake for Isabella's birthday party, I had trimmings leftover from evening out the layers. I also made too much buttercream. Now, under normal circumstances, I would've just eaten these scraps. As I was about to reach for them, though, I realized the moment had come. What stood between me and homemade Birthday Cake Ice Cream all these years is not wanting to make a cake just to make the ice cream. In went the buttercream and cake scraps into a ziptop bag, and there they stayed for 2 weeks until I had time to work on the recipe.
Best part of this recipe is the ice cream base is incredibly easy—it's a no churn recipe! I'll share some notes on making the base on its own in another post since this one is becoming novel-length. If you don't have birthday cake, then swap in any other favorite cake you have leftover, or just go buy a slice of cake—don't wait 20 years like I did to make this.
Seven Years Ago: Everyday Bread
Six Years Ago: Roasted Chicken Salad
Five Years Ago: Sweet Pea & Parmesan Crostini
Four Years Ago: Simple Twist of Fate
Three Years Ago: Roasted Strawberry Basil Sauce
Two Years Ago: Roasted Strawberry Basil Frozen Yogurt
One Year Ago: Peanut Butter & Banana Smoothie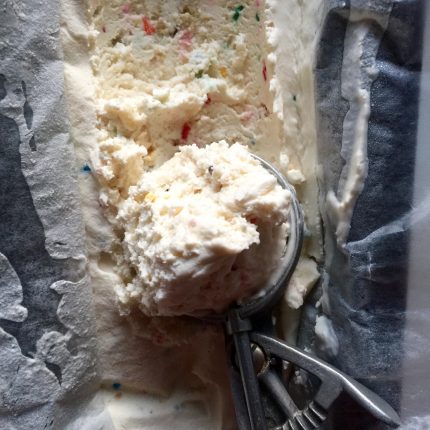 No-Churn Birthday Cake Ice Cream
I'm an obsessive label reader, and when an ingredient isn't up to my standards, then I'll usually just make it myself. Thankfully, California Farms makes a sweetened condensed milk using just milk and sugar, with no stabilizers. It saved me a lot of time! I found it in Whole Foods, and pretty sure my local health food store carries it, too.
Ingredients
1

14 ounce can sweetened condensed milk

1

teaspoon

5 ml vanilla extract

2

cups

474 ml heavy cream

300

grams

leftover birthday cake

crumbled into chunks

1

1.75 ounce / 50 grams jar of rainbow sprinkles
Instructions
Unless you're using individual pint containers (as in this video), line two 8-inch loaf pans with a sheet of waxed paper, long enough to hang over the sides.

Add the milk and vanilla to a deep bowl. Whisk to blend.

Add the cream to a separate, clean deep bowl, and whip until stiff peaks form. You can do this using a hand mixer, stand mixer, or whisk if you're up for a little upper arm workout.

Scoop 1/3 of the whipped cream into the bowl with the condensed milk. Stir it in to loosen the mixture.

Add the remaining whipped cream, and this time use a rubber spatula to fold it in. Folding, a method where you insert you spatula into the center, gently lift, and fold the batter over itself, keeps the ice cream base light and airy.

Add the cake and sprinkles. Gently fold into the ice cream base.

Spoon the ice cream into the containers, or prepared pans. Cover, and freeze until firm enough to scoop, about 6 hours. The ice cream will stay fresh for up to 2 weeks.