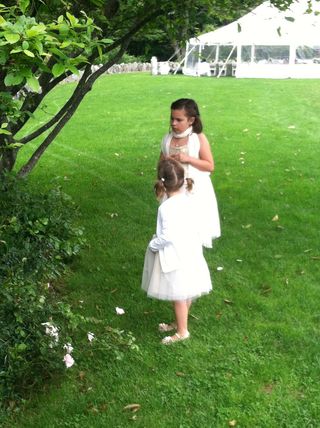 I'm listening to the clock tick as I gaze out the kitchen window. I remember the day I found it in a shop in Soho back in 1999 when I started my personal chef business. I put those plans in motion while still working my day job as a video producer—yes, I've had a few careers in my short lifetime. While taking a stroll during my lunch break, hanging right there on the wall of a store who's name I can't recall but is now long gone, was a clock that read Time to Eat, the same name as my newly formed business.
The retro image of a June Cleaver-esque woman serving her family dinner is emblazoned on the minty seafoam background of the clock. It's a scene one will often find of me in my own kitchen. I'm never without my apron, even when I pack the kids' lunches in the morning. It's complusive, and part of my uniform as both mother and cook.
The throbbing thrust of the second hand on the clock reminds me of Mikey. When we first met he never wore a watch. It was part of his punk asthetic, I suppose, and also because he had a good internal clock. I not only wore a watch, I also checked it obsessively. One day he handed me a book of short stories by Harlan Elinson and suggested I read "Repent, Harlequinn! Said the Ticktock Man". I stopped wearing a watch shortly afterwards, realizing that obsessive time keeping is a prison of sorts.
The same can be said for tracking the days since August 7th, 2011. I'm tired of counting the days, and yet to stop counting them feels like a betrayal. If I loved him that deeply shouldn't I count every day until my last breath is taken?
The clock continues to tick as I think about this. Time keeps moving forward, whether I want it to or not. And really, I want it to keep moving. The waters are so uncertain, yet the view ahead is a promising one. There are just so many little goodbyes to be said, and really, who likes to say goodbye? So, for now I'm going to try and remember that every goodbye to my old life means there's a hello waiting in the wings to the possibilities that lie ahead.
No matter how we try to plan this lifetime, the simple twists of fate are the real time keepers. Some are traumatic, knocking us to the depths of pain and loss, requiring two hands on the steering wheel to keep control at every sharp turn. Then there are the twists that bring joy and happiness at the most unexpected moments, and for those all you need is an open heart, not a perfectly wound clock to remind you of the inherently fleeting nature of this lifetime.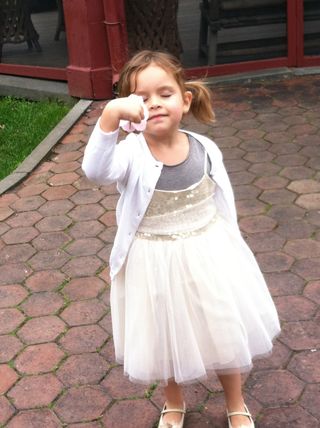 Virginia literally stopping to smell the roses at Olga's wedding.