French Apple Galettes (super easy apple tarts, really)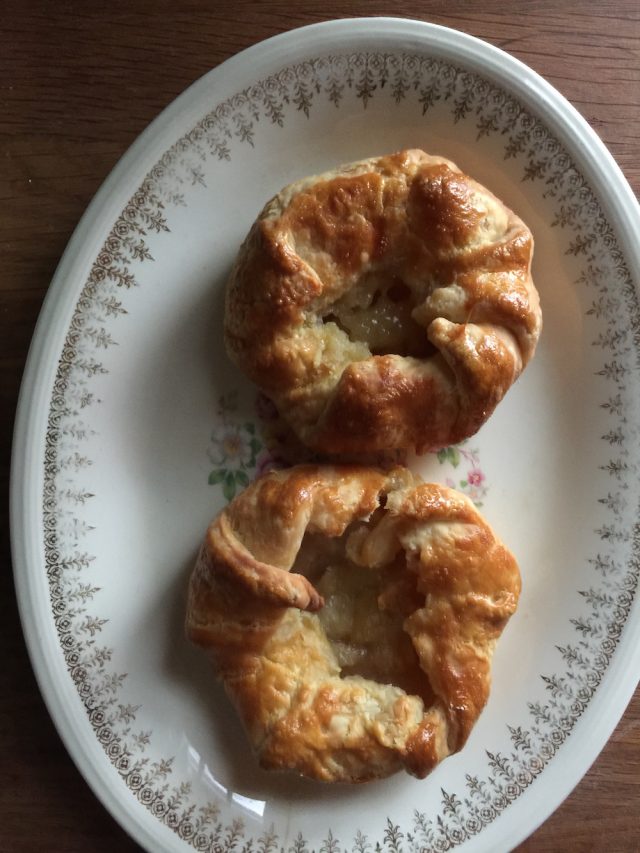 After my pie baking marathon last week, I slept 14 hours. In one evening. Once the clock neared 8pm (7:55pm to be exact), it felt acceptable to tuck in last Tuesday. I proceeded to stay there until 10 am on Wednesday morning.
Last night was the complete opposite. I went to bed around 9:30pm. My eyes heavy as I struggled through an episode of Salt, Fat, Acid, Heat. As an aside, I want to love this series. I've watched three of them, and yet to feel hooked. Samin is a lovely host, but there's an energy an excitement I can't harness watching it.
I think it has to do with the terrible caption placement. All the episodes have been mostly not in English, which is totally fine with me. I watch foreign films all the time. My problem with this one is the captioning is just white font, often over a very bright background making it near impossible to read.
Anyway, I digress. The scattered thoughts are likely due to being awake since 3am, for the most part. I tossed and turned for almost two hours, sleep not returning until 30 minutes before my alarm went off. Of course.
During my insomniac hours, I scanned my Instagram feed. This was on the second hour, as I really did give falling back to sleep a try. In my feed, I came across the apple tarts from Poilane. I knew in that moment what I'd be doing when I woke for good finally.
Perfect Pie Crusts were already in the fridge, so most of the work was done. All I needed to do was roll out of the dough, and peel and cut an apple. I swear to you it's really that easy to make these French Apple Galettes. My mind is on holiday baking the last couple of days, and while I don't recommend shipping these (they're best consumed the day they're baked), they would make lovely teacher gifts (and one the kids can easily help make).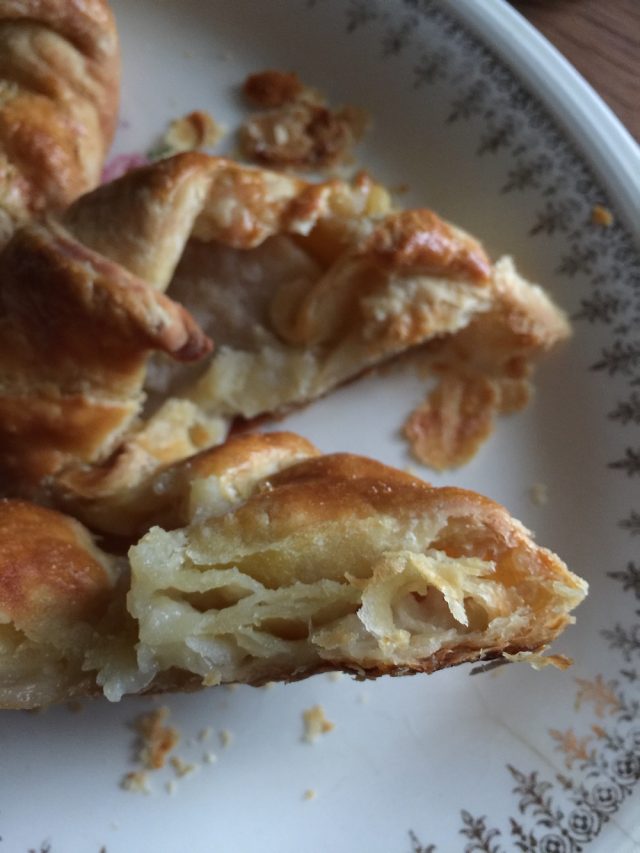 A tray of them would also bring oohs and aahs at a holiday party, whether you're hosting or going to a friend's house. You can even prep them in advance (without the egg wash), freeze them, and bake straight from the freezer. Just add a few extra minutes to baking time, and brush with egg wash before popping in the oven.
And now I'm counting the hours until it is once again bedtime. Here's hoping tonight is as easy as making these apple tarts.
p.s. I did a quick video on making these over on my Instagram Stories (it's saved in my highlights, if you want to give it a watch).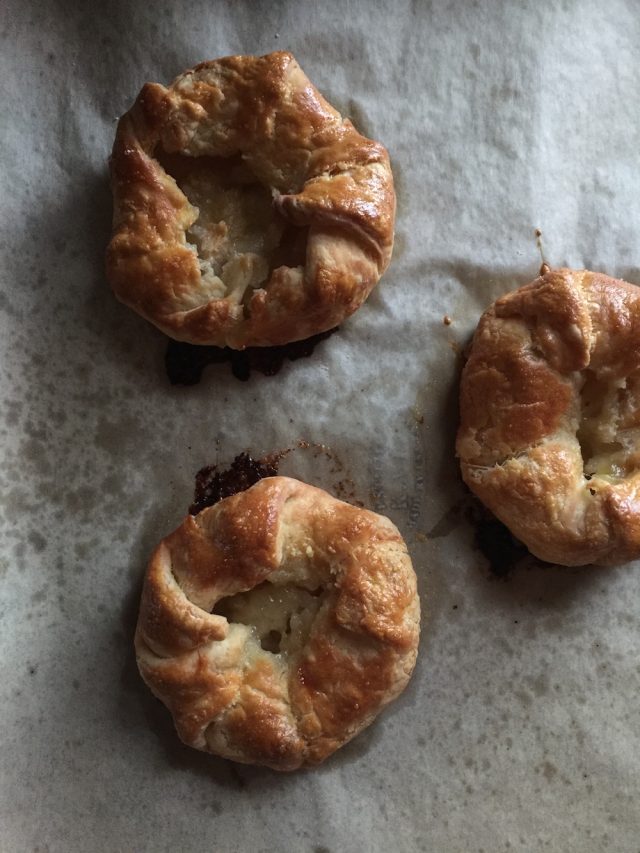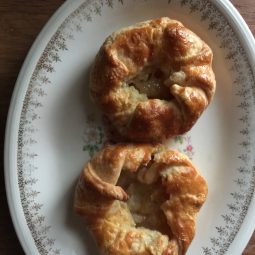 French Apple Galettes (super easy apple tarts, really)
If you're apples are a very juicy variety, you might want to sprinkle a 1/2 teaspoon of flour over them before folding over the pastry to thicken the juices as they bake.
Ingredients
Single Perfect Pie Crust

1/2 of this recipe

1

Mutsu apple

cut into wedges

1

tablespoon

granulated natural cane sugar

1

egg

lightly beaten
Instructions
Preheat the oven to 425º (220ºC). Line a sheet pan with parchment paper.

Divide the pie dough into three equal pieces. On a lightly floured surface, roll out each into a very thin circle (1/8 to 1/16 inch).

Place three pieces of apple in the center of one circle to form a triangle. You may need to cut one of the apples in half to fit properly. Sprinkle 1 teaspoon of sugar over the apples. Roll the pastry up, and over the apples, leaving the center uncovered. Repeat with the remaining apples and pastry.

Brush with the beaten egg.

Bake 15 minutes, then reduce oven to 350º (180ºC). Bake 25 minutes more, until deeply golden and bubbling.