How to Make All-Natural Bath Salts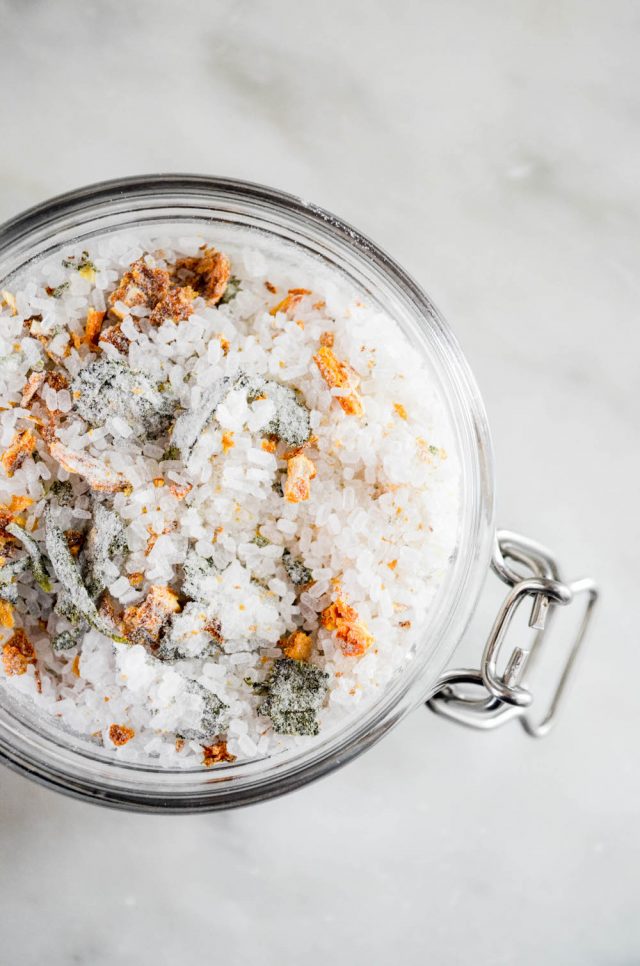 I'm sure your social media feeds and email inboxes are filled with holiday cake and cookie recipes. It's all well and good if you like to bake, and have the time to do it, but let's face it—not everyone has the time or desire to become a crazy baking elf. I'm wondering myself how I'll get it all done and I do this for a living. For those of you looking for some homemade gift giving inspiration without needing to turn on the stove or soften a stick of butter, these Homemade Citrus & Herb Bath Salts are the answer.
My garden is fast asleep now that winter has settled upon us. Long before the first snowfall, though, I was busy clipping herbs to dry and make various potions to soothe and savor until the new growing seasons starts again. One of my favorite parts of the garden is my French lavender patch. If I close my eyes, I can almost feel like I'm Paris. My mind keeps drifting there a lot lately. I guess I still dream about spending part of my retired days there, even if retirement feels like a thing people of my generation will never really get to do.
These Homemade Citrus & Herb Bath Salts capture a little of that summer joy, scented with lavender and sage from the garden. They also pull the seasons together in a way because I added some crushed dried clementines to the mix, too. The clementine peels were from last winter's citrus season. As I juiced bag after bag, I saved the peels, drying them out in a low oven, then filling mason jars with them to use throughout the year. The peels are a nice addition to stews and soups, a long soak of a different kind, yes?
I realize this might sound a little precious or pretentious, and this is not my intention. I can actually see Michael rolling his eyes as he reads this (they have WiFi wherever he is, right?). Dried lavender is easy to buy in most health food stores or online. Fresh is lovely because it draws out some of the essential oils, but dried will work just fine. Same goes for the sage.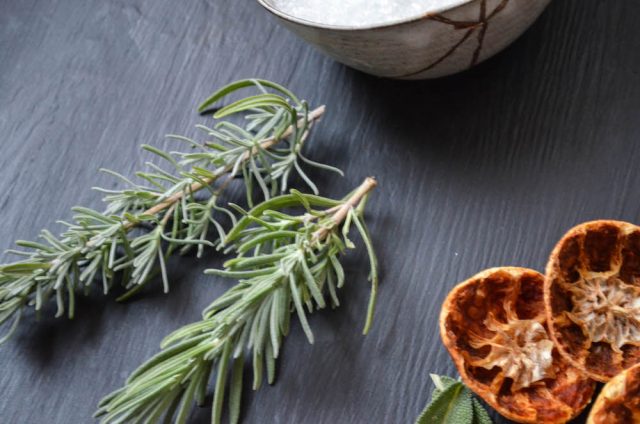 If you don't have dried clementine peels, or want to make these Homemade Citrus & Herb Bath Salts sooner than you'll have a stockpile of peels, use a few drops of essential oil.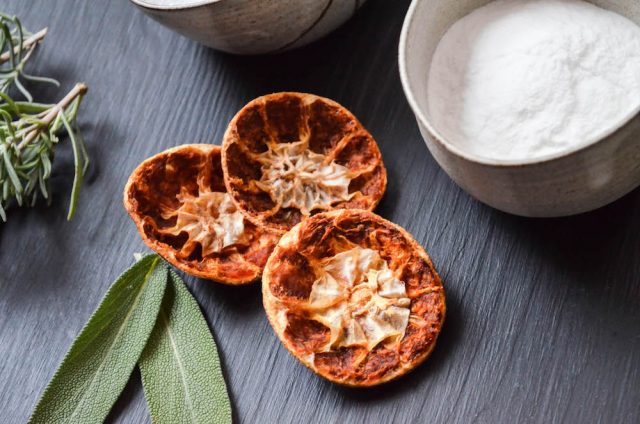 The remaining ingredients in the bath salts are baking soda and epsom salts. You can find baking soda in the supermarket.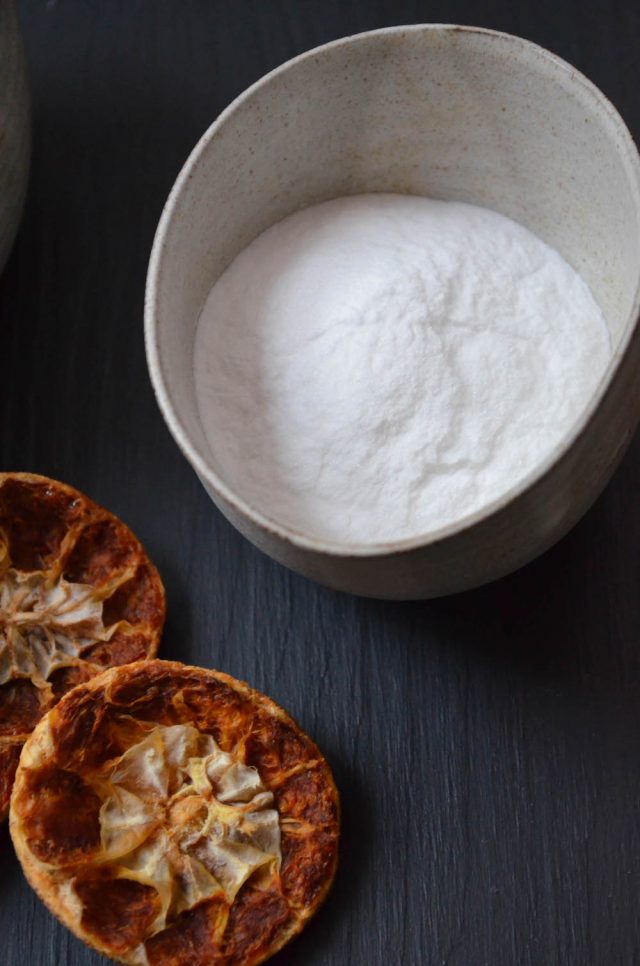 Epsom salts are easy enough to find at any pharmacy. I happened to buy mine at the health food store in Woodstock, and am quite smitten with the crystals. They're unlike any other epsom salts I've ever bought, and were also stupidly expensive in comparison to a store pharmacy brand, but I figured it was a treat for myself.
To use the mixed bath salts, you can obviously just sprinkle them in the tub. That can be a messy clean up, though, so I prefer reusable muslin spice bags (the size of tea bags). I found them at the hardware store in town. I love hardware stores, and the ones up here have pretty amazing kitchen sections, too.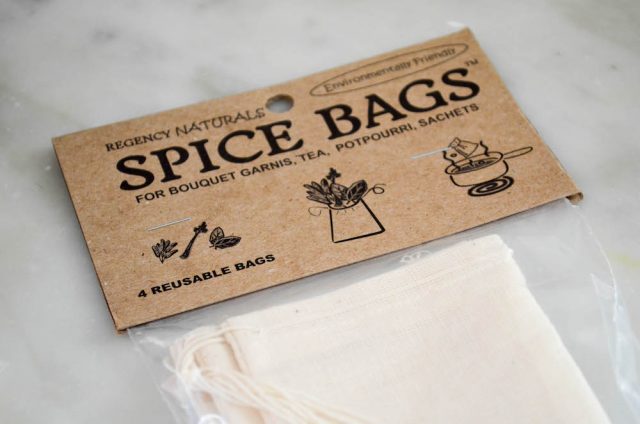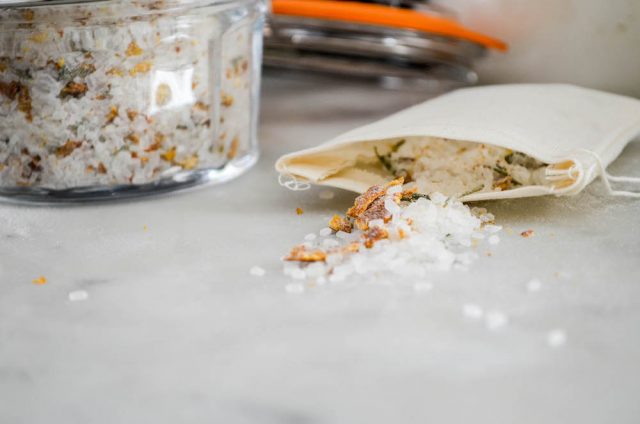 Scoop the salts into mason jars, tie on a handwritten note, include some muslin bags, and these are sure to make any recipient happy regardless of what holiday they're celebrating (or not celebrating) next month. Be well, friends. Hope the week is shaping up to be peace-filled. xo-Jennie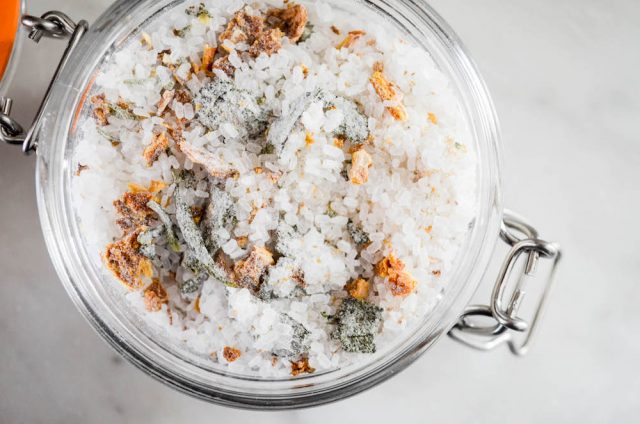 Homemade Citrus & Herb Bath Salts
Note: this is a bath soaking salt. Not to be used for cooking!
Ingredients
3

dried clementine peels

crushed

1

cup

225 grams Epsom salts

1/4

cup

62 grams baking soda

4-

inch

spring fresh lavender

needles removed (stems can be tucked into drawers to freshen clothing)

2

fresh sage leaves

chopped
Instructions
Combine everything in a jar. Shake well to blend. Scoop as you like into a muslin pouch, and add to a hot bath. Discard contents once done, launder and reuse pouch.