Homemade Buckwheat English Muffins
I'm cheating a little here. If I were sharing in order of experimentation, the Whole Wheat English Muffins should be getting their 15 minutes of fame (incidentally, that's also how quickly a warm batch disappears). They're coming, but right now let's talk about these Homemade Buckwheat English Muffins.
When I first made them, it felt like a stark contrast to the light, fluffy white flour-based English Muffins. Then it occurred to me that these heftier muffins are closer to the packaged ones I used to buy from the health food store. In looking at them that way, and removing the memory of the lighter, springier ones, these heartier 100% whole grain Homemade Buckwheat English muffins deserve a rightful place at the breakfast table.
I find they hold me over a little longer, especially good for weekdays, which tend to be busy, and lunch often escapes me for lack of time. You can make a batch on Saturday or Sunday, split them with a knife, wrap in a few layers of plastic film, and freeze. When ready to eat, just pop them in the toaster.
I spread the last bits of raspberry violet jam I brought back from Paris back in January. The soft, floral, fruity jam provided a delicate contrast to the deep, nutty buckwheat.
If you love whole grains, and like buckwheat, you'll want to give these a try. It's also a great excuse to dip into that sack of flour sitting in your fridge (which is where you should store it if using intermittently, as it's highly perishable).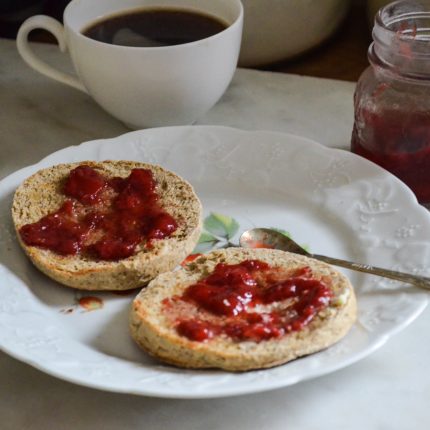 Buckwheat English Muffins
Ingredients
1 ¾

cup

250 grams whole wheat pastry flour, plus extra for kneading & rolling out

¼

cup

plus 1 tablespoon

40 grams buckwheat flour

2

teaspoons

6grams active dry yeast

1

teapsoon

6grams sea salt

2

teaspoons

10 grams honey

1

tablespoon

15 grams softened butter, cut into small pieces

1

medium to large egg

lightly beaten

¾

cup

170ml milk, warmed slightly

Oil or cooking spray

for greasing the bowl

Semolina or polenta

for rolling & dusting pan
Instructions
Add the flours, yeast, salt, sugar, butter, egg, and milk to a deep bowl. Using your fingertips, stir to combine, then knead it a few times until it comes together into a shaggy dough.

Dust a counter with flour. Drop the dough onto the counter, and knead until it forms a smooth dough—this takes about 10 minutes.

Coat a deep bowl with oil or cooking spray. Place the dough in the bowl, and cover tightly. Set in a warm spot until just about doubled in volume, about 60 to 75 minutes (it won't get as puffy as traditional English muffin dough).

Dust a counter with more flour and some semolina. Roll the dough out to ¾ to 1-inch thickness (2 to 3 cm). Use a 3-inch (8-cm) ring to cut out rounds of dough. You should get 6 to 8 pieces depending on how thick you roll it. It's okay to re-roll the scraps once.

Dust a sheet pan with semolina. Place the cut out muffins on the pan, and cover with plastic film. Let sit in a warm spot for 30 minutes, until they've puffed up.

About 5 minutes before the proofing is done, heat a 10-inch (25-cm) cast iron skillet over the lowest heat setting until the pan is hot. Place 3 to 4 muffins in the pan. Cook for about 5 minutes, until puffed up slightly, and nicely browned on the bottom. Flip, and cook for about 5 minutes more. Transfer to a wire rack to cool.

Repeat with the remaining muffins, keeping a closer eye—the pan will be quite hot, and might only need 4 minutes per side with each successive batch.
SaveSave
SaveSaveSaveSaveSaveSave
SaveSaveSaveSaveSaveSaveSaveSaveSaveSaveSaveSaveSaveSaveSaveSave
SaveSave