Sourdough English Muffins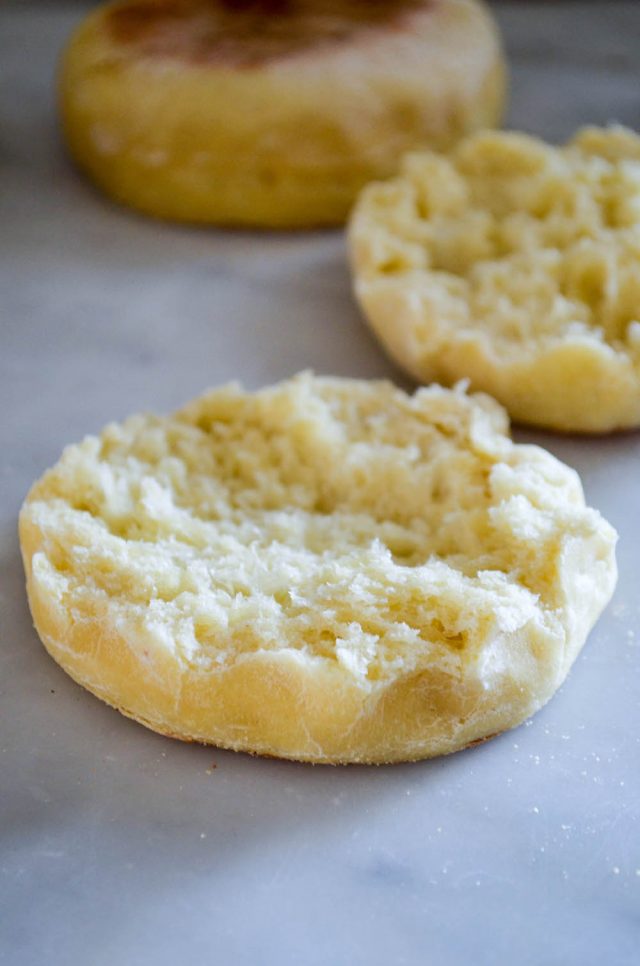 The last few days have been a flurry of flour, in attempt to get some recipe testing tied up, and also use up my wheat reserves before Passover begins. That explains the baking marathon of two lemon meringue pies, lemon crumb cake, and these Sourdough English Muffins over the weekend.
Four months into keeping my starter, I've found a comfort level with it that came sooner than I expected. I hadn't expected to tap into the pulse of its character so quickly, but then again I work with it at least once a day, whether it's to make seed crackers, pizza dough, loaves of bread, and now these english muffins.
I'd first attempted to convert the recipe for english muffins a few weeks into my follies with sourdough. While this post from Clotilde is very helpful in calculating the conversion, ultimately, it's intuitively knowing the subtle nuances of your starter, and how to adjust ratios, that will result in a successful bake.
For veteran starter bakers, you know this is due to difference in hydration levels. I opt for a 1:1:1 hydration, so my starter is a rather wet one. Keep that in mind when using this recipe. If you keep a less hydrated starter, or even wetter than mine, you might need to make tweaks to the flour and water ratios.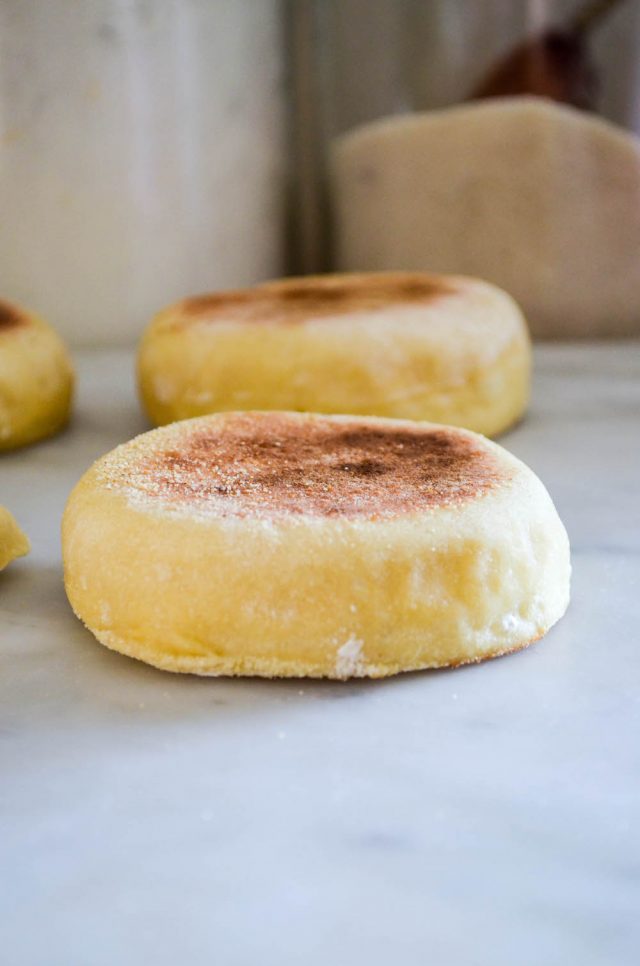 After making these Sourdough English Muffins, I don't think I'll ever go back to the original yeast-based recipe. Lovely as those muffins are, this starter version takes them to a whole new level. The resulting English muffins are so light, filled with air pockets galore, I swear they rival the Thomas' English Muffins I grew up eating. For maximum nooks and crannies, I suggest using a fork or the tip of your finger to pry them apart.
Try one of these jam recipes on your muffins
If like me, you grew up eating English muffin pizzas for dinner, then you'll find these are excellent for that, too. In fact, knowing I used homemade muffins eased the guilt from making such a simple dinner the night I went into a cleaning frenzy, readying the house for the holidays.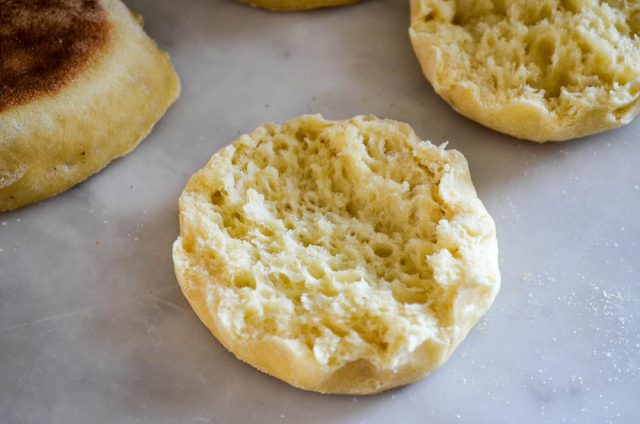 While I haven't tried making the dough the night before, and shaping them the next morning, I've a hunch you can totally do it, and they would also be nice for a light Easter morning breakfast. I keep my house on the chilly side overnight, and would leave the dough on the counter (it needs to double in volume before rolling and cutting out the dough). If you're house is warmer, I suggest letting your dough proof in the fridge.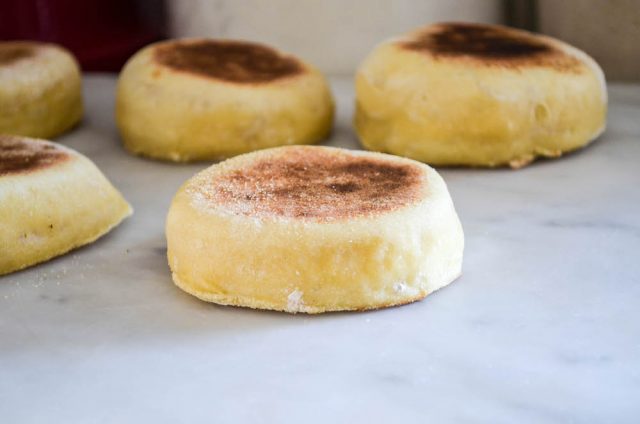 Sourdough English Muffins
Ingredients
240 grams all purpose flour, plus extra for kneading & rolling out
80 grams sourdough starter
1 teaspoon (6 grams) sea salt
1 tablespoon (15 grams) granulated natural cane sugar
1 tablespoon (15 grams) softened butter, cut into small pieces
1 medium to large egg, lightly beaten
135 grams warm water
Oil or cooking spray, for greasing the bowl
Semolina, for rolling & dusting pan
Instructions
Add the flour, starter, salt, sugar, butter, egg, and water to a deep bowl. Using your fingertips, stir to combine, then knead it a few times until it comes together into a shaggy dough.
Dust a counter with flour. Drop the dough onto the counter, and knead until it forms a smooth dough—this takes about 10 minutes.
Coat a deep bowl with oil or cooking spray. Place the dough in the bowl, and cover tightly. Set in a warm spot until doubled in volume, 3 to 4 hours.
Dust a counter with more flour and some semolina. Roll the dough out to ¾ to 1-inch thickness (2 to 3 cm). Use a 3-inch (8-cm) ring to cut out rounds of dough. You should get 6 to 8 pieces depending on how thick you roll it. It's okay to re-roll the scraps once.
Dust a sheet pan with semolina. Place the cut out muffins on the pan, and cover with plastic film. Let sit in a warm spot until they've puffed up, 45 to 60 minutes.
About 5 minutes before the proofing is done, heat a 10-inch (25-cm) cast iron skillet over the lowest heat setting until the pan is hot. Place 3 to 4 muffins in the pan. Cook for 5 to 6 minutes, until puffed up, and nicely browned on the bottom. Flip, and cook for 5 to 6 minutes more. Transfer to a wire rack to cool.
Repeat with the remaining muffins, keeping a closer eye—the pan will be quite hot, and might only need 4 to 5 minutes per side with each successive batch.
SaveSave
SaveSave
SaveSave
SaveSave
SaveSave