crispy & chewy oatmeal raisin cookies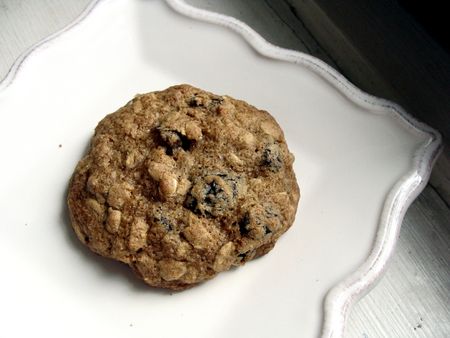 I scaled the subway steps and realized the timing was perfect. It was just about 11:30am, and if I quickened my pace, I could catch the last few minutes of recess at Isabella's school.
Kids treat it as a big event when mommy shows up unexpectedly. One by one her friends came running to the chainlink fence, held back by the boundaries of safety. A little boy, named Liam, asked if I was looking for Isabella, then went running off to find her.
In the midst of this, the whistle bellowed from the lunch lady's mouth. I've heard a lot about their fierceness, running the cafeteria with an iron-fist, and I certainly didn't want to get any kids in trouble. Still, they came bounding over, and to each friend, I said "please tell Isabella her mommy said hello". To her very best girlfriends, I even asked if they could pass on a hug and kiss for me.
My eyes scanned the schoolyard, but the little girl whose voice can usually be heard blocks away, was no where to be found. My heart dropped a little bit, as I turned to walk the few blocks home.
Then I turned back for one last look, and through the crowded yard, looking disheveled and ragamuffin-like, our eyes caught. My stomach fluttered with excitement, much like the moment I met the Mr. As everyone lined up, my sweet little girl ran over, shoved a hand through the fence and I kissed it. Worried she'd get into hot water with the lunch ladies, I blew what felt like a million kisses, and sent her on her way with a few "I love you's" too. She sauntered inside, all giggles with her girlfriends, and I was ready to get on with my workday.
As I walked down First Place, I had a flash back to warm oatmeal raisin cookies. They were my favorite when I was just about her age. They're still capable of making me drink an icy glass of milk too.
My parents had friends that owned a candy store in Little Italy, and I remember we'd stop at a nearby bakery that sowed the seeds for my love of oatmeal raisin cookies. I've measured all other cookies of the type on them, and most have fallen short.
So, when you want the job done, this is an instance where it's best to do it yourself. These cookies strike the perfect balance between crisp and chewy. I've narrowed the baking time down to 10 minutes, so the outer edge has a crunchy bite, with a hidden chewy texture as you near the center.
Sometimes I feel like my life exists in a narrow box, my dreams struggling to break free into fruition. All it takes is a day like this to realize, my job as mommy is one with benefits no dream job can ever match. Where else can I have fresh-baked cookies and eskimo kisses all in a day's work?
Oatmeal Raisin Cookies
Makes 2 dozen
One thing I've learned from years of cookie baking is do it one sheet at a time. I notice a considerable difference when baking mutiple sheets, and this reflects the drop in temperature from opening the door to alternate the pans, as well the way the heat is circulating based on the rack's placement in the oven. Patience is a virtue, and a worthy one to make the perfect batch of cookies, in my opinion.
Investing in a cookie scoop is another good idea if even size and shape is your goal. Bake the whole batch or freeze half for when unexpected company shows up.  Just drop by teaspoonfuls onto a baking sheet and place in freezer until dough is set. Store frozen, unbaked cookies in a ziptop bag in the freezer and bake for a total of 12 to 16 minutes, depending on how chewy or crispy you prefer them.
1 1/2 cups (157 grams) old-fashioned rolled oats
1 1/2 cups (213 grams) flour
1/2 teaspoon baking soda
1/4 teaspoon salt
1 1/2 teaspoons ground cinnamon
1/2 cup (4 ounces) butter
1/2 cup (112 grams) sugar
1/2 cup (93 grams) packed dark brown sugar
2 large eggs, at room temperature
2 teaspoons vanilla extract
2 cups (248 grams) raisins
Preheat the oven to 375ºF. Line two baking sheets with parchment paper or silicone liners.
Whisk oats, flour, baking soda, salt and cinnamon together in a bowl; set aside.
Cream butter and sugars in the bowl of a stand mixer.  Add the eggs, and beat until light and fluffy.  Reduce the mixer speed to low and gradually add the flour mixture.  Once all the flour has been mixed in, turn the speed up to medium-high and beat for 15 seconds.  Stir in the raisins.
Drop 1 1/2-inch rounds of dough (30 grams each, if you really want to be exact), 2-inches apart, onto the prepared baking sheets.  Bake 8 minutes for chewy cookies, or 11 minutes for crisper cookies.  Remove from oven and let cool on baking sheets for 2 minutes.  Transfer to a wire rack to finish cooling.