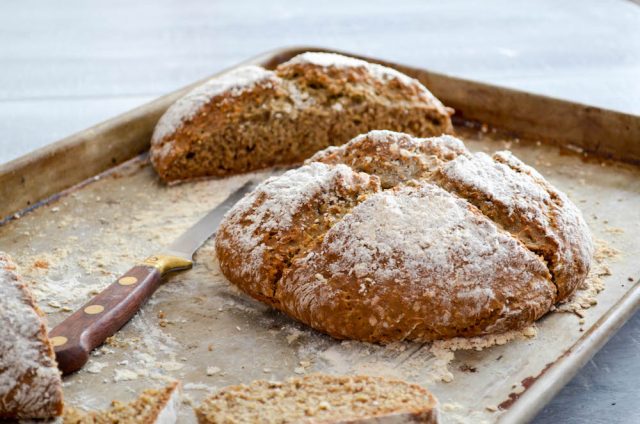 My eyelids are heavy with fatigue, and my arms feel like they were ripped out of the sockets, and shoddily shoved back in after shoveling 20-inch deep snow. But I got it in my head a few days ago to bake this Buckwheat Oat Soda Bread, and have been eager to share it with you all before I head to NYC for a quick visit this weekend.
Before we get to the bread, though, can I tell you how excited I am to see some of my best friends this weekend? I realized today that it's been three months since I've had some face to face time with them. It's funny how life simultaneously moves achingly slow, and rapidly fast.
Staring out the window this past Tuesday, gently kneading this dough, I wondered if the snow would ever cease. It made me think about the folks who call us liberals snowflakes. This week's storm shows just how those snowflakes can come together to wreak havoc. I almost can't even bear to read the news anymore, and my local Congressman's recent vote to let repeal of the ACA move out of the budget committee was one more punch in the gut, albeit not surprising.
Last weekend, I spent some time volunteering with  400+ other folks across the district who are putting their efforts into flipping the 19th Congressional district of New York democratic in the 2018 midterm elections. Most people went out canvassing. I offered to do some cooking, and coordinating food for the volunteers. It didn't seem like much compared to the folks who were going door to door in frigid temperatures, but everyone was incredibly thankful for a meal before heading out. I bring it up here to show that there are so many ways to help, and in ways you might not expect.
I also found out that becoming a notary public is beneficial to local political parties come election season when they need to file petitions. It doesn't cost much, about $75 here in NYS for application and test fees, and fills a crucial need, especially in rural areas. It does require studying up notary public licensing laws, and taking a test, but it's certainly something to consider if you can swing it. I'm hoping to get my license this spring.
Now, let's talk about this Buckwheat Oat Soda Bread. I'm ready to declare this my favorite of all the soda breads I've made throughout the years (oat soda bread, Irish soda bread, and semolina soda bread). For me, this one comes closest to being a good everyday bread substitute, at least when it comes to what I'm looking for in a daily bread. It's filled with wholegrain goodness, though it does have all-purpose white flour, too. Plus, I swapped in honey for the sugar, so it's refined sugar-free. A handful of sesame seeds got tossed in too, and I think any seed would be a lovely addition, so play around with this idea.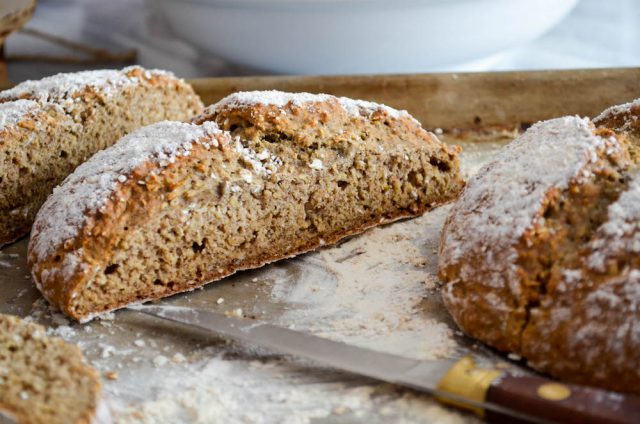 I also decided to make it dairy-free, which was quite easy. I soured some almond milk to make a dairy-free buttermilk of sorts. It worked wonderfully, and I imagine you can do this any nut milk or soy milk, so let us know if you give it a try. And if you decide dairy isn't a worry, then just nix the almond milk and vinegar, and use 2 cups of buttermilk. Regular milk will not work as well, although you can do the same souring trick, by using cow's milk instead of almond milk. I think I just gave myself a mild headache writing that all—it makes sense, yes?
The real test was with the 8 year old, and Virginia gave it a big thumbs up. I loved it with a thick slick of butter and sprinkle of flaky sea salt. It was also perfect as a bruschetta of sorts with avocado and poached eggs. I'm thinking of slicing one loaf (it makes two) into slivers, and baking them into thin crisps. A nice addition to a cheese board, perhaps.
Time for me to sign off now, and get some shut eye. Tomorrow is my first day baking at a friend's restaurant up in Hudson, NY. I'm both excited and nervous—will fill you in on the details next time I pop back in here. Hope everyone has a warm, wonderful weekend. xo-Jennie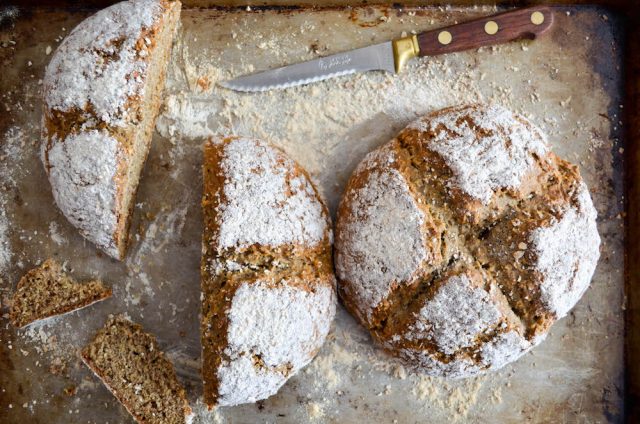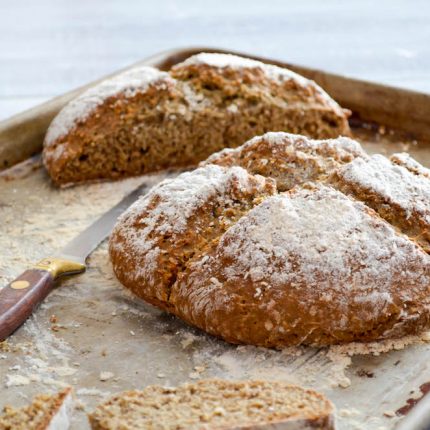 Buckwheat Oat Soda Bread
Makes two 7–inch round loaf
Ingredients
1 ¾

cups

plus 2 tablespoons

445 ml almond milk (recipe here)

2

tablespoons

apple cider vinegar

2

cups

190 grams old-fashioned oats

½

cup

60 grams buckwheat flour

2

cups

300 grams all-purpose flour, plus more for dusting and sprinkling

1 3/4

teaspoons

12 grams baking soda

1 1/4

teaspoons

6 grams fleur de sel

Handful of sesame seeds

1

tablespoon

20 grams creamy, churned honey
Instructions
Preheat the oven to 400ºF with the one rack set on the upper position, and another set on the lower position.

Combine the almond milk and vinegar in a bowl or measuring cup. Stir, and let sit a few minutes. It'll curdle—don't worry. Just stir it again before adding to the flour mixture.

Meanwhile, add the oats to the bowl of a food processor. Pulse until ground into a fine flour—some larger flakes are okay (they add texture to the bread).

Combine all the flours, baking soda and salt to a deep bowl. Whisk together to mix well.

Pour in the almond milk and honey. Stir using a wooden spoon until just combined. The dough will be quite tacky and sticky.

Generously flour a clean countertop or large cutting board. Scrape the dough out onto the surface. Knead briefly, 30 to 60 seconds, until it forms a somewhat smooth ball (it'll still be a little tacky). Divide into two even pieces. Shape them into balls, and place on a generously floured, rimmed baking sheet. Pat each ball of dough down slightly to flatten into a circle.

Sprinkle the top with a generous amount of flour, 2 to 3 tablespoons. Using a very sharp knife, slash a deep "X" on the top of each loaf, making sure not to cut all the way through.

Bake on the lower rack for 15 minutes. Move tray to the upper rack of oven, and bake for 10 to 12 minutes more, until it becomes a deep golden color and temperature registers 185ºF. It should sound hollow when tapped with your knuckle. Transfer to a wire rack, and let cool completely