Homemade Saltine Crackers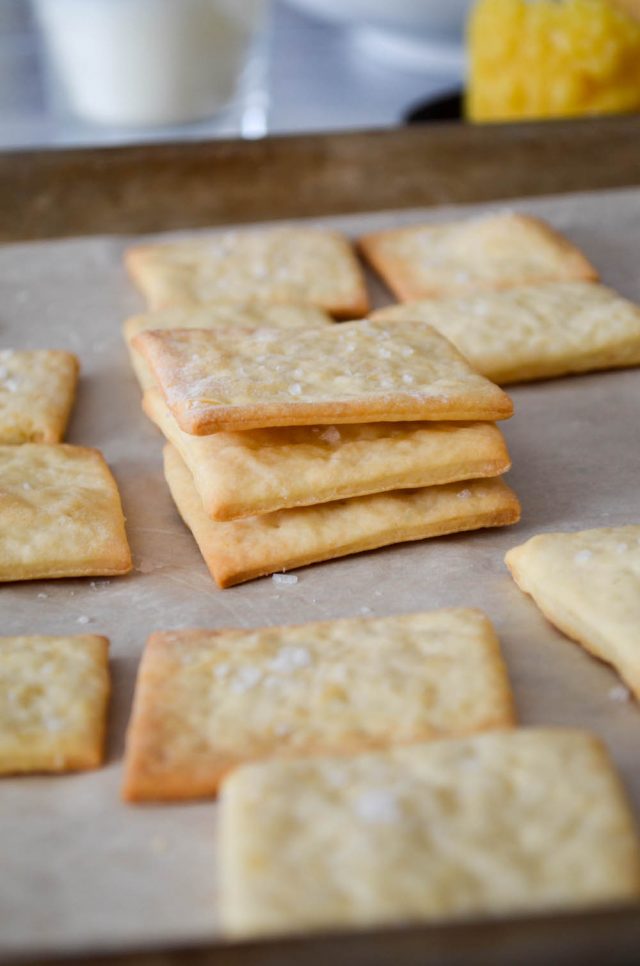 I heard his voice whispering, "really, Jen" as I set out to make these. He used to tease, and ask when I was going to make my own water. While some items are rather elusive to find easily, good quality saltine style crackers are not one of them. For years I've bought the Suzie's brand at the health food store. They've been completely acceptable until this point, and since my kids plow through these new homemade saltine crackers faster than I can make them, I don't imagine I'll stop buying them, either.
So, yes, making saltines is perhaps not a necessity, but it has been on my baking bucket list for years now. I first tried making them some time ago. The recipe I found online was fussy, and didn't yield the flavor I was trying to recall from my childhood.
Then I was tasked with developing a recipe for oyster crackers for a recent cookbook project. After the first few nibbles of those crackers, it occurred to me that I was onto something. I could manipulate the recipe with little effort, and maybe, just finally, cross homemade saltines off my list.
As I hovered over the counter, pricking the squares with little marks, just like the ones in those packs we all love, I realized I might've slipped across the line into insanity. Do you need to poke the 9 to 12 holes I did in each one? Probably not. Do they need to be as uniform as my tendency for perfection pushed me? Definitely not. A few randomly placed pricks with a fork would be fine—it tamps the dough down to avoid air bubbles while the crackers bake.
Whichever method you settle on, I know we can agree that these homemade saltines are incredibly easy to make, trust me on this. We tend to use them for everything—to accompany cheese plates, crush and serve with soup, slather with some peanut butter (or nutella, if you're my girls). If you want to add some oomph, you can toss some fresh herbs in the food processor before giving the flour a whizz. A drier herb, like rosemary, thyme, or oregano would all be wonderful. I'd suggest dried basil over fresh for a more intense flavor, and as I write that, I imagine some sundried tomatoes might be nice, too (truly dry ones, not packed in olive oil). Hope you all enjoy, and if you try any of these variations, please do share your results with the rest of us.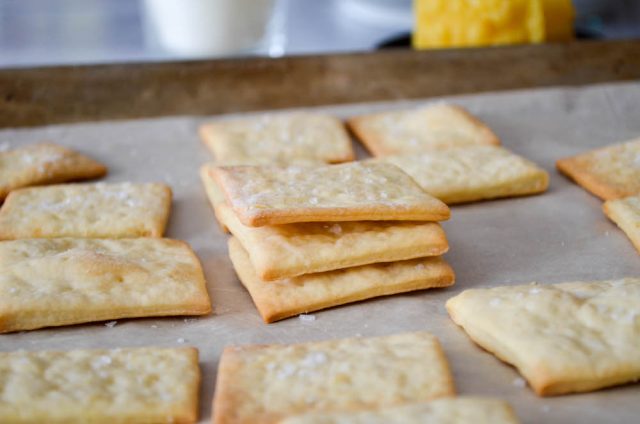 This recipe is now part of my new site, and can be found here.