Kalamata Olive & Spelt Sourdough Crackers
My plan seemed perfect, a way to outsmart my children. Little did I know these Kalamata Olive & Sourdough Crackers would be the one, and only way to date, that my daughters would actually enjoy olives (aside from olive oil for dipping bread).
Keeping any type of homemade cracker in steady supply seems futile. They eat them as fast as I can bake them, often faster. Perhaps that's why I went on hiatus, and stopped making them. I felt a slave to feeding their crispy, snack addiction, and somewhat sore that I never managed to get any of them.
This past weekend I made three batches of sourdough crackers from sourdough discard. Three hundred crackers, and all that's left to show for my efforts are two dozen or so a mere three days later. The crackers are smallish, smaller than a wheat thin, in fact, so while 300 sounds like a lot, perhaps it isn't?
By the last batch, I'd grown a bit bored with the usual combination of seeds and spices. My mind drifted towards the open jar of kalamata olives in the fridge. I dared not at first, knowing the girls aren't fans of olives. Then it occurred to me that maybe they wouldn't devour them as quickly, if at all, leaving a few crackers to get me through the week.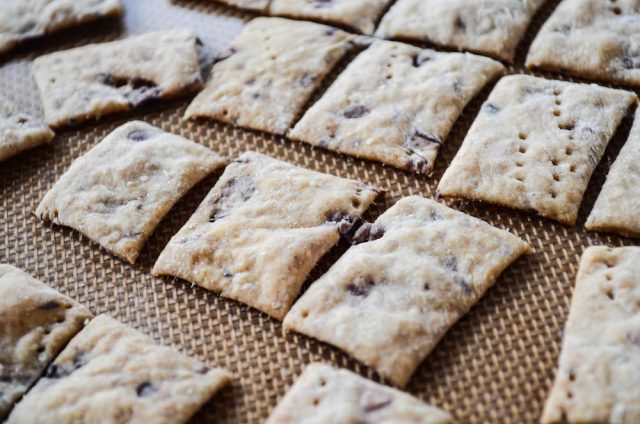 No such luck.
I suppose the upside is maybe these Kalamata Olive & Spelt Sourdough Crackers have opened the door, even the tiniest bit, to them tolerating olives in other dishes? Only time will tell.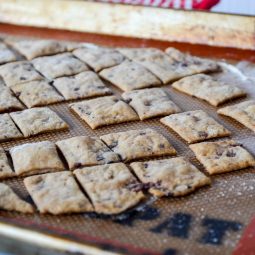 Kalamata Olive & Spelt Sourdough Crackers
Ingredients
100

grams

unfed sourdough starter discard

25

grams

olive oil

8

kalamata olives

pitted & chopped fine

50

grams

spelt flour

plus more for rolling out

4

grams

sea salt

Freshly ground black pepper

to taste
Instructions
Preheat the oven to 350ºF. Line a sheet pan with a silicon liner or parchment paper.

Add the starter, oil, and oloives to a medium bowl. Stir with a wooden spoon to mix; it'll become sloshy, and the starter will break apart.

Add the flour and salt. Stir until well mixed, about 1 minute.

Place the dough in the center of the prepared pan, and press it down into a rectangle. Dust the top of the dough with more flour. Using a rolling pin, roll the dough into a paper-thin rectangle (it's okay if the shape isn't perfect). You're aiming for 1/16-inch thickness.

Use a pizza wheel to "score" the dough into squares (so they break apart easily after baked).

Bake 18 to 20 minutes, until golden & crisp. Let cool for 15 minutes before breaking apart. Serve immediately, or store in a tightly sealed jar or tin for up to 1 week.
SaveSave
SaveSave
SaveSave
SaveSave
SaveSave