Home Canned Pears in Light Syrup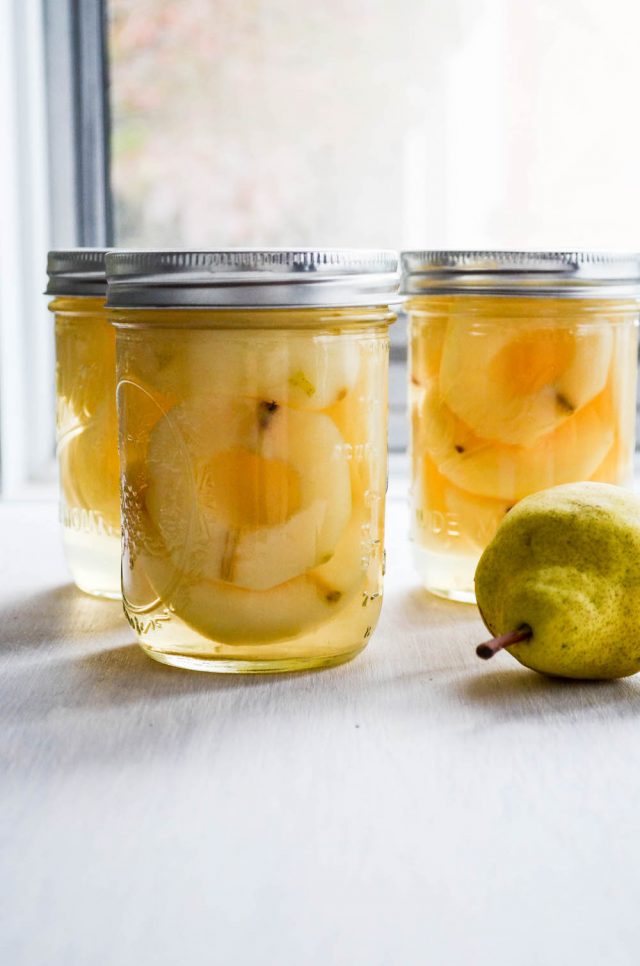 Much as I love all the summer and fall has to offer at the farmstand, I'm ready to slow down, settle in for the slower season of enjoying the bounty I've managed to preserve. Currently, there's 125+ jars of homemade jams, jellies, pickles, sauces (tomato and apple), along with preserved fruits—maraschino cherries, these apricots, and now these home canned pears in light syrup.
I've many memories of store-bought canned fruit as a kid. Why is it the can always showed so many cherries on the label of the fruit cocktail, yet you were lucky to pluck one from the can itself?
Those days are far behind me now. The only canned fruit I've bought regularly are jarred peaches in light syrup imported from Italy, and sold at Caputo's in Brooklyn. A few years ago I did get in a groove making home canned peaches but truthfully, peaches are my least favorite to work with, though they are one of my favorite flavors. The pits, the skins—the whole process is tedious and laborious.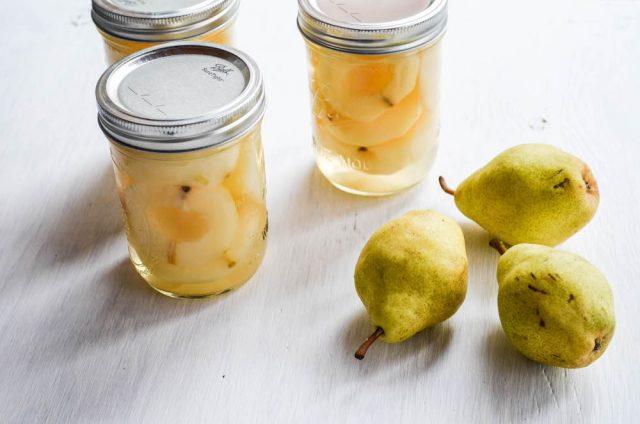 Home canned pears, however, are incredibly easy, and swifter in terms of time.
While the syrup is cooking, a simple mixture of water and sugar (4:1 ratio), I peeled the pears, sliced them in half, and used a melon baller to scoop out the cores. You can cut the pears into quarters or even pieces if you prefer a smaller size, just reduce the cooking time accordingly.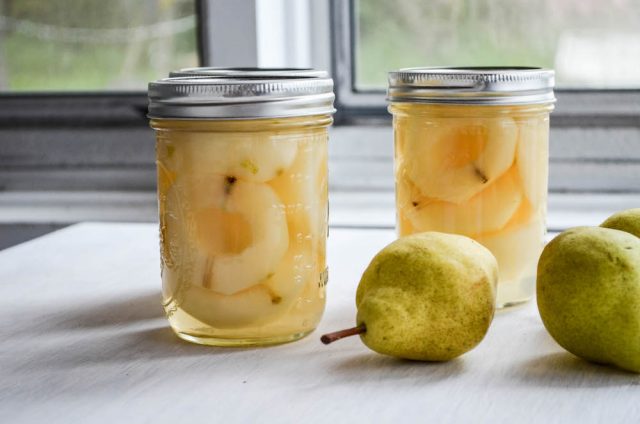 I considered infusing the syrup with vanilla beans, but for my first batch wanted to keep it purely pear, choosing to experiment with more creative flavors in future canning sessions. I can see lemon thyme and even rosemary pairing nicely here (ha, see what I did there?!).
The rest of the weekend was quite busy, working on recipes for homemade remedies to prepare for winter (cough syrup and cough drops), as well as prepping the garden for a long slumber. Most of the herbs have been pulled, and are in various stages of drying. A new pickling addition made it to the basement shelves, too—pickled cauliflower & carrots. More about those, and the homemade remedies soon.
A friendly reminder, too, that if you appreciate the work I do, and the 100% free recipes I share here (there's an extensive archive of close to 1,000 recipes), any contributions you'd like to make to show your support is welcome (click here). A huge thank you to everyone who's already contributed!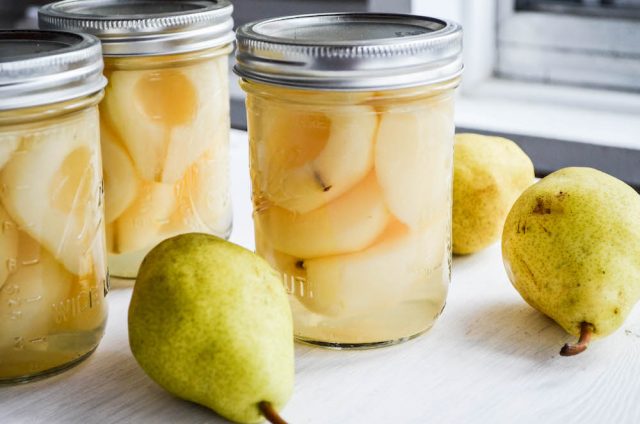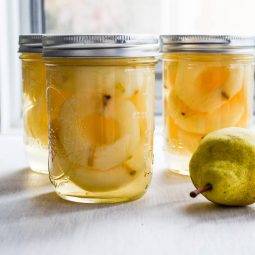 Home Canned Pears in Light Syrup
Ingredients
4

cups

water

1

cup

sugar

9

Bartlett pears

average sized

½

lemon
Instructions
The complete recipe can be found

here

.