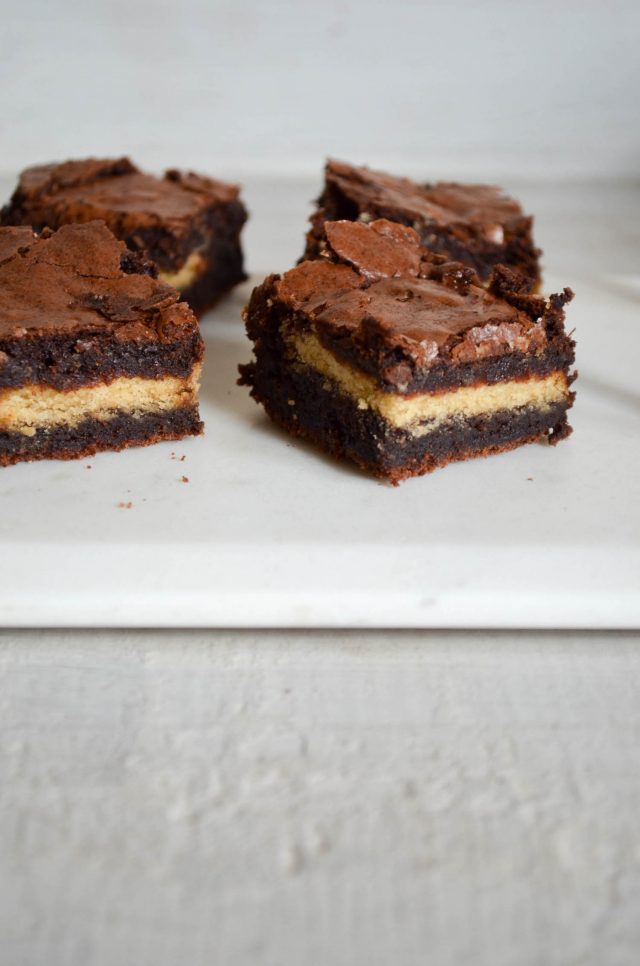 When I first saw the theme for this week's Fall Fest at Food Network, I was going to pass, but then my kids would've never gotten to taste these Twix Bar Brownies. I don't usually make Halloween themed foods or crafts since my girls are older now. I do have a killer inspiration board on Pinterest, though, so go take a look here if you're planning a ghoulish event next weekend.
Now, truthfully, I'm a grinch when it comes to Halloween, even back in the day when I hosted big parties. I did it because everything felt so fresh and new through their eyes. Virginia is in my camp here. She loves dressing up and candy is always her first food of choice, but she doesn't like crowds or trick or treating. In her opinion, it's not worth it for free candy. That's my girl! Mikey was the Halloween fun meister, and so it worked out nicely that he took Isabella out while V and I trick or treated for a few blocks, then went back to our stoop in Brooklyn to greet trick or treaters. One thing we both do love about Halloween is giving out free treats, so we're not total grinches, I guess.
See, it's easy to understand why I almost passed on this week's Fall Fest. The more I began to think about it, though, I realized there's one thing I do love about Halloween—Twix bars. It's the perfect candy—cookie, caramel, chocolate. Basically, perfection. The kids know how much I love them, and kindly share from their trick or treat haul. So, I decided to make a brownie inspired by my favorite candy bar.
I didn't want to simply stuff Twix bars between layers of my homemade brownie batter. Instead, I wanted to recreate my own Twix bar inside the batter. Shortbread cookies were a necessity, and I decided to pick up a pack of Lorna Doone cookies. They were Mikey's favorite, and making shortbread cookies from scratch is still on my baking bucket list. Including Lorna Doone cookies felt like Mikey was part of the recipe, too (and then there's our devout love of Seinfeld, which forever immortalized Twix's cookie, caramel & chocolate goodness).
I just so happened to have homemade caramel sauce in the fridge (this recipe, in case you're curious). You should feel free to swap in your favorite caramel sauce if you're not up for making it from scratch (though it's a deliciously fun and easy treat to make).
I made these Twix Bar Brownies two ways, and the winner was almost unanimous.
On the first go, I crumbled the cookies, mixed them into the batter, and then swirled the caramel on top. I loved this version. The cookies managed to retain a little crispness this way, really reminiscent of a Twix bar to me.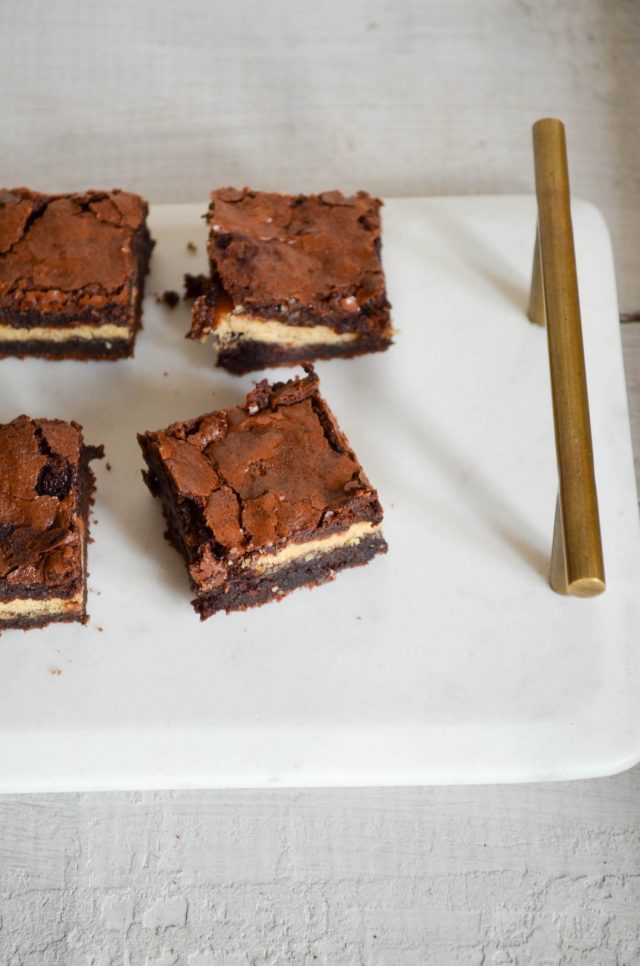 The next time around, I layered the cookies in the middle, spread the caramel on top, and added the remaining brownie batter on top. This was a six thumbs up winner from the girls and our sitter. I was clearly out numbered, so I'm sharing the version they loved with you here. Give it a try both ways if you want, and let me know which one you love best. Happy Halloween!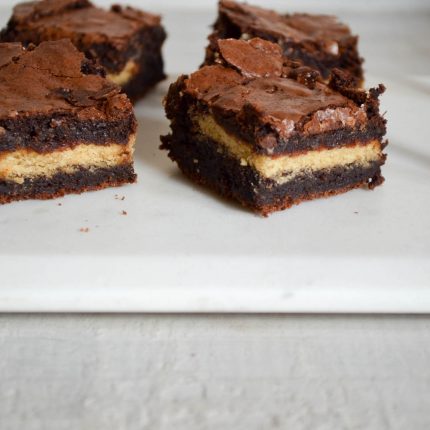 Twix Bar Brownies
Ingredients
6

ounces

168 grams semi-sweet or bittersweet chocolate chips

1

stick

112 grams butter, melted

1

teaspoon

5 ml vanilla extract

1/3

cup

50 grams whole wheat pastry flour

¼

cup

25 grams cocoa powder

½

teaspoon

2 grams sea salt

2

eggs

¾

cup

+ 2 tablespoons

175 grams granulated natural cane sugar

12

shortbread cookies

I used Lorna Doone cookies

¼

cup

70 grams caramel sauce
Instructions
Preheat the oven to 350ºF. Cut a piece of parchment paper large enough to cover the bottom and sides of an 8-inch square baking pan. Grease one side of the parchment, and fit it (ungreased side down) into the pan.

Add the chocolate to a medium, microwave-safe bowl with the butter. Cook on high power in the microwave in 30 second intervals, stirring in between each cycle, until the chocolate and butter are melted. Be careful not to burn the chocolate. The timing depends on the wattage of your microwave. Add the vanilla extract, and stir to combine; set aside to cool slightly.

In a small bowl, whisk together the flour, cocoa, and salt.

Add the eggs and sugar to a clean, large bowl. Whisk until they become thick and pale yellow, 1 to 2 minutes. Whisk in the melted chocolate mixture. Using a rubber spatula, fold in the flour mixture.

Pour half of the batter into the prepared pan, spreading it evenly to the sides. You can give the pan a tap on the counter to help it settle, too. Arrange the cookies in a single layer on top of the batter. Spread the caramel sauce on top of the cookies. Top with the remaining brownie batter, spreading to the edges to cover the caramel and cookies.

Bake for 35 to 40 minutes until the center is set and the edges gently pull slightly away from the sides of the pan. Let cool completely before cutting.
Some more Halloween inspired recipes from my friends at Food Network's Fall Fest.
A Mind "Full" Mom: Mini Pumpkin Pie Cookies
Creative Culinary: Halloween Mummy Cupcakes with Espresso Chocolate Cake and Vanilla Buttercream
In Jennie's Kitchen: Twix Bar Brownies
Devour: 5 Horror and Sci-Fi TV Show-Themed Halloween Bites
The Mom 100: Mummy Cupcakes
Foodtastic Mom: Bourbon Bacon Pumpkin Seeds
Elephants and the Coconut Trees: Mini White Pumpkin Milk Fudge with Dry fruit Filling
Healthy Eats: 6 Lightened-Up Sweets for a Healthier Halloween
Taste with the Eyes: Three Truly Gruesome But Tasty Halloween Recipes
Mom Loves Baking: Pumpkin Cupcakes
Swing Eats: Spooky Halloween Buckeyes
Pinch My Salt: Double Chocolate Pumpkin Cupcakes
FN Dish: When Food Gets in Costume: Edible Takes on Creepy Halloween Things