vanilla bean caramel sauce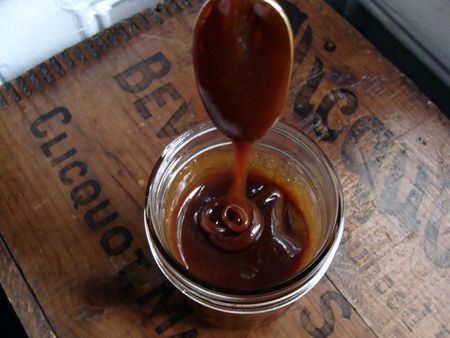 Before finding the easiest, perfect recipe, my advice for making caramel sauce was going to be pray first. I was also going to recommend having a lot of sugar and cream on hand, and if the kids are home, try not to let too many explicatives fly as you pour your failed experiment down the drain.
That all just makes you want to run into the kitchen and waste some time and ingredients, eh? After four batches, with only one success, I thought maybe it wasn't me.
Maybe it was the recipe.
I'm a fairly accomplished cook, and while I'm not averse to making mistakes in the kitchen, something as simple as caramel should not have stumped me. This is one of those times I wish I had a professional culinary education. The self-taught road can be a costly education, but I figure I'm still ahead of the game financially.
I decided to scout for a new recipe, and came across Elise's over at Simply Recipes. I think what made her recipe successful for me, is it didn't call for adding water. She suggests you can do so if you're worried about the sugar burning, but she also cautions it will take longer since the water has to evaporate before the sugar can begin to caramelize. This was a key difference compared to the first recipe I'd be been working with.
My first attempt at Elise's recipe was an instant success. To be sure it wasn't a fluke, I made another batch (because worst case scenario, you have too much caramel sauce, and that's a good situation to be in).
Then I made a third.
And a fourth.
You can never too sure, or have too much caramel.
The most important rule about making caramel sauce is patience. This is not the kind of thing to make when the kids are in meltdown mode. The wasted sugar and cream will likely send you over the edge too (not that I'm speaking from experience or anything like that). It can also be dangerous with little ones underfoot—melted sugar is scaldingly hot.
All that said, though, it really is incredibly easy to make as long as you plan it properly. All you need is 10 minutes of undivided attention. A luxury for us mommies, but well worth finding the time. Aside from eating it straight up, drizzling over ice cream, stirring into hot cocoa or steamed milk, I also discovered it's my favorite topping for donuts.
homemade vanilla caramel sauce
makes about one cup
1 cup sugar
4 tablespoons butter
1/2 vanilla bean split lengthwise, seeds scraped (pod can be used to scent sugar, if you like)
1/2 cup heavy cream
This recipe was barely adapted from the one posted at Simply Recipes. The only difference is I used 4 tablespoons of butter instead of 6, and stirred vanilla bean into the finished sauce for a twist. Elise also has great step by step photos, so go take a look at them and get the recipe directions while you're there too.
Notes:
Just before the sugar starts to melt, it will appear to "seize" and look crystalized. This is a normal stage in the transformation, so don't get nervous. Within a minute or so, it will then breakdown into a golden syrup.
As Elise notes, the caramel foams up considerably when you add the cream. This also causes an extreme amount of steam, so best to keep your face at a distant and not hanging directly over the pot.
Nonstick vs. Stainless Steel. I haven't tried nonstick with Elise's recipe but found it to be insufficient when using the old recipe I'd been working with. I've since stuck to a 4-quart stainless steel stock pot.
Due to the cream, homemade caramel sauce cannot be canned, but this still shouldn't stop you from giving it as holiday gift. Just be sure to make it within a few days of giving and let the recipient know it must be refrigerated and lasts for 2 to 3 weeks.
Pumpkin Spice Cafe Au Lait
serves one
1/3 cup milk
1 cup coffee
2 teaspoons pumpkin puree
1/4 teaspoon ground cinnamon
1 teaspoon caramel sauce
Heat milk in the microwave for 30 seconds (based on a 1000 watt oven). If you have a hand frother, then use it until the milk is foamy.
If the pumpkin was stored in the fridge, heat it in the microwave for 15 seconds. Add the coffee, pumpkin, cinnamon and caramel to a mug. Stir to mix well. Pour in the "steamed" milk and enjoy!