If you all knew the recipes I've been keeping from you, there might be a mutiny for my bounty. There's pumpkin ricotta waffles, pumpkin buttercream, homemade sandwich rolls, ricotta spaetzle and more. But there's all this talk of turkey and Thanksgiving, and I figured it would be cruel to not share a recipe for the best apple pie I've ever made, and eaten for that matter.
Until this recipe, I enjoyed making apple pie more than eating it. The sweet scent of apples filling the house as the pie baked, and the staring through the oven door window to spy if the juices are golden and bubbly were always the best part.
Don't get me wrong, all my variations have been winners with friends. It's just apple pie never rocked my world. One reason is I don't like cinnamon with apples. I know, a classic pairing. Flavors pastry chefs deem worth marrying over and over again. To that I say "eh".
So, when I set out to make an apple pie last weekend, I was determined to make one I finally liked. One I'd want to go for seconds on. That means there's nary a pinch of cinnamon in this recipe.
In fact, there are no spices. I prefer to highlight the intense flavor of roasted apples, which is really what apple pie is, albeit wrapped in a buttery pastry crust.
How did the brown butter come into play? I wish I could pinpoint the moment. Maybe it was all my caramel making that had my mind filled with toasty, toffee-like thoughts.
I figured instead of putting dabs of butter under the top crust, why not make a browned butter to stir into the filling. I just took a chance, and held my breath until the first bite, six hours later. Tempting as warm pie is, you really must let it cool properly so the juices thicken and don't immediately fall out into a pool with the first cut. It was well after dark by time we dug in, so sadly there are no photos. You'll just have to trust me on this one.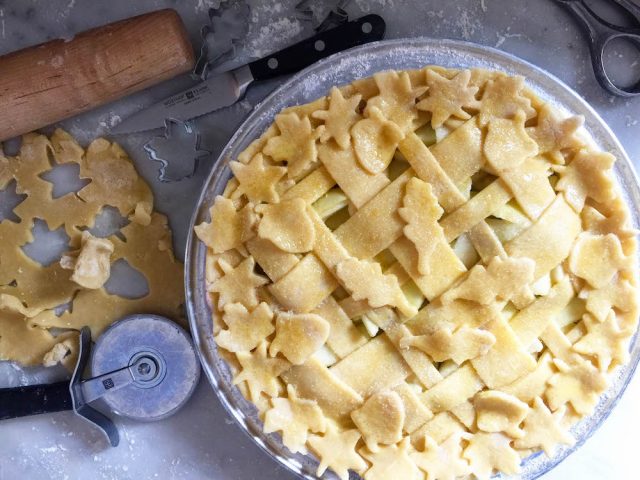 brown butter apple pie
makes one 9-inch pie
Feel free to swap in your favorite double pie crust dough recipe, then proceed with the filling directions. I used a mix of Jonah Gold, Empire and Golden Delicious apples, and find together they created a balanced natural sweetness that allowed me to use just 2/3 cup of sugar in the filling. After years of using egg wash to give the top a shiny finish, I've recently switched to brushing on hevay cream. I wouldn't dream of going back to my old ways.
One final note, this sweet butter double crust recipe makes for a thinner crust than usual. I like it that way, after all it's all about the filling. If you prefer a thicker crust, then you may want to double the recipe.

sweet butter pastry crust (or use this recipe)
8 ounces all purpose flour
1 tablespoon (15 grams) granulated sugar
1 teaspoon (5 grams) kosher salt
4 ounces cold butter, cut into 16 pieces
4 to 6 tablespoons ice cold water
for the filling
4 tablespoons butter
6 medium apples (about 3 pounds), peeled, cored and thinly sliced
2/3 cup sugar
1/2 teaspoon salt
3 tablespoons flour
1 tablespoon freshly squeezed lemon juice
Heavy cream, to brush on top
Coarse sugar, for sprinkling on top (optional)
To prepare the pie dough, add the flour, sugar and salt to the bowl of a food processor. Pulse to combine. Add the butter and pulse until it forms a sandy crumb. Starting with 4 tablespoons, sprinkle the water over the flour-butter mixture and pulse until it forms a ball, about 45 seconds to 1 minute. Add another tablespoon or two of water if necessary. Dump onto an unfloured counter and divide into two flat discs. Wrap in plastic and let chill until firm, but still pliable, about 1 hour (you can quick chill it in the freezer for 20 minutes too, which is what I usually do while preparing the apples).
Preheat oven to 425ºF.
For the filling, melt butter over moderately high heat in a small  heavy bottomed skillet. Cook until it begins to brown, but not burn; it will smell nutty and fragrant. Let cool for 5 to 10 minutes. Add the apples, sugar, salt and flour to a deep bowl, and toss with a rubber spatula to coat well. Pour in the brown butter, scraping in those browned bits too, and lemon juice, stir well. Let sit on counter so juices can thicken while you roll out your pie crust.
On a lightly floured counter roll out your bottom crust. Fit into a 9-inch pie plate. Roll out the remaining pie crust for the top. Spoon the apple filling into the pie plate, and place second crust on top. Flute edges and cut a hole in top to create a steam vent. Brush with heavy cream and sprinkle with coarse sugar, if using.
Bake for 15 minutes, then turn temperature down to 350 and bake for 35 to 40 minutes more, until top is golden and juices are bubbly.