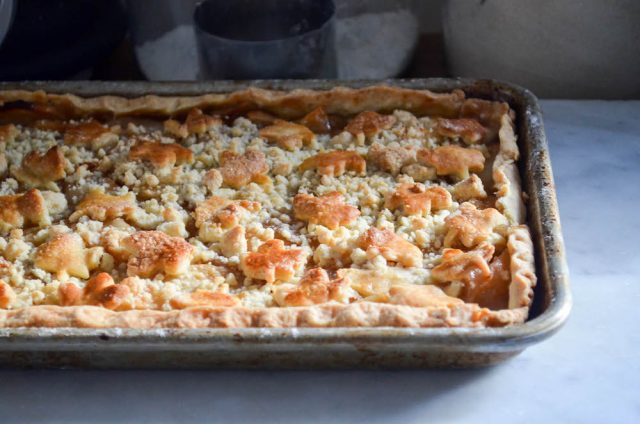 A few years ago, I began baking pumpkin slab pies. Pies this size make sense when you're serving dessert to a crowd. I love them because the filling to crust ratio is perfect. In this version, there's no choosing between a crumb or pastry topping. Life is too short to make such dire decisions when it comes to pie, so that's why I settled on the best of both worlds with this Apple Crumb Slab Pie.
Those who know me might be raising an eyebrow on perusing the recipe below. Yes, friends, there is cinnamon in the filling. I know—I have very strong feelings about apples and cinnamon together. I find a great apple pie doesn't need to be camouflaged with cinnamon—it should be able to stand on its own merits.
My time baking up at Grazin' in Hudson has taught me to bend my thoughts about this. I mean, if people prefer cinnamon in their apple pie, who am I to be such a hard ass about it when baking for the restaurant—that's not what cooking for others is about. If like me, you prefer your apples unadultered, feel free to leave it out. If you want something different, something new, try swapping in allspice or cloves.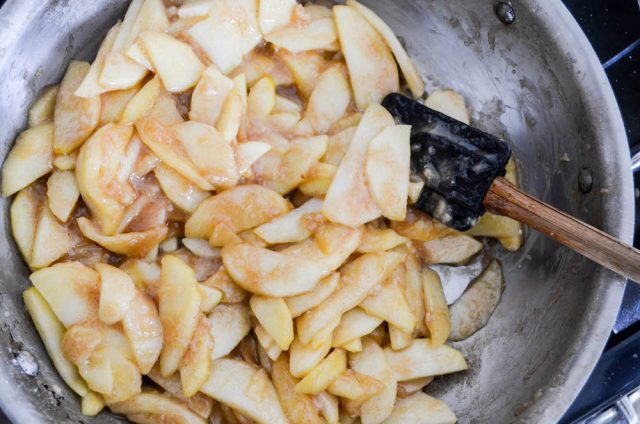 As for apple varieties, I like to use a mix, as each apple has its own unique taste, with a rotating cast of Jonah Gold, Granny Smith, Honeycrisp, Cortland, Fuji, and sometimes a sweeter variety added to the mix, like Golden Delicious. I prefer a "just sweet enough" pie, letting the sugar support the apples' flavor instead of masking it with an overly sweet filling.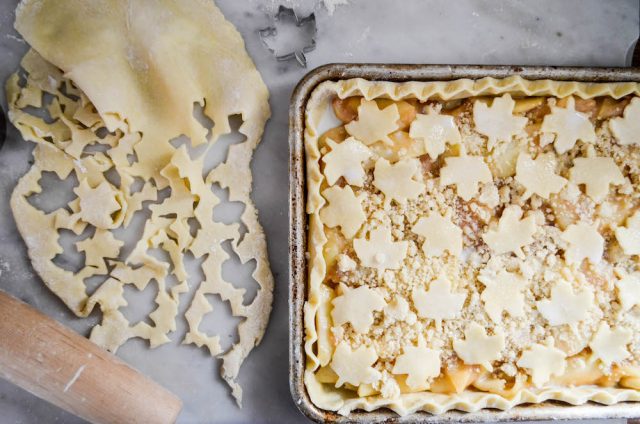 Patience is definitely a virtue when it comes to pie, so keep that in mind. Let it cool completely before cutting. I know it seems an impossible thought when that pie comes fresh from the oven, but it's well worth the wait for a well-rested, perfectly cut piece of pie.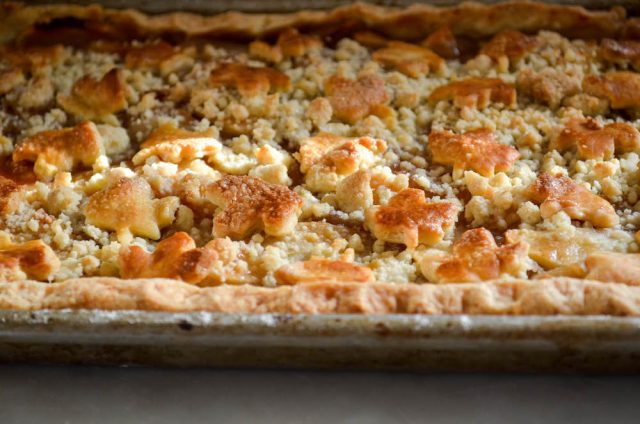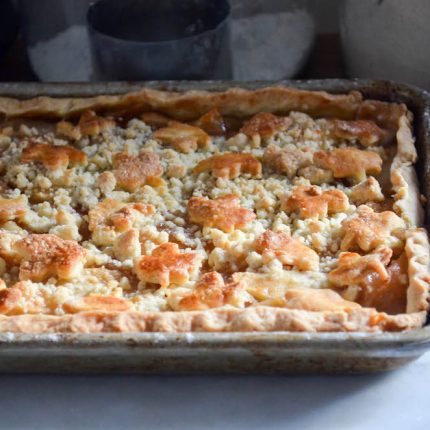 Apple Crumb Slab Pie
Ingredients
3

tablespoons

butter

5

large apples

peeled & sliced 1/8-inch thick

½ to ¾

cup

100 to 150 grams granulated natural cane sugar

freshly grated zest & juice of 1 small lemon

¼ to ½

teaspoon

ground cinnamon

1/3

cup

50 grams flour

Perfect Pie Crust

recipe here

½

batch of Buttery Crumb Topping

recipe here

1

egg

beaten with a splash of milk or cream
Instructions
Preheat the oven to 425ºF (220ºC).

Melt the butter in a large skillet over medium-high heat.

Add the apples and sugar. Cook, stirring a few times, until the sugar has melted, and apples begin to caramelize slightly, 3 to 4 minutes.

Stir in the lemon zest, juice, and cinnamon. Cook for 1 minute.

Reduce the heat to medium-low. Stir in the flour, and cook until the mixture has thickened, 1 to 2 minutes more.

Roll one of the piecrusts, on a lightly floured counter, out into a 12-inch by 15-inch rectangle (30-cm by 38-cm). Place the dough into a 9-inch x 13-inch x 1-inch sheet pan (rimmed baking sheet). Gently press the dough into the bottom, and up the sides, folding an overhang inside the pan (watch

this video

to see how to roll out the crust).

Spread the filling evenly across the crust.

Roll out the remaining crust 1/8-inch thick. Use a cookie cutter to press out desired shapes.

Evenly sprinkle the crumb topping over the apples. Arrange the cutout pieces of dough as desired. Brush the cutouts and edges of the crust with the egg wash.

Bake 20 minutes. Reduce oven to 350ºF (180ºC). Bake 20 to 25 minutes more, until filling is bubbling, and crust is deep golden.

Let cool completely before cutting & serving.
SaveSaveSaveSave