Homemade Sweetened Condensed Milk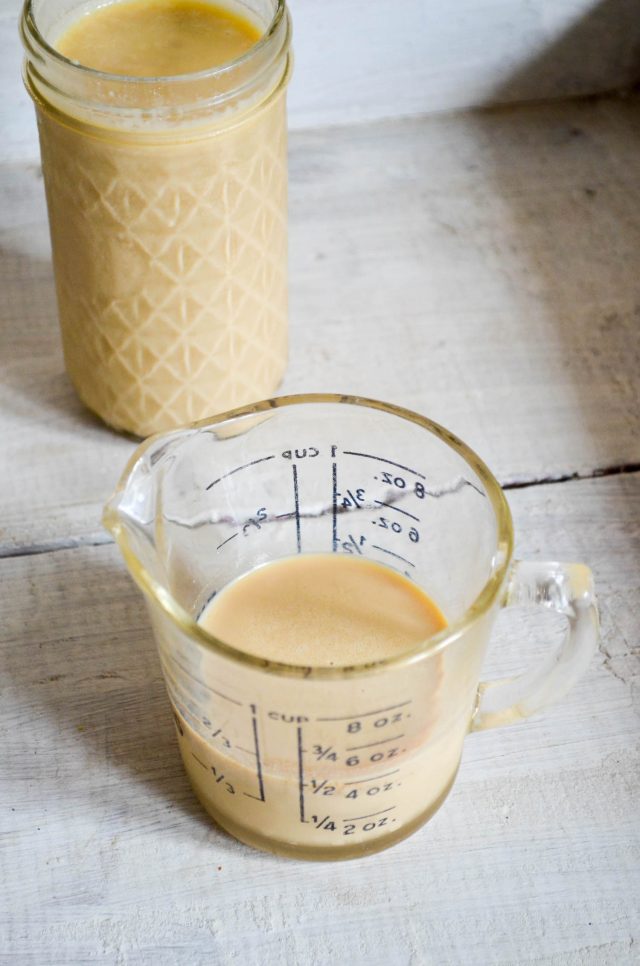 After making homemade evaporated milk last month, my mind wandered to sweetened condensed milk. In both cases, I only use each ingredient a few times a year, so used that as a way to justify the fillers and stabilizers (though there is one organic brand that does make a sweetened condensed milk with just milk and sugar). Now that I have homemade versions of each, I expect to use them more often. And yes, I'm hoping to try some dairy free versions, using my homemade almond milk. Stay tuned for more on that.
The reason I ultimately decided to make my own sweetened condensed milk is mainly because I wanted a refined sugar free version. Now, sugar is still sugar, and I'll be the first to say that cutting back on all types has been essential in my weightloss and overall feeling much healthier from the inside out.
I'm still a mama, though, and have two ice cream loving kiddos. Earlier this year, I got into making easy, no churn ice creams, with sweetened condensed milk being one of the main ingredients. This new refined sugar free version uses maple syrup, resulting in a sweet treat I feel a little better about making. I'll be sharing the recipe for my Maple Vanilla Ice Cream in the next few days, hopefully just in time to go with you pie for Thanksgiving (I can't believe that's already next week). I also used this sweetened condensed milk to make Pumpkin Pie Waffles. They are insanely good. That recipe is coming very soon, too!
As with making homemade evaporated milk, your slow cooker does all the work in making Homemade Sweetened Condensed Milk.
Evaporated milk is the process whereby you reduced the water content of regular milk. Sweetened condensed milk is the same, except, you've well, added a sweetener. In this refined sugar free version, my homemade sweetened condensed milk recipe uses maple syrup, as I mentioned, which also means it has a distinctly maple syrup-like flavor, so keep than in mind when using it in recipes. I'm betting it would taste pretty darn delicious in your coffee, too.
Seven Years Ago: No Cook Cranberry Salsa
Six Years Ago: Brown Butter Apple Pie
Five Years Ago: Spice Scented Cranberry Sauce
Four Years Ago: Coconut Custard Pie
Three Years Ago: Raspberry Croissant Bread Pudding
Two Years Ago: Pumpkin Slab Pie
One Year Ago: No-Roll Pie Crust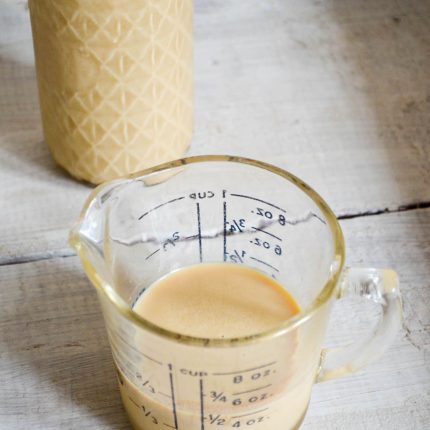 Homemade Sweetened Condensed Milk
Ingredients
3 ½

cups

whole milk

¾

cup

pure maple syrup

Slow cooker
Instructions
Before you begin, add 14 ounces of water to your slow cooker. Make a note of where the water line reaches (I use a ruler). This is where the milk level will be once your sweetened condensed milk is ready. Discard the water before setting up the milk in your slow cooker.

To make the sweetened condensed milk, add the milk & syrup to your slow cooker. Set it to HIGH, and let the milk cook down, uncovered, 8 to 10 hours, until it reaches the level you made note of with the water.

Once the sweetened condensed milk is ready, let it cool, and transfer to a glass jar. Store in the fridge until the sell by date of the milk you used to make it.