No-Churn Maple Vanilla Ice Cream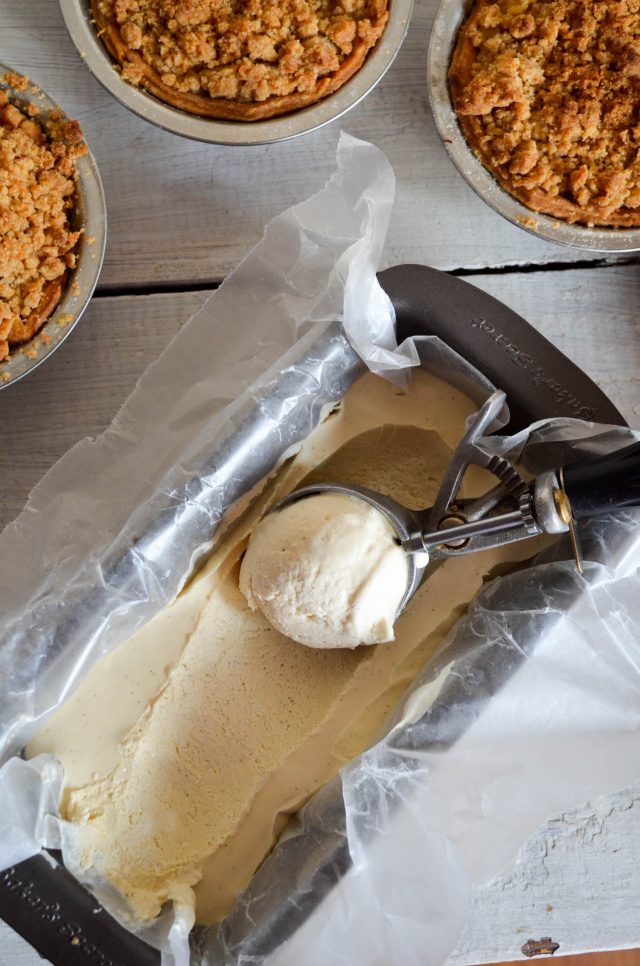 I truly wasn't prepared for the warm welcome this No Churn Maple Vanilla Ice Cream received when my kids first tasted it. They're my most discerning eaters, usually never agree, and have a major sweet tooth. Would a refined sugar-free ice cream really pass the test with them, even though I knew it would be amazing after swiping a lick from the remnants in the bowl after mixing the batter?
Yes. The answer is a big, fat yes that left me with a mile-wide smile. Isabella loved it so much, she's been requesting another batch since I last made it a few weeks ago. So, yes, this No Churn Maple Vanilla Ice Cream is definitely on our Thanksgiving menu. My girls are pie a la mode people. I'm more of a fresh whipped cream gal.
Making a refined sugar free no churn ice cream was kind of my sole purpose for trying my hand at that Homemade Sweetened Condensed Milk I wrote about here last week. I was at first tempted to just combine the milk with whipped cream for an easy 2-ingredient no churn ice cream. I mean, two ingredients just sounds easier than three ingredients, right?
Well, really the extra ingredient doesn't make it more complicated at all. Perhaps a little more expensive since vanilla beans can be pricey, but you can easily swap in pure vanilla extract if you want to save a few bucks.
The maple flavor is, well, you might've already guessed, rather prominent in this No Churn Maple Vanilla Ice Cream.
And that's exactly what worried me as the kids went in for their taste test. They love maple syrup for pancakes, waffles, and dipping bacon, but would it fly for them in ice cream?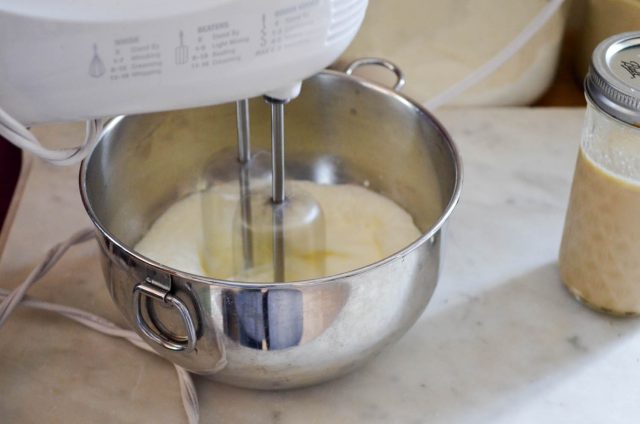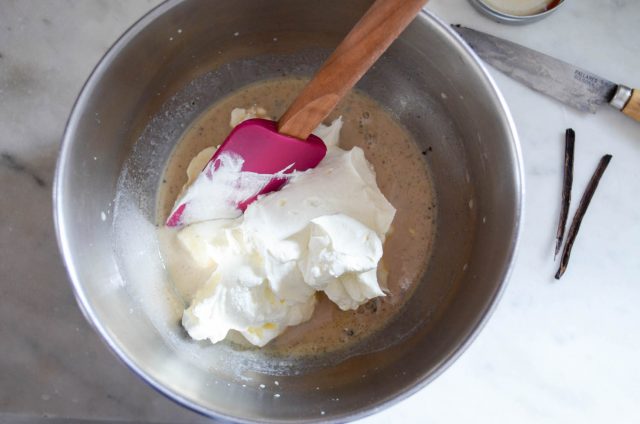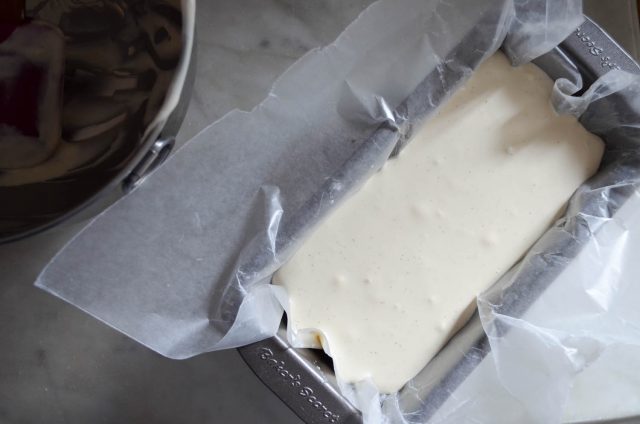 They declared this the best ice cream I've ever made. Ever. That's saying a lot, and now I feel like I've set an impossibly high bar for all future ice creams.
While the ice cream was chilling, we baked up some mini apple crumb pies for dessert. I'm thinking this may be the way to go for Thanksgiving, too. The girls love apple pie, and I love pumpkin pie. We'll either arm wrestle to see who wins, or make minis so no Perillos are harmed in the making of our Thanksgiving dessert.
More from In Jennie's Kitchen
Seven Years Ago: Caramel Pumpkin Pie
Six Years Ago: Instant Turkey Pot Pie
Five Years Ago: Spice Scented Cranberry Sauce
Four Years Ago: Coconut Custard Pie
Three Years Ago: Homemade Pumpkin Syrup
Two Years Ago: Pumpkin Slab Pie
One Year Ago: No-Roll Pie Crust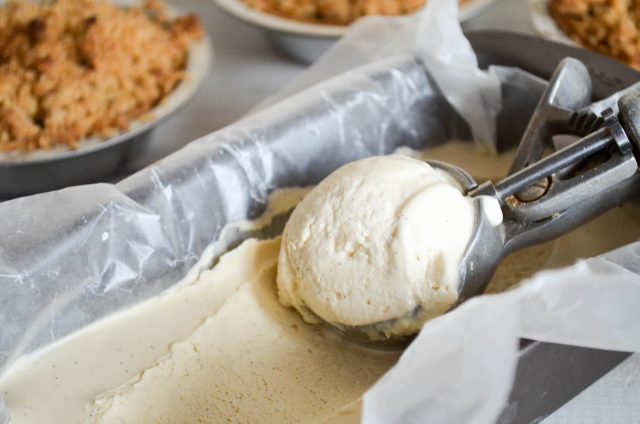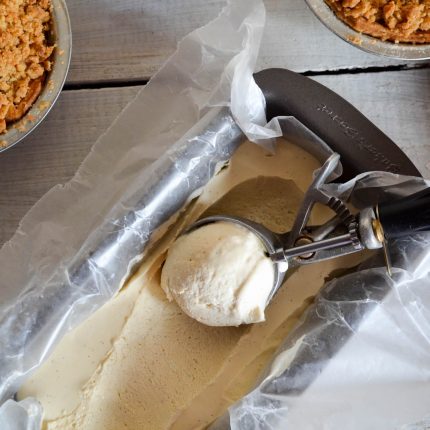 No-Churn Maple Vanilla Ice Cream
Ingredients
Scant cup

7 ounces / 207 ml Sweetened Condensed Milk (use this recipe)

½

vanilla bean

split in half lengthwise

1

cup

237 ml heavy cream
Instructions
Unless you're using individual containers, line one 8-inch loaf pans with a sheet of waxed paper, long enough to hang over the sides.

Add the milk to a deep bowl.

Place the vanilla bean halves on a cutting board. Using the tip of a paring knife, scrape the seeds from the pod. Add them to the bowl with the milk. Whisk to blend.

Add the cream to a separate, clean deep bowl, and beat until stiff peaks form. You can do this using a hand mixer, stand mixer, or whisk if you're up for a little upper arm workout.

Scoop 1/3 of the whipped cream into the bowl with the condensed milk. Stir it in to loosen the mixture.

Add the remaining whipped cream, and this time use a rubber spatula to fold it in. Folding, is a method where you insert you spatula into the center, gently lift, and fold the batter over itself, keeps the ice cream base light and airy.

Spoon the ice cream batter into the prepared containers. Cover, and freeze until firm enough to scoop, about 6 hours. The ice cream will keep in the freezer for up to 2 weeks.