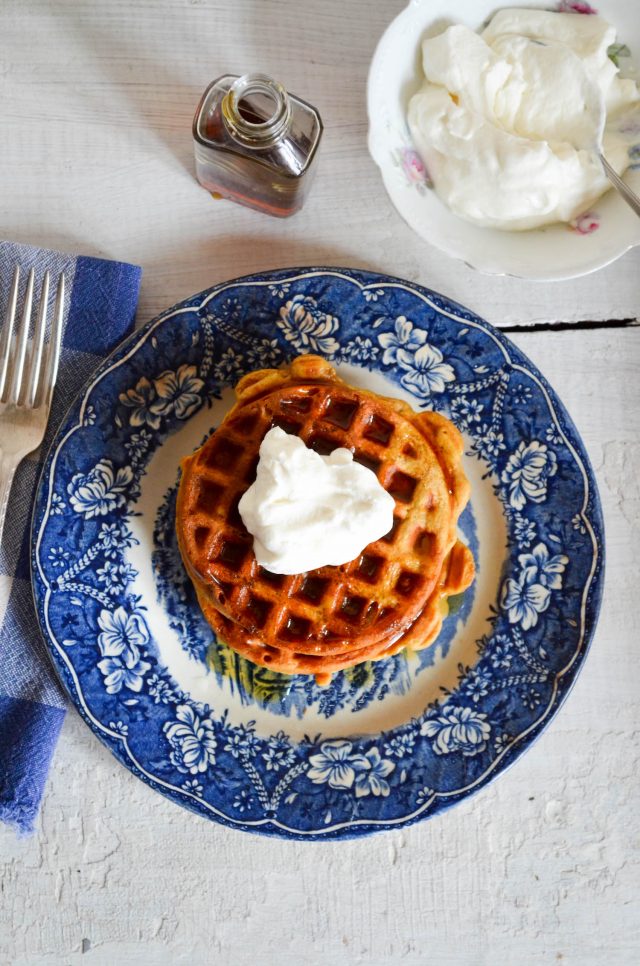 Imagine everything you love about pumpkin pie tucked inside a waffle? No fumbling over crust (although, with this recipe there's no stress).  Well, that's what I decided to do a few weeks ago, when I made these Pumpkin Pie Waffles.
After making my sweetened condensed milk, I thought about what else I could use it for besides no churn ice cream (my Maple Vanilla Ice Cream recipe is coming soon!). And for some reason, waffles popped into my mind. It was also the perfect chance to use up leftover canned pumpkin, and give this insanely cute waffle iron I bought back in October a workout. It's not exactly mini, but it's not exactly full size. It is the perfect size for freezing, and reheating, though (think Eggo sized).
You'll see there's the usual pumpkin spice suspects in here. I know it's probably not cool to love pumpkin spice since it's jumped the shark, and infiltrated everything from coffee drinks to hand soap, but I won't apologize for loving it. Rather than use a pumpkin spice mix, I add the individual spices so I can control the strength of each flavor. Feel free to boost or scale back on them as you like.
There's also real pumpkin in these waffles. They take the place of eggs as a binding ingredient, so these Pumpkin Pie Waffles are egg free. I suppose if you want to go for dairy-free, you can swap in almond milk, and coconut oil. In that case, I'd tip a little bit of maple syrup into the batter while you're mixing it up, too.
These Pumpkin Pie Waffles are a new family favorite.
And, of course, no pie (or pie waffles) would be complete without fresh whipped cream. A generous dollop is a must here. Warm, ooey gooey cinnamon buns have been a Thanksgiving breakfast tradition for as long as I've been a mama, but I'm thinking these Pumpkin Pie Waffles might need to happen Thanksgiving morning instead (or perhaps in addition!).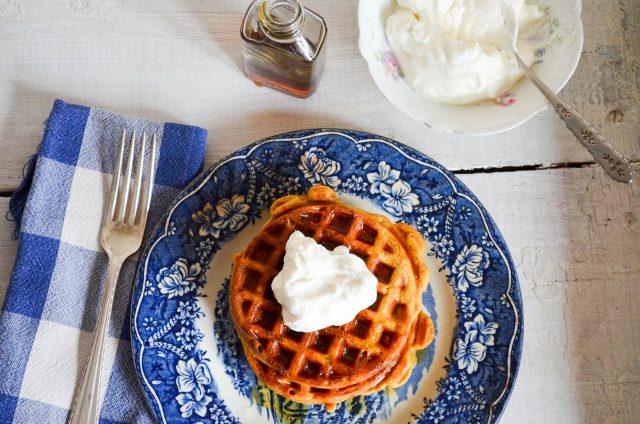 Some more favorite breakfast recipes.
Raspberry Croissant Bread Pudding
Buckwheat Waffles & Orange Scented Whipped Cream
Clementine, Honey & Olive Oil Cake
Naughty & Nice Smashed Avocado Toasts
Peanut Butter & Chocolate Cinnamon Buns
This recipe is now part of my new site, Simmering. It can be found by searching the archives here.