peanut butter & chocolate cinnamon buns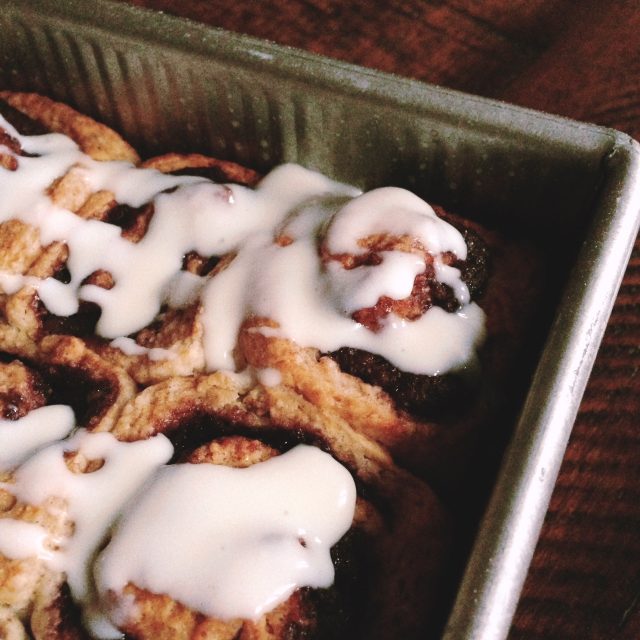 My relationship with peanut butter and chocolate desserts needs no explanation for long-time readers. One day I'll tell the story of how the little peanut butter pie that could came to be. Today, though, I want to share a new peanut butter and chocolate recipe with all of you. It's only recently that I could even fathom that flavor combination again. Cooking has the power to heal, but some recipes, some flavors, well, they're too reminiscent of moments that I'll never experience again.
It's funny, pistachios work their way into so many of my recipes because Michael loved them. One glimpse of those little nuts is enough to spontaneously make a smile appear. Chocolate and peanut butter resonated differently until recently. They touched a nerve that still needed time to heal. When I looked at the theme for this week's Food Network Comfort Food Feast, I froze for a moment—most comforting peanut butter recipes. I felt a little pressure about the pie. I think it's fair to say that when people hear peanut butter, comfort and my name in the same breath, then that pie is what comes to mind.
I thought about sitting this week out. Then I realized that would only be running away. A big part of grief is wondering if "I'm doing it right". There is no "right", though. Sometimes it's simply mustering the energy to get through the day. Others are filled with genuine joy and happiness, for both the moment I'm living in, and the moments that have passed.
Lately, I'm wading in a thick pool of emotions, aching for Michael in a way that seems almost more unbearable than when he first died. The truth is there are a lot of things happening in my life right now triggering these feelings. For one, Isabella will be graduating from elementary school in three months. Her academic journey began with us together as a family. In a way, Michael was still with us. This new chapter that will begin in September is one in which he'll have no tangible connection.
Isabella's graduation represents the fork in the road. We must move forward, knowing a part of him will be left behind, lingering in the halls of her old school. Memories of watching holiday recitals together, going in together for parents as reading partners, and class celebrations.
Right now, that peanut butter pie recipe isn't comforting. I'm not there yet. I know I'll get there one day, just not right now. That's okay. It doesn't mean I care less; it just is, as so many things are in life. And so, I started thinking about what he would love if he could taste a new peanut butter and chocolate combination. Nothing was calling to me, and then suddenly it popped into my head while I was making cinnamon rolls this weekend. Why not add some peanut butter and chocolate to the filling? A few nights ago I found myself in the kitchen after the girls were tucked in, whipping up a quick adaptation of my classic cinnamon bun recipe to make peanut butter chocolate cinnamon buns. It's a little tweak, but a game changer nonetheless. A welcome reminder that the small steps I take are as meaningful as the leaps and bounds.
Peanut Butter & Chocolate Cinnamon Buns
Makes 16
Music Pairing: The Logical Song by Supertramp
For the filling:
1/2 cup (128 grams) creamy peanut butter
2 tablespoons (28 grams) butter
3/4 cup packed (136 grams) dark brown sugar
1/2 cup (102 grams) granulated sugar
1/4 cup (25 grams) cocoa powder
1 1/2 teaspoons (6 grams) ground cinnamon
1/2 teaspoon (4 grams) coarse sea salt
For the dough:
2 1/4 cups (315 ounces) flour, plus more for rolling out dough
1/4 cup (50 grams) granulated sugar
1 1/2 teaspoons (8 grams) baking powder
1/2 teaspoon 4 grams) baking soda
1/2 teaspoon (4 grams) coarse sea salt
1 cup (250 ml) buttermilk
6 tablespoons (84 grams) butter, melted
For the icing:
2 ounces (56 grams) cream cheese, softened
3 tablespoons (45 ml) buttermilk
2/3 cup (79 grams) Confectioner's sugar
Preheat the oven to 425ºF.
Get the filling started first. Add the peanut butter and butter to a medium pot. Heat over a low flame, until the butter is melted, and the mixture thins out a bit. Remove from the heat. Stir in the sugars, cocoa, cinnamon, and salt until well mixed. Set aside to cool slightly.
To make the dough, whisk together the flour, sugar, baking powder, baking soda and salt in a deep bowl.
In a separate small bowl or large measuring cup, whisk together the buttermilk and 4 tablespoons of the melted butter. Pour over the dry ingredients, and stir together with a wooden spoon until it forms a shaggy-looking dough. Gently knead a few times until it becomes smooth, then divide into two equal portions.
On a lightly floured surface, gently press each piece of dough into a 12-inch by 8-inch rectangle (you can use a rolling pin if you feel more comfortable). Spread an even amount of peanut butter filling over each shaped piece of dough, leaving a 1/4-inch border.  Gently pat the filling into dough with your fingertips. Roll each piece of dough into a log, starting from the longest (12-inch) side nearest you.  Pinch ends closed.  Cut each rolled log into eight equal pieces, you should have 16 rolls in total now.
Using a pastry brush, coat the bottom and sides of an 8-inch square glass with 1 tablespoon of the melted butter. Arrange the rolls, cut side down, in the pan. Press the down with your fingertips to flatten slightly.  Brush tops of the buns with the remaining melted butter.
Bake for 20 minutes, or until golden brown and filling is bubbling from the top. Let cool in the pan, set on a wire rack for five minutes.
Meanwhile, prepare the icing. Add the cream cheese and confectioners' sugar to a small bowl. Use a fork to mash together into a paste. Whisk in the buttermilk until it forms a smooth icing.  Drizzle over the rolls, and serve immediately.
For more peanut butter inspiration, take a look at these recipes from everyone else contributing to this week's Comfort Food Feast on the FN Dish Blog.
Domesticate Me: Peanut Butter and Banana Overnight Oats (Vegan and Gluten-Free)
Jeanette's Healthy Living: Gluten-Free Chocolate Peanut Butter Chip Cookies
The Heritage Cook: Peanut Butter-Chocolate Chip Oatmeal Cookies (Gluten-Free)
Virtually Homemade: Mini Nutter Butter Baked Donuts with Chocolate Ganache
Weelicious: World's Greatest Peanut Butter and Jelly
Red or Green: Peanut Butter and Ginger Cookies
Napa Farmhouse 1885: Thai Red Curry and Peanut Vegetable Slaw
Devour: Most-Comforting Peanut Butter Desserts
Taste With The Eyes: Korean Buckwheat Noodles, Peanut Sauce and Banana
Sensitive Epicure: Peanut Butter Oat Bars (Gluten-Free)
FN Dish: 10 Peanut Butter Pairings
Feed Me Phoebe: Thia Peanut Chia Pudding