clementine, honey & olive oil cake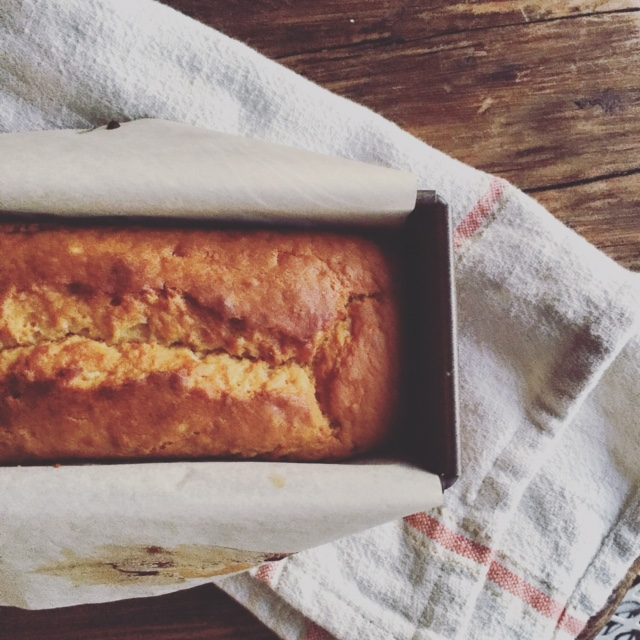 I've lost my mojo—remember that line from one of the Austin Power's movies? This never used to be a problem, and it frustrates me to no end when it happens now. I've yet to find a steady footing these last few years. The kitchen has provided much solace, especially during the more challenging moments in life. It was a place I could always count on to find a sense of self, and control. Right now, something is amiss, my circuits a little frazzled, and wires crossed. Some nights, I have to dig deeper than I ever thought just to put dinner on the table, to shake the numbness away from my core.
I realize baking and blizzards go together like cookies and milk, so it might not seem surprising that this past weekend's 36-hour snow fest inspired me to get back into the kitchen and make this clementine, honey & olive oil cake.
But surprise me, it did. In preparing to hunker down and weather the storm, I remember looking at the butter bin on the door of the fridge. There were just two sticks of butter in it. Under normal circumstances, that would've been cause for alarm. Instead, I shrugged my shoulders, figuring there would be no sense in going into a baking frenzy. No, a house full of sweets + being snow bound seemed like a perfect storm of unwanted calories.
Well, life has a way of surprising, indeed. It started with a batch of homemade waffles on Saturday morning, or was it the buckwheat banana bread I made Friday night? Then we had pizza Saturday. I must confess I'd been using a store-bought dough the last couple of months, but recently got back into making my own dough (I told you, the mojo was MIA, big time). There was a batch of perfect chocolate chip cookies hidden somewhere in there, too. By time I realized my baking mojo had returned, the butter was all gone.
I looked at the clementines on the counter, and memories of my lemon olive oil cake came to mind. I recently gave that recipe a makeover using honey in place of cane sugar. I decided to tweak it further by swapping in mostly clementines (there's still a hint of lemon to perk up the clementines a bit). And then, I nixed the springform pan. I was craving a loaf-style cake. Is it even normal for one to crave a cake baked in a certain pan? So, that meant playing around with ingredient ratios since my loaf pan was smaller than my springform. One last thing, since I wasn't using butter, I decided to keep the whole cake dairy-free, and used cashew milk.
The cake felt like a wing and prayer, from the start to popping it into the oven. The steps all felt right, the batter tasted good, but my confidence was still shaky. It was only as I checked on the cake, to see it rising, and that cavernous crack forming (my favorite part of baking loaf cakes), that I realized I hadn't lost my mojo. I'm not sure if it's here to stay, or will play another game of hide and seek. What I do know is that I can't wait to make this cake again, so there's that. It pairs perfectly with a cup of hot tea, one of my favorite ways to unwind at the end of a long day.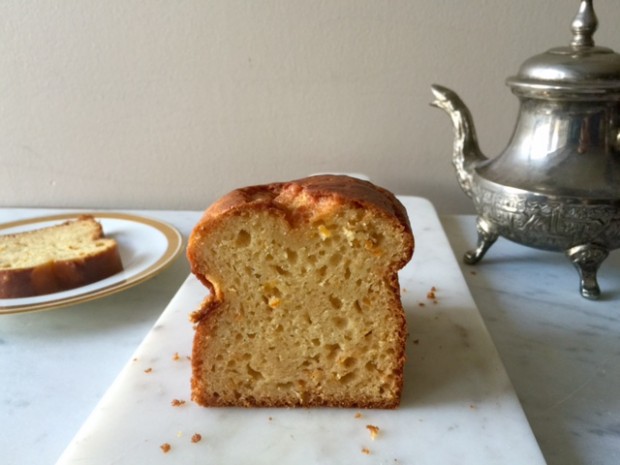 Clementine, Honey & Olive Oil Cake
Makes 1 – 8-inch loaf cake
Most cakes use the toothpick test to see if the cake is cooked through. You can certainly do that here, but it looked so pretty, I didn't want to ruin its appearance. Instead, here's another trick I use: gently press the top the cake with your finger (remove it from the oven for a moment, of course). If it springs back, then the cake is done. If it holds an indentation, then your cake needs a bit more time to cook through.
I decided to keep this dairy free, and used cashew milk. Feel free to swap in whatever milk you have on hand; just keep in mind that if you use coconut milk it'll impart a slight coconut flavor, which I think would actually work nicely with the citrus.
And speaking of citrus, while this cake is primarily clementine, the lemon is important, so don't skip that ingredient. It helps perk up the clementine flavor without adding any lemon notes to the cake.
A word about the olive oil. Extra virgin olive oils are more pungent (and truer, for a variety of reasons) than basic olive oil. It's the oil extracted from the first cold pressing. The flavor, and robustness, varies from region to region, and types of olives. For this cake, I'd recommend one on the milder side, that has more citrus and grassy notes (as opposed to one with a strong peppery undertone). I used this type from Gaea. Interestingly enough they characterize it as having a bitter almond aftertaste, which I don't necessarily notice when tasting it alone, but can see how that would complement this cake.
1 cup + 2 tablespoons (163 grams) all purpose flour
1 1/4 teaspoons (7 grams) baking powder
1/4 teaspoon (1 gram) fleur de sel
Freshly grated zest & juice of 2 clementines
Freshly grated zest & juice of 1/2 lemon
2 large eggs, at room temperature
5 tablespoons (100 grams) churned honey
5 1/2 tablespoons (60 grams) extra virgin olive oil
2.5 ounces (83 ml / 80 grams) cashew milk
Preheat your oven to 350F (180C). Line an 8-inch loaf pan with a piece of parchment paper long enough to hang over the sides (this acts a "handle" to easily lift the baked loaf from the pan).
In a small bowl, add the flour, baking powder, fleur se sel, clementine zest, and lemon zest. Whisk to blend.
In a medium bowl, add the eggs, honey, olive oil, clementine & lemon juices. Whisk vigorously until smooth, and there are no lumps of honey. Add the flour mixture and milk. Using a wooden spoon or rubber spatula, stir until just blended, and there are no visible lumps of flour.
Scrape the batter into the prepared pan. Bake for 50 minutes, until deep golden, and the cake springs back when gently tapped with your finger. Let cake cool completely before slicing. Wrap leftover cake tightly in parchment paper, and enjoy within 2 days.